You might think that composing a business letter by hand and having it delivered by post is an outdated method of communication. After all, we have electronic means of communication these days. Electronic methods of communication are quite dependable, so do we really need to learn to compose a business letter? The answer is: Yes. Business letters convey a more personal message, and are more likely to cement a relationship with the recipient than an email.
Composing a business letter can be more daunting than many people realize. This is why we've come up with this helpful, detailed, and easy to follow guide for composing perfect business letters in different formats. Feel free to use these business letter formats to compose resignation letters, sales, resume cover letters, inquiry letters and more.
Note: Jump directly to downloadable business letter samples or continue reading for a guide on writing a professional business letter.
Elements of a Properly Formatted Business Letter
A business letter is to be composed on the company's letterhead, with margins of 1 to 1.5 inches all around the page, with allowances given for the company's letterhead style.
A formal business letter format has following elements:
Name and Address of Recipient
Date
Reference
Salutation
Body
Closing
Signature
Typist initials
Enclosures
Recipient's Name and Address
The business and/or personal name of the recipient goes here. No formal business letter should be left without this information. Include the recipient's name, title, business name and address.
Date
The date refers to the actual date the letter was composed. The date should always be written out in the month, day and year format, such as January 18, 2018.
Reference
If necessary, use this section to give a simple description as to what the letter is about. For instance, if the letter is about an invoice complaint, then it would read RE: Complaint regarding invoice number 12345
Salutation
Salutations vary from business to business. Examples of salutations are Dear Sir or Madam, Dear Dr. Hempstead. The salutation should end in a colon, Dear Ms. Conner:
Body
The body of the letter is single spaced, with a double space between paragraphs. The first paragraph concerns the purpose of the letter. The following paragraphs describe the purpose in more detail. The final paragraph should reinforce the purpose of your letter, make a request for communication, and thanking the recipient for considering the letter. Always remember this is a business letter, so keep the sentences short and to the point. Avoid digressing from the topic at all costs. In business, time is money so keep the entire body short and sweet.
Closing
There are several ways to close a business letter. One of the most used is 'Sincerely'. Other closings include: Best regards, Yours truly, Yours sincerely. Capitalize the first word in the closing, using lower case for the second.
Signature
The signature made by the person whom the letter is from, not the person who typed the letter.
Typist Initials
Place the initials of who typed the letter here. If you prefer, you can place the initials of the composer and typist together. The individual who composed the letter comes first, and in caps, while the typist is second and in lower case: PT/jc.
Enclosures
This refers to any attachments you are enclosing in your letter. These may include contracts, ads, brochures, etc. This is more important than it seems, as you are alerting the recipient that the letter should contain further content which may be crucial to the correspondence.
Types of Business Letter Format Styles and Examples
In this last section, we present you with detailed examples of formatting a business letter, including placement and spacing. However, always remember that people are free to customize each style to fit their personal taste and business correspondence style.
Business letters will have one of three format types:
Block
Modified Block
Semi-Block
Block Format
Block formatting is typically used for the most formal business letters. With the Block format, all written words, from the addresses, salutation, body and closing, are all left justified and single spaced. Each block is separated by a double space.
Sender's address
Sender's phone number
Date
RE: (If necessary)
(4 lines down)

Recipients name
Recipients business name
Recipients address
(1 line down)

Attention: Individual who letter is directed to
(1 line down)

Dear Name:
(1 line down)

Body of letter: All paragraphs are to be aligned to the left, typed using single spacing with double spaces between paragraphs.
(1 line down)

Sincerely,
(4 lines down)

Signature
Name
Title

Enclosures:
cc: Name
Name

Modified Block Business Letter Format
Modified block formatting is similar to block format, except the date, return address, closing and signature start at the center-line of the letter.
Sender's name
Sender's address
(1 line down)
Date
(4 lines down)
Recipient's place of business
Attention: Individual letter is directed to
Recipient's business address
(2 lines down)
Dear Name
(2 lines down)
Body of the Letter: All paragraphs are to be aligned to the left, typed using single spacing with double spaces between paragraphs.
(2 lines down)
Sincerely,
(4 lines down)
Signature
Name
Title
Enclosures (if any)
cc: Name
Name
Semi-Block Format
Semi block format is similar to the modified block format. All items are aligned to the left. The only difference is that the start of each paragraph is indented five spaces, with a double space between each section. The semi-block format is known as the least formal style of all three formats and should not be used for important correspondence.
Date
(4 lines down)
Recipient's name of business
Attention: Individual it's directed to
Recipients address
(1 line down)
Dear Name:
(1 line down)
Body of Letter: Indent the first line of each paragraph 5 spaces. Paragraphs are single spaced, with double spaces between paragraphs.
(1 line down)
Sincerely,
(4 lines down)
Signature
Enclosures:
cc: Name
Proofread
Once you compose and format your letter, it's time to proofread it for any typos and possible errors of punctuation and grammar. No matter how well laid out your letter is, the recipient will immediately dismiss the letter and its contents if errors are present. If you don't feel comfortable proofing it yourself, you can give it to someone else, or use one of the many online proofreading services such as Paperrater.
Conclusion
We hope you've found our comprehensive guide to formatting a formal business letters useful. While these are the basic formats, individuals and companies are free to make alterations to the rules to suit their needs. However, by following these basic rules, you should be able to quickly compose, type and print out a professional formal business letter quickly and easily. Feel free to use our sample business letter examples below as convenient templates to follow, simply insert your information and follow the line spacing.
1st Business Letter Format :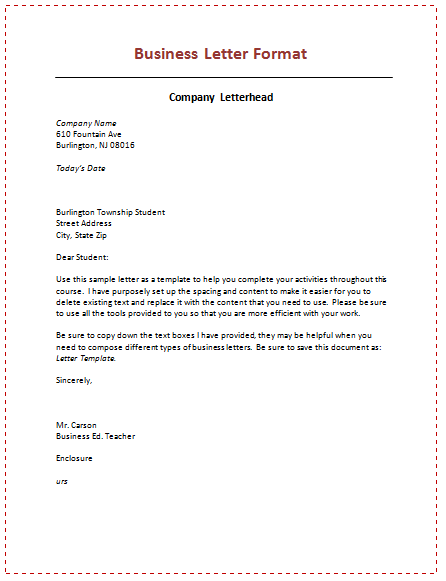 2nd Organization Business Letter Format :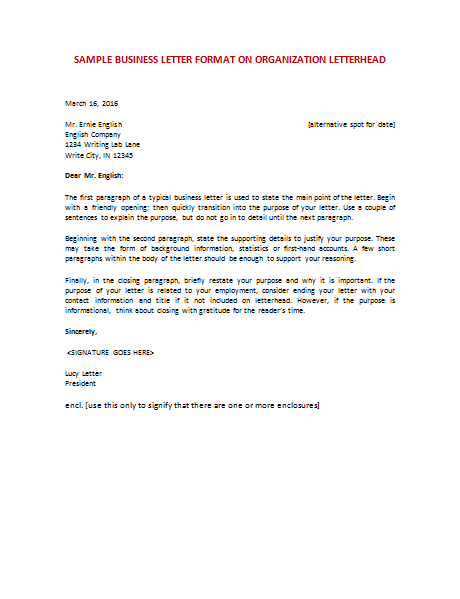 3rd Business Letter Example :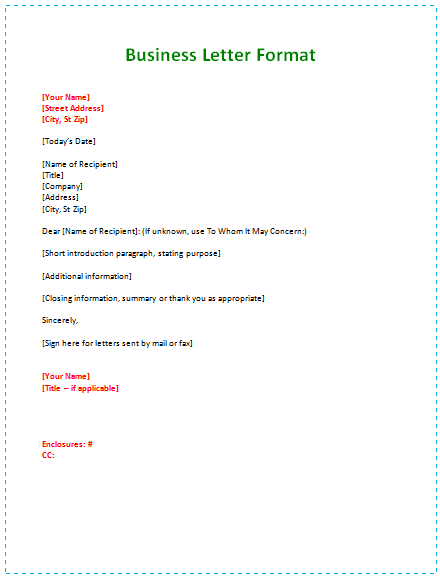 4th Business Letter Format About Shipment :
5th Business Letter about Meeting :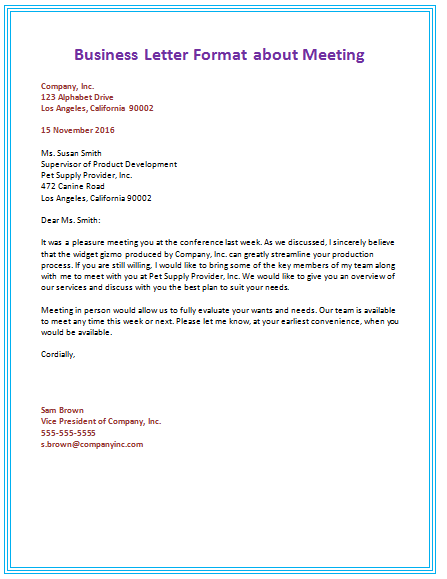 6th Business Letter about Dissolving Partnership :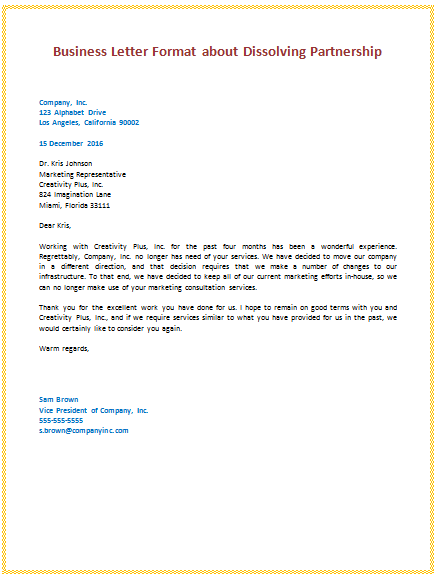 The sample business letter format ideas that are found here are meant to inspire and guide you in your letter writing. If you want to look professional in the business letter writing that you do, then you will find these sample letters to be helpful. You can learn the best business letter format, and you can use it to your advantage. Be careful when writing professional letters, and always pay attention to their formatting. Use the sample business letter format ideas found here to guide you.