A resignation letter is an official letter that provides the employee's individuals file which indicates the employment culmination. There are numerous situations which may lead an employee in deciding to write this letter including but not limited to
You probably hate your current job
May be you are ill
Engagement with school work
You may be relocating
Probably you landed on a new job
Difficult work environment
In the event you have just started on drafting this letter and you are stuck in the midway, you can always solicit for either a Resignation Letter Sample, Resignation Letter template which may make your drafting experience easy and enjoyable since they give you clear guidelines on the steps to meticulously follow for the perfect masterpiece. These samples and templates are available on my website and they come in both word and pdf format for free.
Being in a career path is quite a good thing to be proud of but again it comes with an array of challenges which arise and maybe you would like to leave your place of work on good terms. Statistics indicate that those individuals who opt to use means such as Resignation letters to voice their reasons to leave tend to be promoted to higher positions within the work place by them giving genuine reasons as to why they are leaving. It is vital to know what is a resignation letter and what it entails as you scale up in your career endeavors.
These and many other good reasons may be in line with your current state in decision making in terms of career progress. Let's say you are much pressurized to write this letter but you are stuck between where to start or how to craft this letter.
Elements of a Good Resignation Letter
Below is the fine list of elements of a good resignation letter just to keep you afloat with your next quest in career making:
Clearly, outline specific accomplishments with your current employer. This is important so as to bring on board the importance of your existence within that firm for the days you had served there and it will also leave an indelible achievement of records.
Don't leave any criticism of your current employer. Do not be duped in writing anything even close to constructive criticism. This is because very few employers would like to learn from their mistakes and they are adamant of any change to corrections.
It is important to give your employer a customary two-weeks prior notice on your plans to disengage with them.
Finally, ensure that you deliver the resignation letter by yourself with some five- ten minutes of smile and best of luck wishes. Make sure that in the first few minutes you are swift to reply positively to any questions posed to you.
Resignation Letter Writing Tips
With the above four elements in mind, you can then start drafting the next phase in your career life. Below I have provided for you with a quick guide on the resignation letter writing tips just to ensure that your next step in career life is not messed up. To get started, here are areas that you should focus on:
Have a friendly opening tone- aim at keeping an amicable but professional tone. Example start the letter with the word "Dear'' followed by their sir name.
Vividly state the reasons for your resignation
Provide a proper notice- this may be like two weeks so that they can seek for your replacement.
State your reason for leaving the firm- this is optional depending on an individual.
It is also good to state that you are more than willing to help out on duties within the time frame before the end of your engagement.
You should thank the employer for the engagement.
What to do and avoid when drafting your resignation letter:
DOs
Do clean up your computer- clean up your personal files. This is important since your employer may decide to show you out the door anytime and this may leave your personal life at the organization/firm.
Get the details that entail employee benefits and the salary you are entitled to, insurance coverage etc.
Do offer to help- offer to help within the transition time frame and even afterward
DON'TS
Don't brag about your new job
Do not be negative
Don't put it in writing about how much you hate your job, boss, or the company.
With all these tips in mind, you are sure of progressing well in your next life of a career.
Formal Resignation Letter Sample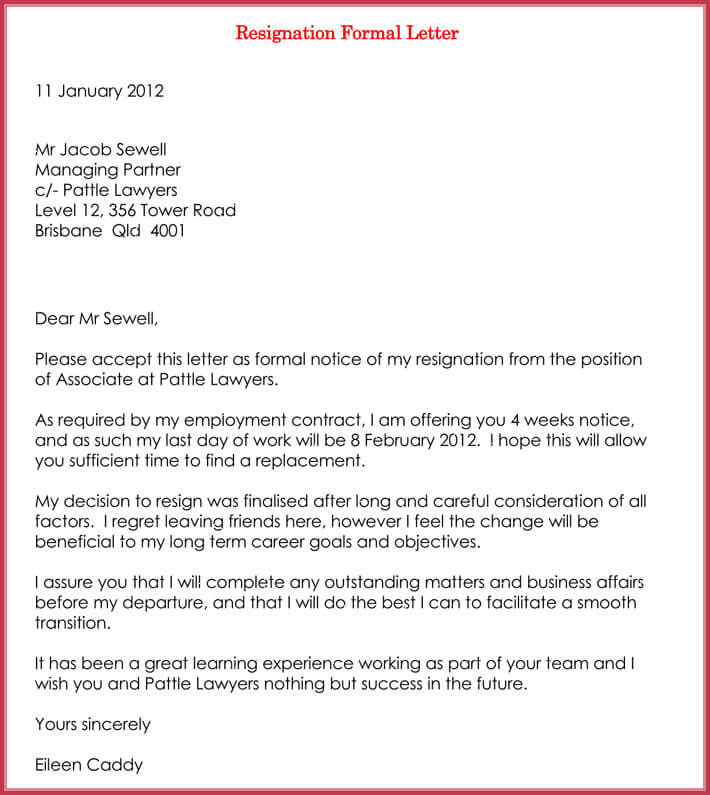 Nursing Resignation Letter Sample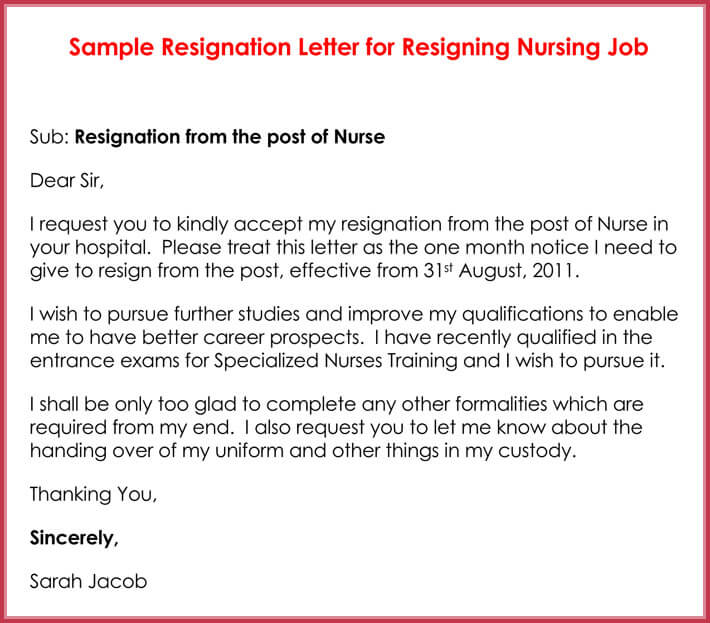 Job Resignation Letter Format
Sample of Resignation Letter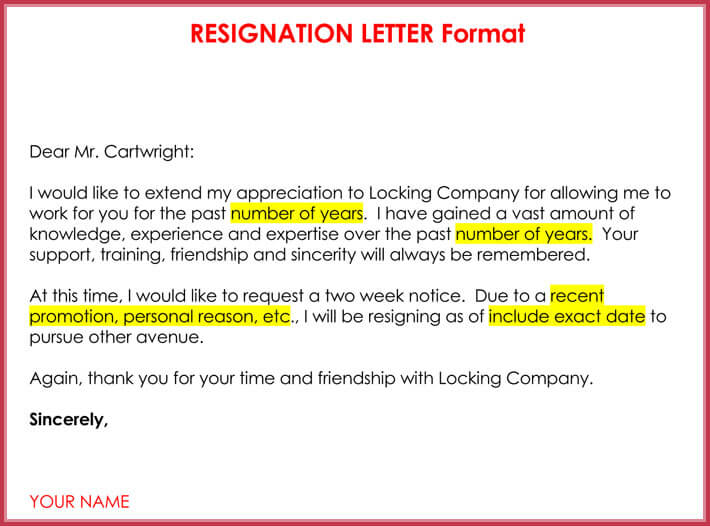 Example of Resignation Letter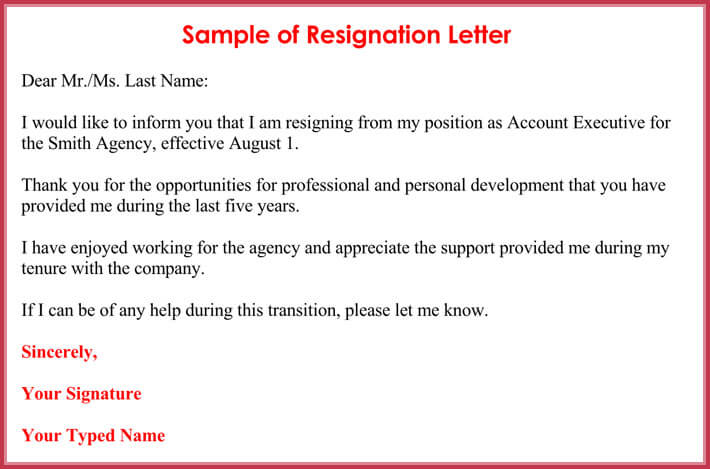 Resignation Letter for Resigning Secretary Job
Sample of Resignation Letter with Notice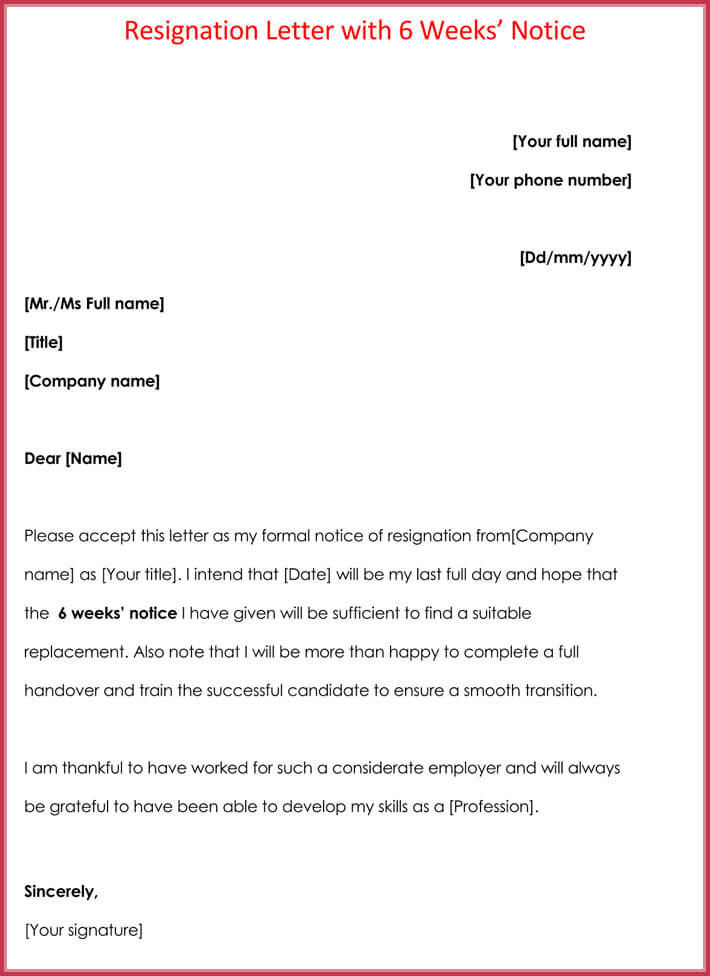 Resignation Letter Example
Sample of Short Resignation Letter