Goal setting is like using a good road map: it helps you reach your desired destination in the safest, timeliest, and most direct manner possible. Without clear, specific goals, you'll find that it's much more difficult to stay on track when trying to reach an objective. Many people don't know where to start when it comes to setting and reaching a goal, and this is largely because they haven't clearly defined the goal they want to reach.
SMART goal setting is a fantastic tool for setting clear, reachable goals. SMART stands for
Specific, Measurable, Attainable, Relevant and Timely.
What SMART stands for?
This outline can be used for both personal and professional goals, and it works well for individuals or in a group setting. In order for SMART goal setting to be effective, it's important to understand what each of the points are and how to use them.
S – Specific:
When setting a goal, it's important to be as specific as possible. Being specific will help you have a clear vision of exactly what you want to accomplish. Having a clear picture of your goal will help you set realistic checkpoints to keep yourself on track. Here's an example of how you can take a goal and rework it to be more specific: A general goal of losing 25 pounds is vague. To improve this goal and make it more specific, you could say, "I want to lose 25 pounds by cutting refined sugar from my diet and exercising for 30 minutes three days a week." As you can see, the specific goal paints a much clearer picture.
M – Measurable:
A goal needs to be measurable; otherwise, you won't know how close you are to attaining it. How will you know when you reach your goal? You set checkpoints. Checkpoints are miniature goals that will help you reach your main goal. For example, a goal of making more money could be made measurable by setting a series of mini goals to reach on your way to the main goal. Keeping a goal measurable will help you stay on track. Furthermore, reaching these mini goals along the way will help you stay motivated as you witness your own progress.
A – Attainable:
Unrealistic goals will only discourage you, since they aren't attainable. When setting a goal, make sure it's something that you can realistically achieve. This means giving yourself enough time and making sure you have the resources (money, supplies, education, outside help) to achieve your goal.
R – Relevant:
If your goal isn't relevant to you, you will most likely struggle to see it to completion. A goal needs to hold meaning to your life, whether it's a personal goal or a business goal. Setting a relevant, meaningful goal will give you the motivation you need to keep your focus on the main objective.
T – Timely:
Breaking down a goal and making deadlines will keep you focused. When creating a timeline for your goal, be sure to take into account how much each task will take. Give yourself enough time to follow through, but not too much time. Giving yourself more time than necessary could lead to distractions and time-wasting.
Free SMART goals templates
These templates are easy to customize and edit on your own. You can find them pre-made and organized so you can sit down and see what you need to do in order to create a specific goal and map it out.
Reaching goals successfully always starts with successful planning. When you use the SMART goal setting template to create a clear blueprint of your goal, you are setting yourself up for success.
SMART Goals templates (Word)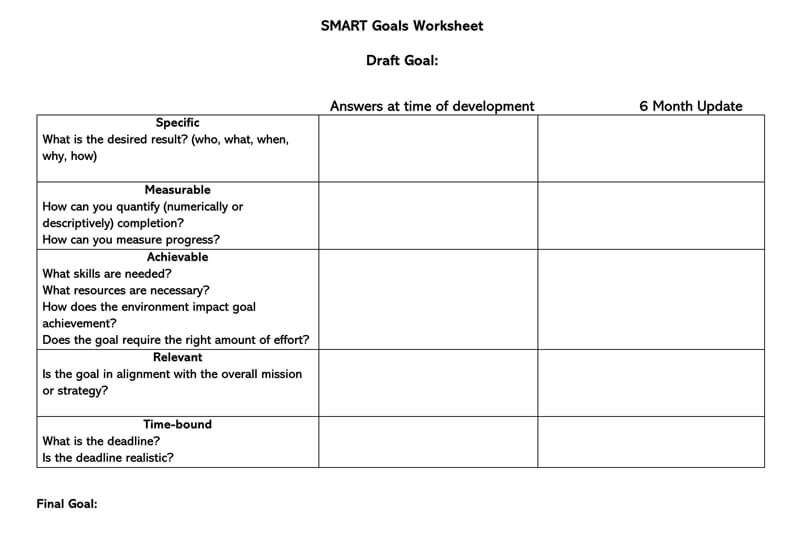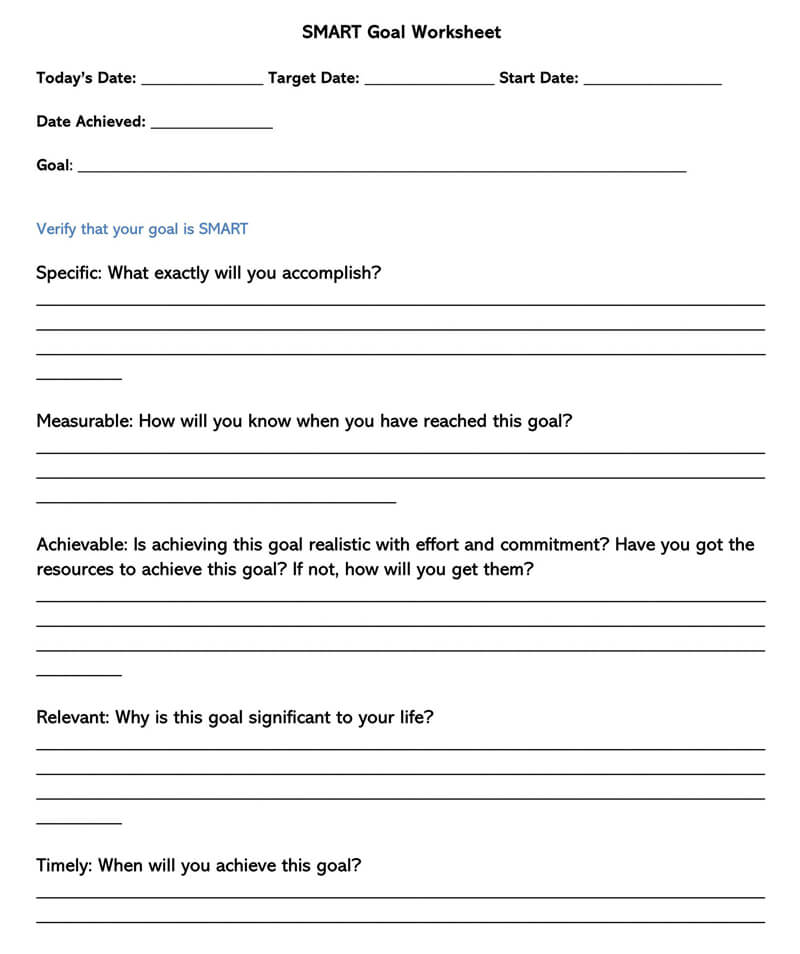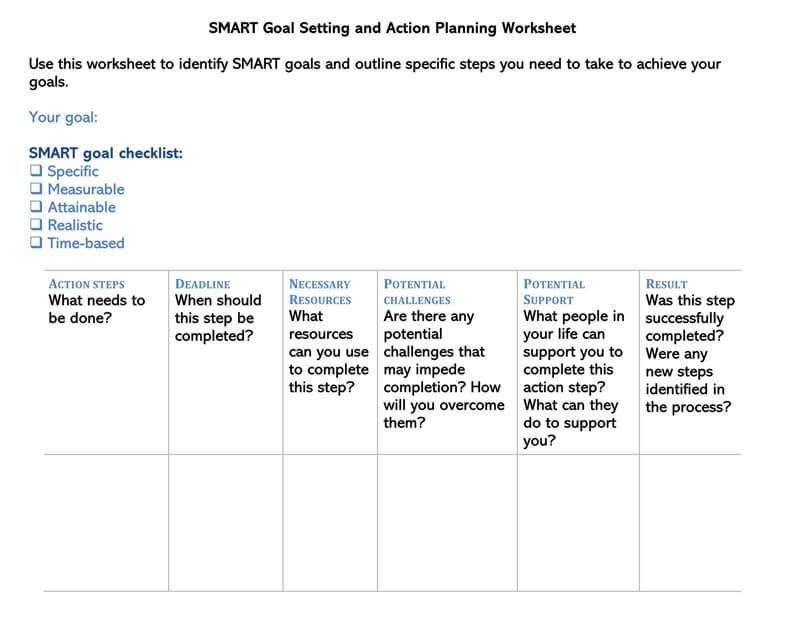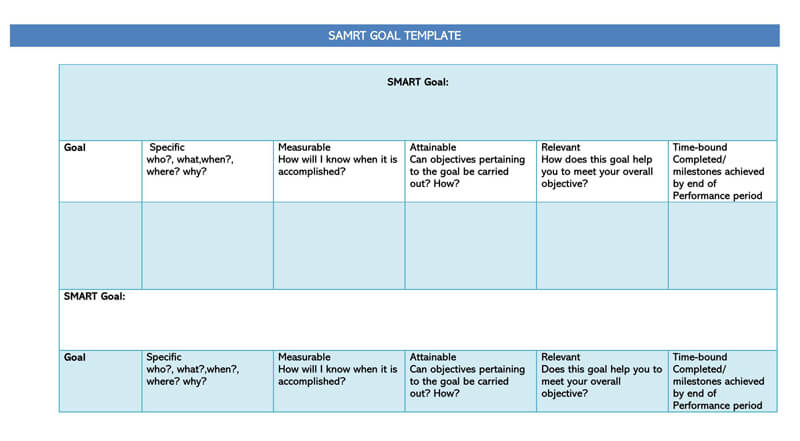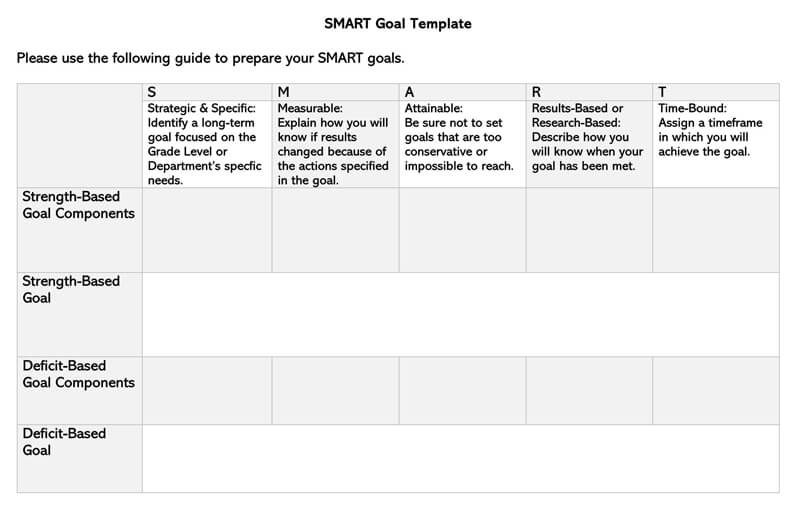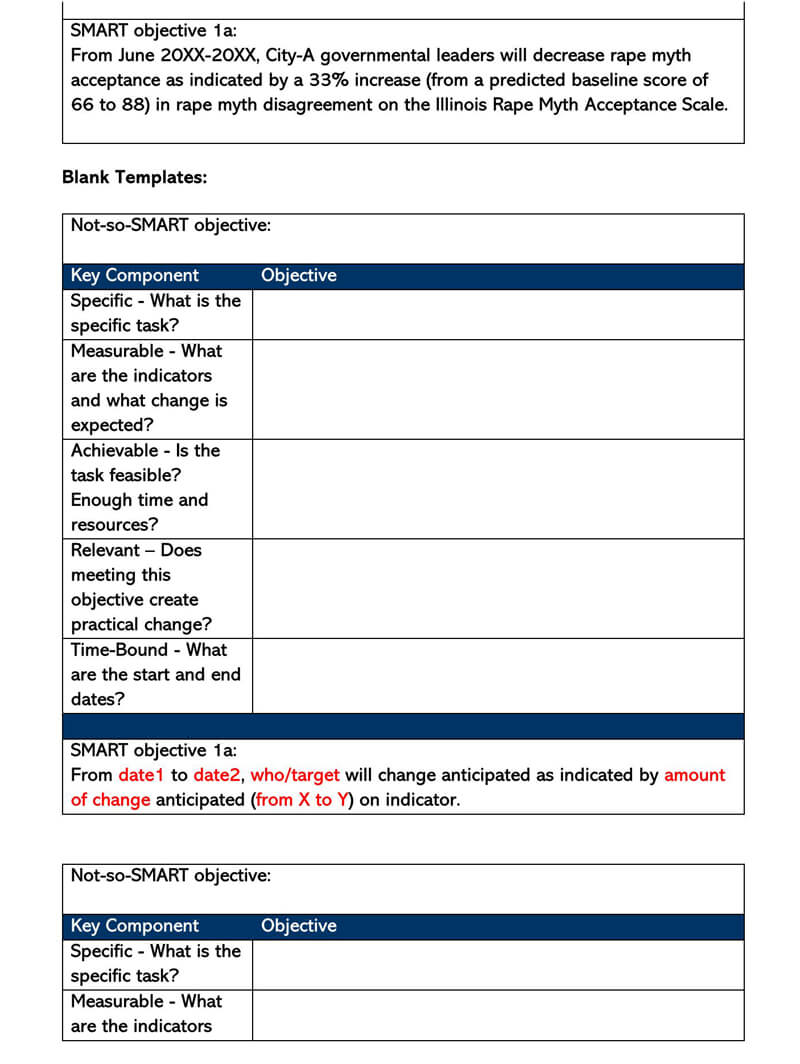 SMART Goals templates (PDF)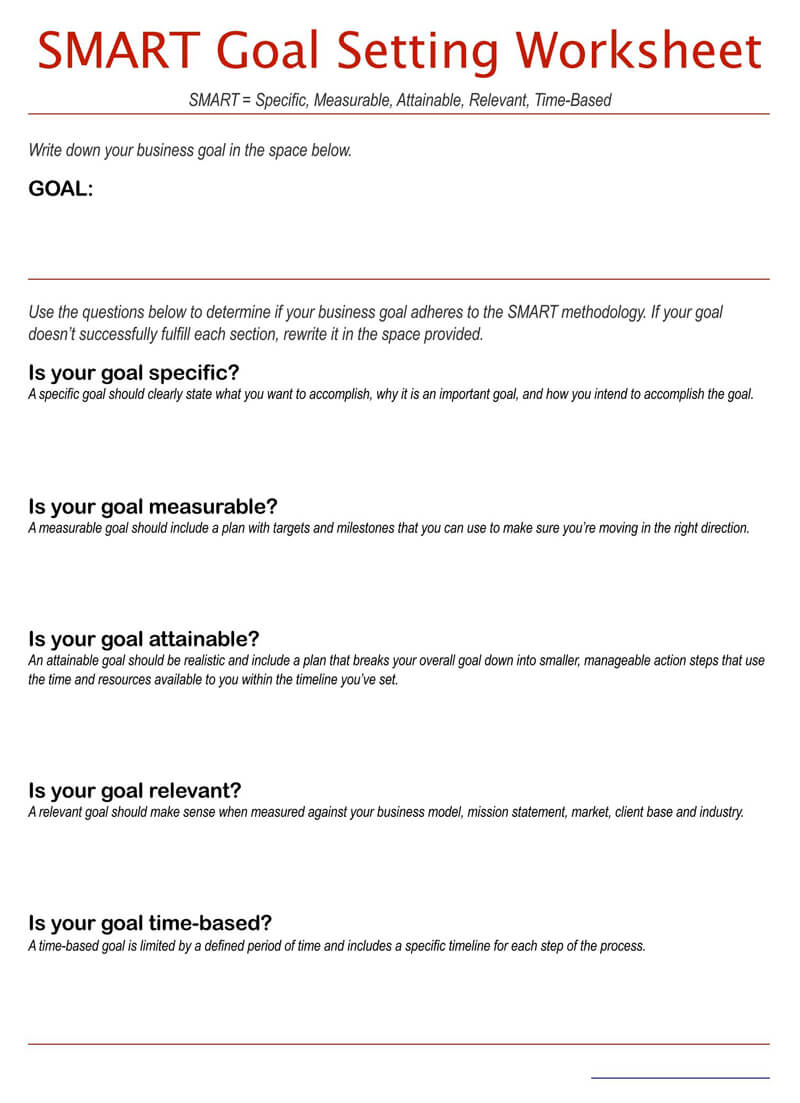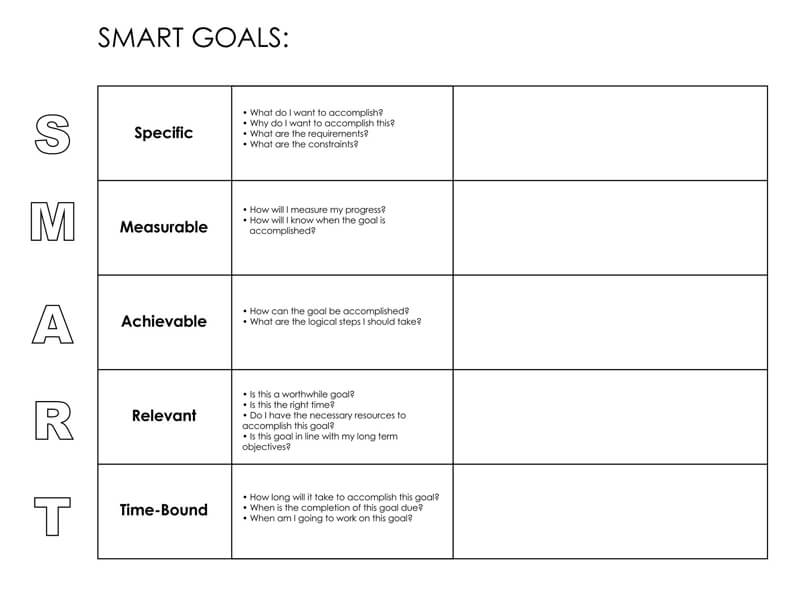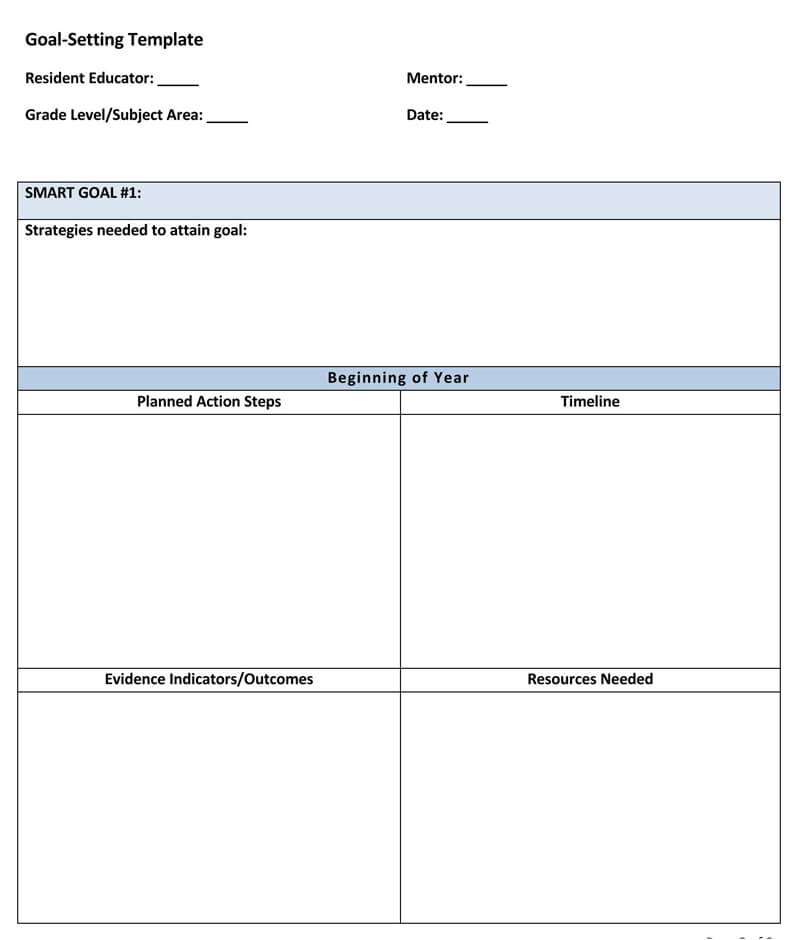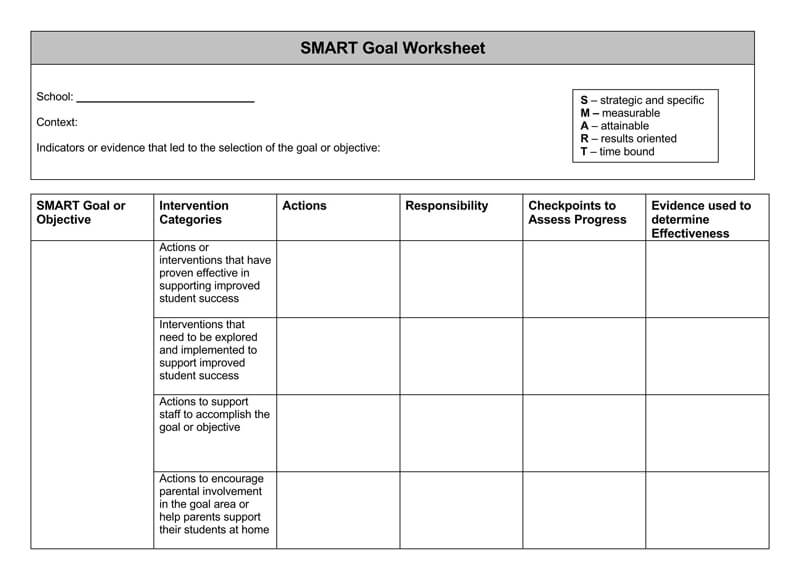 Why use SMART goals?
Using the SMART goal setting method is a great way to create, track, and manage your goals. They can be used for health goals, professional goals, managing goals when learning a new skill, and any other situation that involves goal setting. It's best to use a SMART goal worksheet or template, which enables you to write down each aspect of your goal and how it will fit with the SMART goal setting approach. SMART goal templates can be used in a variety of goal setting situations, whether for your own personal use, or for your team at work.