In most cases, employees tend to avoid anything to do with self-evaluations as much as possible. This is perhaps because they find it difficult to be objective about themselves. However, in as much as it is an intimidating subject, self-evaluations are very important hence should not be despised whatsoever. According to experts, self-evaluations can help divert a person's career trajectory for a better future.
Just as the name suggests, Self-Evaluation, also known as self-performance, is appraisal tools used by employees to assess their own strengths and weaknesses within a workplace. When asked by your employer to conduct a self-evaluation, you are supposed to write about any achievements that you can identify and circumstances in which you managed to make those achievements.
While it's a new concept, more and more companies are turning their attention towards the employee Self-Evaluation practice due to its benefits. The majority of studies show that managers and employees alike are getting fed up with the traditional assessment methods. This is either because it doesn't bring a positive impact on the employee's performance or it's complicated.
What are the benefits of conducting a Self-Evaluation?
Oftentimes, a Self-Evaluation does come with multiple benefits not only to the employee but to the employers alike. Therefore, the following are some of the most common benefits:
It demonstrates individual accomplishments
Self-Evaluation presents a perfect opportunity for employees to share some of their best achievements, especially those associated with the most challenging projects. With this, they demonstrate their expertise and contribution towards meeting the organization's goals and objectives. Also, when the employees demonstrate their achievements, their efforts are not only recognized but also they get a sense of fulfillment.
Improves awareness of employees strengths and achievements
On frequent occasions, it's always difficult for employers to know the strengths and the contributions of each working towards the company's success. Also, it's difficult for employers to remember the individual employees, especially those that have taken duration. However, when employees conduct their own Self-Evaluation, it makes it easier for the employer to remember and be aware of each employee's strengths, skills, achievements, and contributions to the company.
Sometimes when you look at how far you have come from, you can get motivated to even press further. Reflecting on past achievements is a way of sparking some new motivation to make further improvements. Again, when an employee takes his/her time to reflect upon their milestone achievements, they stand a high chance of identifying new opportunities that could reinforce their strengths. For instance, they can identify where they need to focus more in order to get better results. Last but not least, Self-Evaluation can also make the employees learn where the absence of certain skills is preventing them from realizing their potentiality and efficiency. With this in mind, the employee can be motivated to work towards gaining such skill(s).
It quantifies the value an individual provides
A self-Evaluation is a great tool for assessing the employee's career trajectory as well as compensation. When an employee conducts a Self-Evaluation, he or she realizes how much value they offer to the specific company or place of work. Additionally, it helps the employee know whether or not they exercised the necessary skills while undertaking certain roles or duties. At the same time, the employers can use the Self-Evaluation do determine whether or not the employee deserves a pay rise or any other type of promotion.
What to include in a Self-Evaluation
Generally, a Self-Evaluation should contain the following major components:
Your strengths and weaknesses: here, you need to highlight your capability/potentiality as well as things preventing you from realizing those potentialities.
You key values such as integrity, creativity, ambitious and effective communication to mention a few
Achievements: This should include everything you've accomplished so far.
Future targets: This should include your future aspiration and improvement plan.
Any other comment or feedback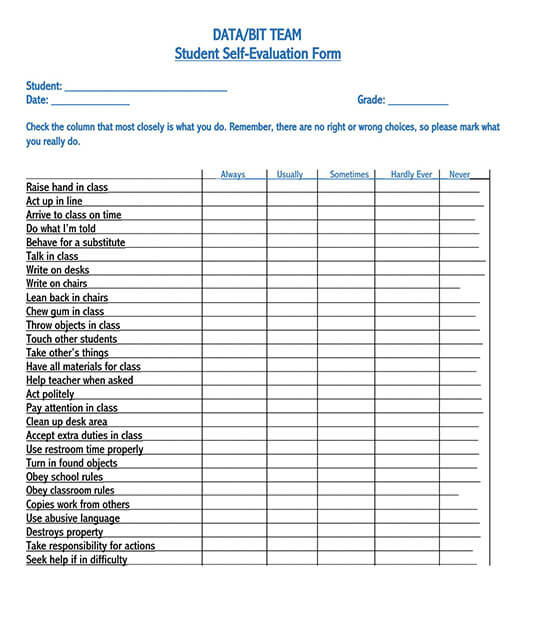 Tips for writing an effective Self-Evaluation
Despite its significance, writing a Self-Evaluation can be easier said than done, especially if the evaluation is to be submitted to a supervisor for review. Therefore, if you are having some challenges in writing one, the following tips will help you through:
Be honest and truthful
Writing a Self-Evaluation doesn't necessarily mean writing down your strengths and accomplishments. Rather, it calls for being honest and factual. In as much as you'd want to pinpoint your achievements, make sure you extend the same honesty when pinpointing your weaknesses. It is failures or weaknesses that make the one to grow. Therefore, the moment you can identify your flaws, you will be demonstrating your ability and willingness to learn and hence room for improvement.
Be specific
When writing a Self-Evaluation, you should always be specific and factual. In other words, make sure you provide nothing but facts (and if possible with evidence). Also, avoid the use of vague or unclear languages that doesn't reflect on your performances. Rather, it's recommended that you use simple, precise, and clear language that is easy to understand.
Review job description
If you are uncertain of what to write evaluate, you can take a look at your job description. The job description will help the employee know their duties and responsibilities. Using the job descriptions as a reference point, you can then identify which places you excelled in and which areas you underperformed.
Align your evaluation with the company's goals
When writing a Self-Evaluation, make sure you explain how your contribution matches the goals of your company. This will help you to remain relevant and to focus your efforts where they are needed.
Define your next steps
Frequently, Self-Evaluation does focus a lot on reflecting backward i.e., past performance and achievements, past failures, among others. However, it's equally important to give a second thought to the future. Make sure you share your aspirations, intentions, and ideas about your future. Having known your strengths, what will you do in order to better your future outcomes using the strengths? At the same time, what will you do to strengthen your weaknesses at your workplace? All in all, make sure that you use your past achievements and failures as a guiding point for your next future steps.