We all have people who we truly admire, whether in our personal lives, historical personalities, or modern-day icons. Biographies are a great place to learn more about those who influence us, and writing a biography ourselves for a blog or book can be a fun and challenging enterprise. If you wish to start a biography, we've taken the time to compile a handy, basic guide. This guide will help you get started by sharing important information, tips, and tricks so your biography can be the best it can be.
Getting Started
First, it's a good idea to make certain that you have enough information on your subject. Not only do you want a good deal of information, but it's important for both your credibility and your subjects if the information is legitimate. The individual whose biography you are composing deserves the best you can do, and that means ensuring that your facts correct and from legitimate sources.
Another concern is the number of biographies already available on the individual. For instance, if you are writing a biography of Elizabeth Taylor, how will your book different from the others? In other words, you want to make sure that the approach you take makes your biography fresh, alive, and unique. Never compose a biography that looks as if it came from a Wiki site and expect it to interest people.
Once you have your individual in mind, it's time to acquire the proper permission. While it is not always necessary, obtaining permission from the individual or estate can gain you access to more personal information. If you choose to write an 'unauthorized' biography, then you will be limited to information available in the public domain. Remember, if you decide to go the unauthorized route, get to know your legal rights as some individuals or estates can sue you for publishing facts which are not true, whether you meant to or not.
What Interests You and Others About This Individual?
When it comes down to actual writing, this is a good question, to begin with. It's open-ended and can set you on a solid path for doing your research. Next, consider your demographics. Are you composing this book for adults, young adults, or children? This will affect not only the tone but the language and reading level. What interests a young child about a person will differ greatly from what would interest an adult.
How Much Detail is Enough?
While detail is important in a biography, it needs to cater to your chosen audience. For instance, if you are writing a biography about Winston Churchill and gearing it to history buffs, you'll have to make certain that you provide adequate and factual detail. A history buff will want to know the facts, dates, and important events. However, if you are writing a biography about a pop star or explorer, people might be more interested in the life adventures they had, rather than what they put on their toast that morning. The detail is a balancing act, too much and you risk boring your readers, while not enough leaves the reader unsatisfied.
Lets Start Researching
This is more important than it might sound. After all, we are living in the world of Wikipedia and other sites and blogs which churn out condensed biographical information on the most celebrated individuals, historic and present day. Always remember that your biography will only be as good as your research, so dig deep.
Also, don't forget about the interview. Interviewing people for your biography can inject some freshness into it, move it away from the dull 'public domain' syndrome. Purchase a handheld recorder, or use a voice recorder app for your phone, and a durable notepad to collect the information. Interviews can be conducted via Skype, email, chat, phone, or in person. If you conduct your interview online, remember to screencap the conversation so you have a copy for later use.
When you begin to research, take some time to look for key information that readers might not be familiar with. Look for hidden gems to surprise your reader with. Go deep with the research and remember to keep track of your sources and where you obtained the information from. An excellent source is older issues of newspapers and magazines. In days gone by, you only had the microfiche, but now most newspapers and magazines have archived their past issues online, so feel free to dive in and find information that time forgot.
Finally, don't forget to research accomplished biographical authors. You'll gain a much-needed perspective on composing your piece as you learn how they proceeded. Concentrate on authors who successfully published in your field. If you are writing a biography about a well-known athlete, then take a look at their style and what makes them successful in communicating their ideas to their audience.
Sites to Get You Started
Below is a small list of reputable research sites, which may help you get a hang of research. Most of these sites have archives and be advised, there are research sites that require a fee to access their archives. The following list is by no means exhaustive, and if you do not see a site here which will assist you, do a web search for the proper one.
Library of Congress: http://www.loc.gov/
National Archives and Records Administration: http://www.archives.gov/
Center for History and New Media: http://chnm.gmu.edu/
PBS: http://www.pbs.org/
Digital History: http://www.digitalhistory.uh.edu/documents/documents.cfm
HistoryNet: http://www.historynet.com/
EyeWitness to History: http://www.eyewitnesstohistory.com/
Time Magazine: http://www.time.com/time/magazine
Sports Illustrated: http://sportsillustrated.cnn.com/magazine/specials/sportsman/archive/
Archive.org: https://www.archive.org
The Outline
Not everyone writes the same way, some toss notes in a pile, and simply write, while others need an outline. As this is a biography, it is probably a good idea to compose a simple outline to keep the chronology correct. Some writers find it easier to simply map out a timeline of the personal life, while some writers decide to do both. If you are confused about how to write an outline for a biography, we've included a small example below:
Basic facts
Full name
Birth date and place of birth
Information on parents and siblings
Childhood
Where they lived and attended school
hobbies, friends
Adulthood
Education
Careers
Milestones
Personal life (spouse, children, friends)
Where they live
Reason for Fame
Why are they famous
How they became famous
Life challenges, obstacles
Achievements, events, awards, charity involvement
Later life
Current or last spouse
Children
Facts on death if the individual is deceased
While the outline feels a little 'dry', it gives you a good starting point for gathering facts. How readable your final biography is, depends on the tone, style, and flair you choose to engage the reader with. Remember, if it is a professional or historical biography, a more formal tone may be required, if the book is about a flamboyant performer, then, by all means, engage the reader using a less formal, and more fun tone.
Proofread and Edit Your Work
We cannot state enough the importance of proofreading and editing your work. Proofreading means you go over your work for errors in spelling, grammar, and punctuation. Editing means you go through your work polishing bits up and cutting other bits out. If you do not feel comfortable proofreading your own work, you can hire a proofreader or run your pages through one of the many free, online grammar checkers available.
Cite Your Sources
Earlier, we mentioned the importance of writing down the source for all of your information. Citing sources is a major part of creating a legitimate biography, and not a sensational piece of fluff. When you properly cite your sources you have added valuable credibility to yourself as a writer and researcher. Cite sources from websites, magazines, and newspapers as well as mention all of your interview sources. If you are new to the idea of citing sources, choose the MLA style of citation. The MLA method of citing sources is widely recognized and accepted.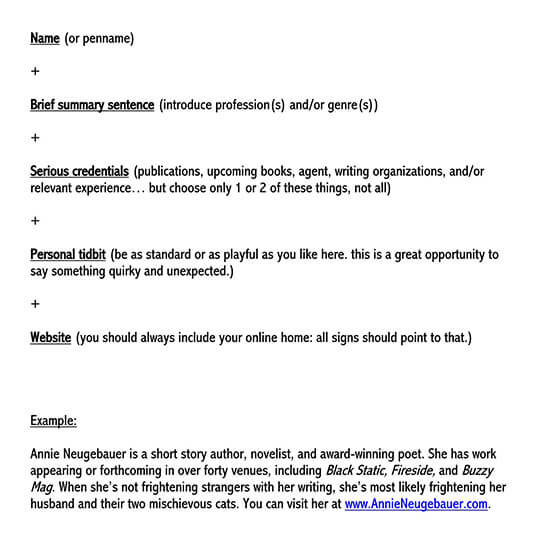 As you can see, writing a biography can be a great adventure in and of itself. It challenges both your creativity as a writer and your credibility as a researcher. While writing a biography might seem a daunting task at first, almost too big to handle, once you follow the guidelines we've set up for you, it should go a little smoother. Once you've selected the individual, proceed to collect the basic facts, add pertinent details, qualities, character, achievements, overcoming obstacles, and how their life made an impact on the world and other individuals. Outline your biography, write, polish, edit, and cite your sources. All in all, we hope our simple guide will assist you in creating the perfect biography!