It takes good employees to run your business, from the bottom to the top. Once you have mastered the hiring process and have key people in the positions you are looking for, you than need to schedule them. With many people these days, working multiple jobs, or going to school, scheduling your employees can be a long drawn out process. By using a work schedule template to write your schedule you solve several problems all at once.
Management: When management uses the work schedule template they can actually create two things using separate templates. On one work schedule template they can create an availability list that will allow them to know when their employees are available to work. Using that work schedule template they can than take the second form and create a work schedule that works well for the business and the employees together. It also allows you to track how many hours per employee so the schedule is fair for everyone. The work schedule template is also a great way to help keep track of attendance by noting when the employee arrived for their shift.
Employees: Your employees want to plan their lives around work, at least they should be. When you use the work schedule template, posting it with their schedules, you give them that opportunity. This not only allows them to see when they are being scheduled and how many hours they are working each week, but it gives them the opportunity to plan their lives.
These work schedule templates for employees are free to download and only takes a few minutes before you have it in your computer. From there you have full access to it, giving you the opportunity to edit the fields so they fit the needs of your. You can even highlight categories as needed.
[ads]
1st Basic Work Schedule Template for Excel®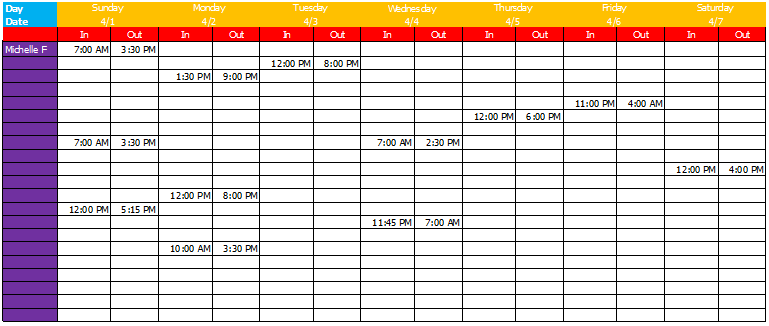 2nd Work Schedule Template :