A leave is the period of time that an employee is absent from work. During this period, he/she is paid and continues to be an employee of the company. Most companies require that leave is requested in advance so that the manager or supervisor can plan or arrange for the team work, with the absence of one employee in mind. This is where a leave letter templates comes in.
A leave letter is used in the workplace and in an academic setting by the person requesting for some time off. It can be temporary or a permanent leave letter. Employees and students request for leave for certain reasons and all these situations call for different types of leave letters, according the company or school's policies. You can download following leave letter templates to write one for your situation.
Court Leave Letter Templates
This is a written notification to a school faculty or employer that the employee will be absent to attend a court order. Criminal cases, jury duty, civil suits and domestic relation issues are examples of court proceedings that would necessitate a court leave. The letter should be written, signed and delivered immediately a student or an employee is aware of the obligation to be in court.
Funeral Leave Letter Templates
Letters asking for funeral leave are written to seek time off to attend the wake, memorial service or funeral of an immediate member of the family. Most employers will allow three days off, although this can vary.
Holiday or Vacation Leave Letter Templates
This is written to ask for some time off to observe or celebrate a national or religious holiday or to us up accumulated paid vacation time. This letter should be written and delivered a month in advance or according to the company's human resource policy.
[ads]
Medical and Family Leave Letter Templates
These letters include paternity, maternity, serious illness of the employee or a close family member and adoption. This leave is protected but the government and it is the responsibility of the employee to draft and deliver this letter as soon as the need to take leave arises.
Annual Leave Letter Sample
This format is what most companies use. With this, you only need to change your details and that of your employer and signatory.
Emergency Leave Letter Sample
Our sample is wide and can be edited to suit your needs. It is good to specify what the purpose of the emergency leave is whether you are taking the time off to attend to a personal or family medical issue.
Marriage Leave Letter Sample
This is written to ask for time off for a wedding, whether to plan, get married and go on honeymoon or to attend and an immediate family member's one.
[mdn]
Office Leave Letter Sample
Parental Leave Letter Template
School Leave Letter Template
Vacation Leave Letter Sample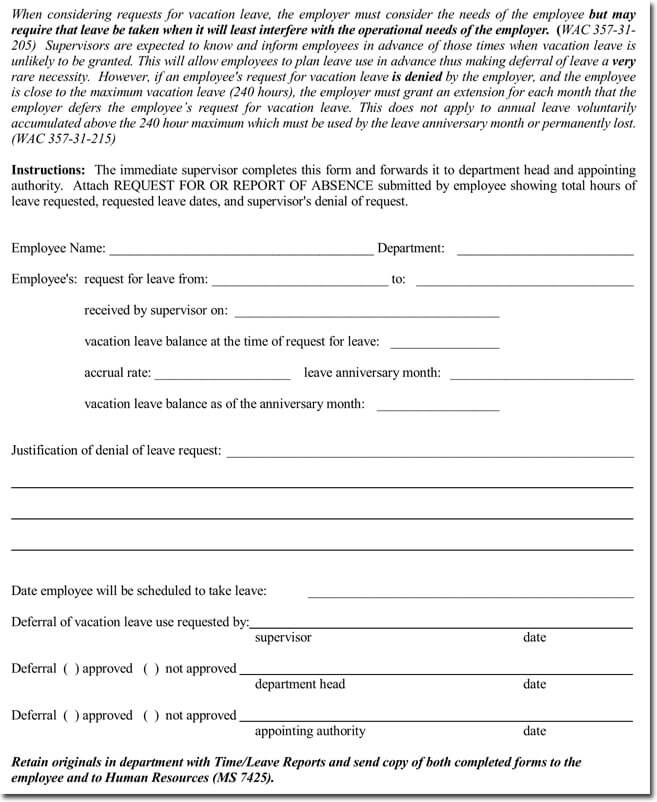 Whether you want to leave a school or company on a permanent or temporary basis, it is vital to draft your leave letter in a professional way. Drafting the wrong leave letter or falsifying information can lead to misunderstandings. Understand the reason behind your time off and draft the letter accordingly. Our samples will help you with the correct formats and proper wording for your specific leave request. We offer the best samples that just need you to key in your identity.