The hiring process in the average business is inundated with all kinds of personalities. In any one hiring session, a business manager may encounter applicants who come across as emotionally unstable, indifferent, rude, or completely unqualified. In concept, a clash of personalities should not matter; in practice, it is sometimes difficult to avoid it.
Whatever your personal feelings are about the unsuitability of a candidate for a job, these feelings should never be reflected in the tone of a rejection letter. Every document generated by a business, large or small, reflects on its reputation. Professionalism must be the key at all times. Here are some tips to follow when formatting a rejection letter, along with some job candidate rejection letter samples for specific guidance.
Stay Professional at All Times You may be personally irritated over the fact that someone applied for a job for which they obviously had no experience, amounting to a waste of your valuable time. Although you should speak to the candidate directly about the results of the interview, it's not necessary to vent such feelings. Maintain a professional tone.
Stay Balanced in Your Rejection Your rejection letter should be neither too personal nor too impersonal, but somewhere in between. A rejection letter that is overly personal sounds as if you are being too patronizing. Too impersonal a rejection letter seems as if it had just been spit out of a computer database, with no concern for the candidate.
Although you may never see the candidate again, consider the fact that most interviewees are encountering fierce competition for jobs, and may have to deal with rejection on a regular basis. Keep your letter upbeat and let the candidate know you appreciate their efforts. Applicants for a job should be considered a valuable resource instead of a distraction.
State The Reason for Rejection Clearly Again, this should be done in an upbeat but professional tone. It's important for the candidate to know the reason for the rejection. Imagine going to several interviews in a day, being rejected by all of them, and not having a clue as to the reason why. Giving interviewees a simple explanation of the rejection helps them to tailor their efforts for a job so that they can be successful in the future.
Stay away from personal attacks or advice that could be considered offensive. Only job-related reasons should be given.
End The Letter On a Positive Note Is it possible to be truthful yet positive in concluding a rejection letter? The answer is yes. Even if you don't think the candidate will ever have a chance with your company, there are many others. Convey your best wishes for their future success.
If you are struggling with the exact words to use in your letter, here are some job candidate rejection letter samples, job application templates, job offer letter samples and business letter samples to get you started. They will give you a better idea of what's needed, and you can modify them for your own use.
[ads]
Job Candidate Rejection Letter Samples, Formats and Templates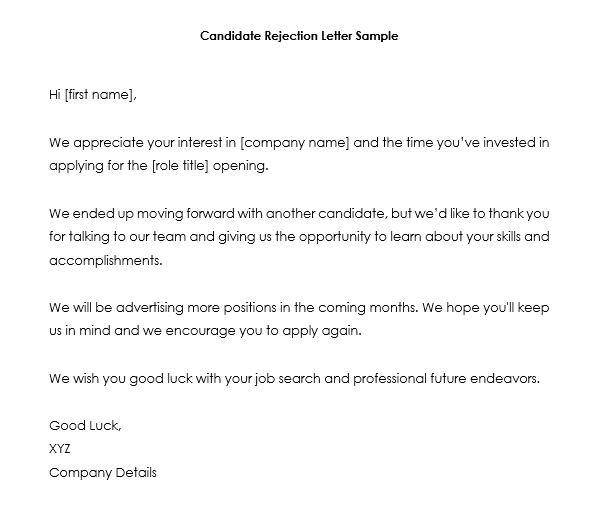 ---
Candidate Rejection Letter Sample After Interview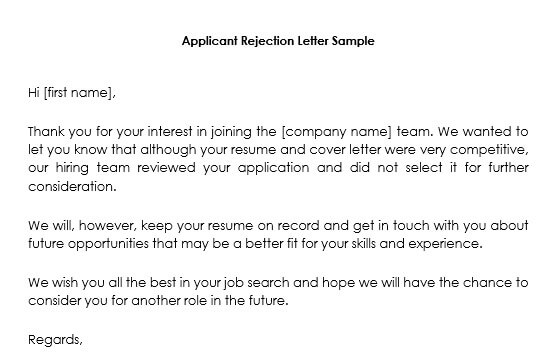 Refusal Letter Sample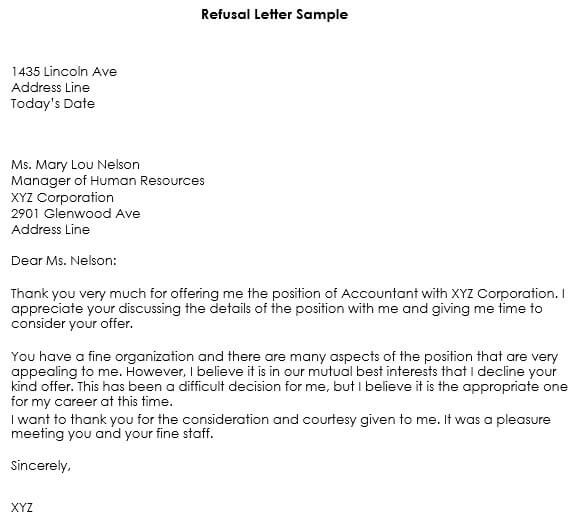 Sample Rejection Letter for Job Applicants
---
Rejection letter samples on different situations