The proof of income letter is a letter that describes how much a person's income accompanied by verifiable written evidence.
Did you know about proof of income letter? Did you know the importance of it? In our daily activities, it is difficult to ignore as we need the letter in various affairs otherwise we will be caught up in "administrative failures" which in turn will bring to us some bad effects. Actually, why is this so important and what is needed to make the proof letter? This article will explain from A to Z about the proof of income letter and how it works. Let's check the following points below!
We, as members of society, will definitely deal officially with various parties. Officially here means everything in our dealings requires written evidence or verified certain documents. The proof of income letter is important because it is used to perform official verification of a person's earnings. The letter contains verification required for various matters such as making a lease agreement, credit agreement, credit line determination, and so forth. In some countries, it contains specific information recorded since a person first worked until the present time. Please note that verification may be done by the letter holder as well as other people such as social security worker, accountant, and employer.
Possible situations for Proof of Income Letter:
As mentioned above, a proof of income letter is usually required for matters involving loan or lease agreements. Of course there are other interests that may be involved such as determining the amount of tax imposed on a person. We can take some situations that may occur with regard to the need for proof of income, such as when we apply for a loan. The borrower in this case will surely ensure that we have a steady income so we can afford the monthly repayments. Likewise, when the tax office decides how much taxes should be imposed on us. They need an income proof that of course has been verified.
Proof of Personal Income Letter Format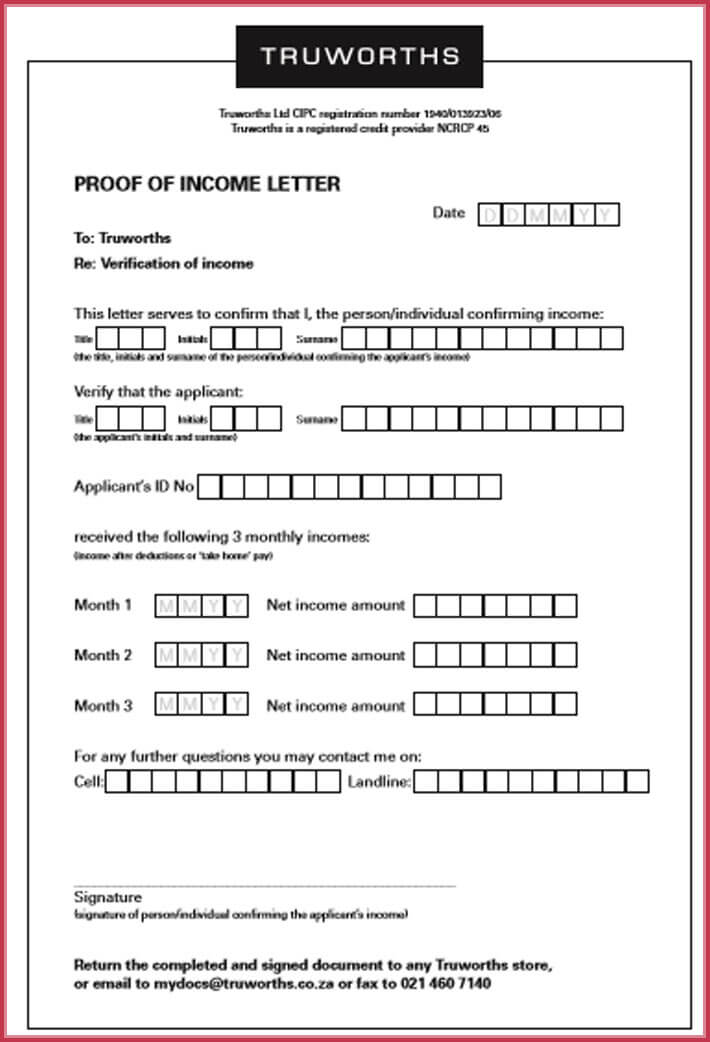 Proof of Income Letter for Accountants:
Babysitter Proof of Income Letter Format
Format of Self Employed Proof of Income Letter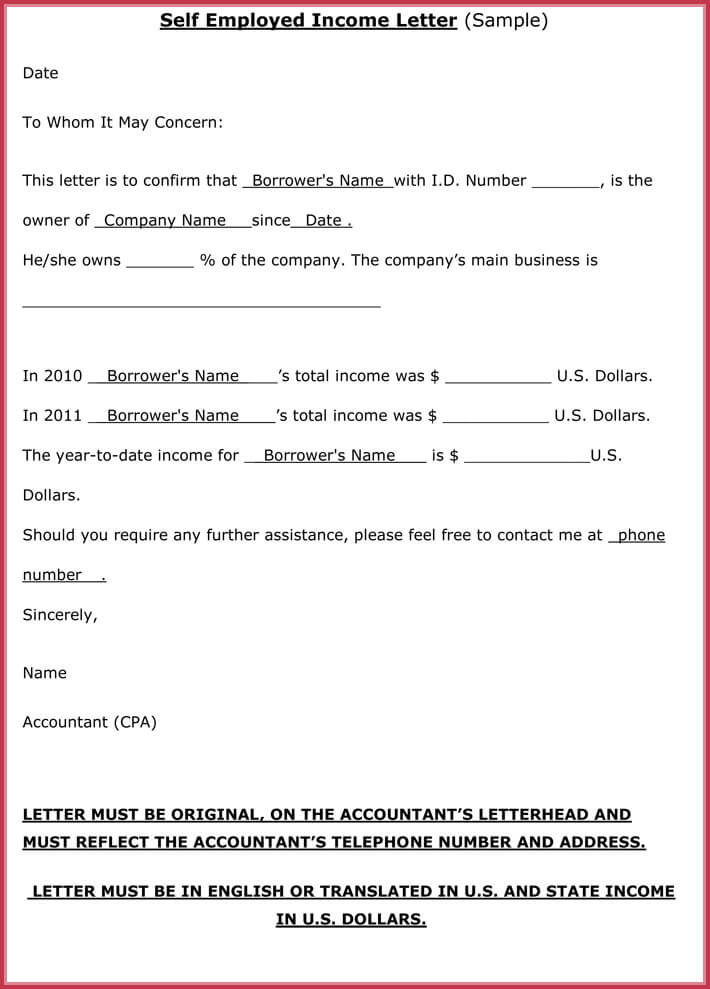 Proof of Income Verification Letter Example
Sample of Judgemental Proof of Income Letter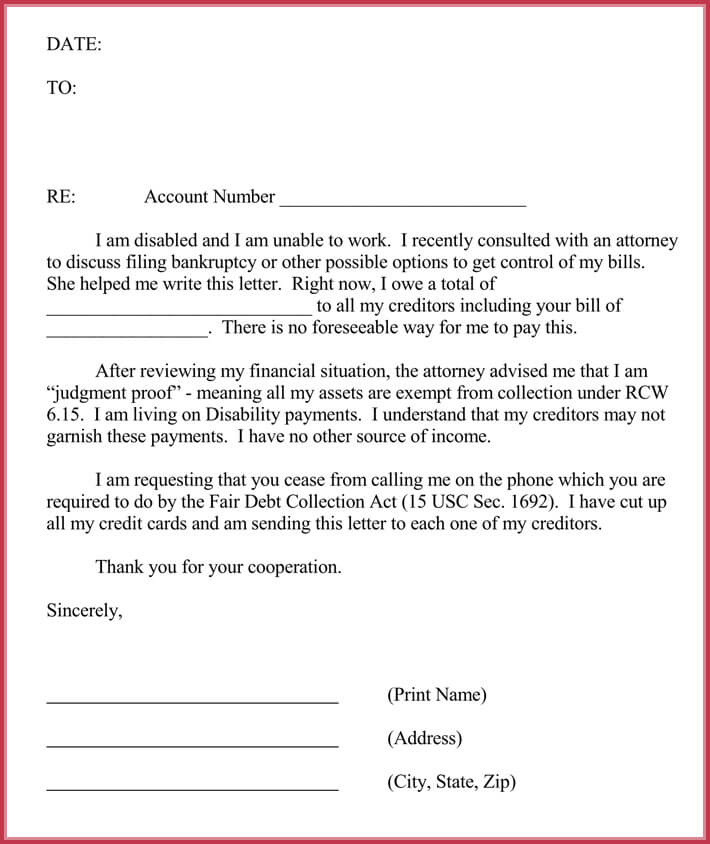 Proof of Self Income Letter Format
Proof Of Income Letter for Child Support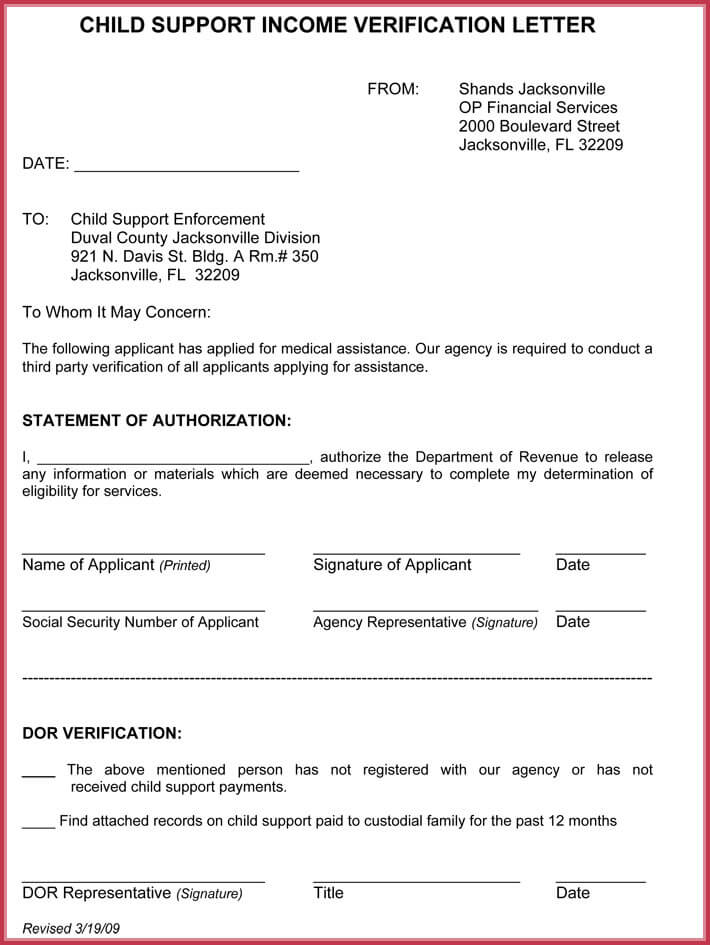 Sample of Disability Proof of Income Letter
Employer Proof Of Income Letter Format
Proof of Income Declaration Sample
Proof of Income Letter for Apartment
Social Security Proof of Income Letter Format
Notarized Letter Proof of Residency Income Sample
Other Proof of Income Letter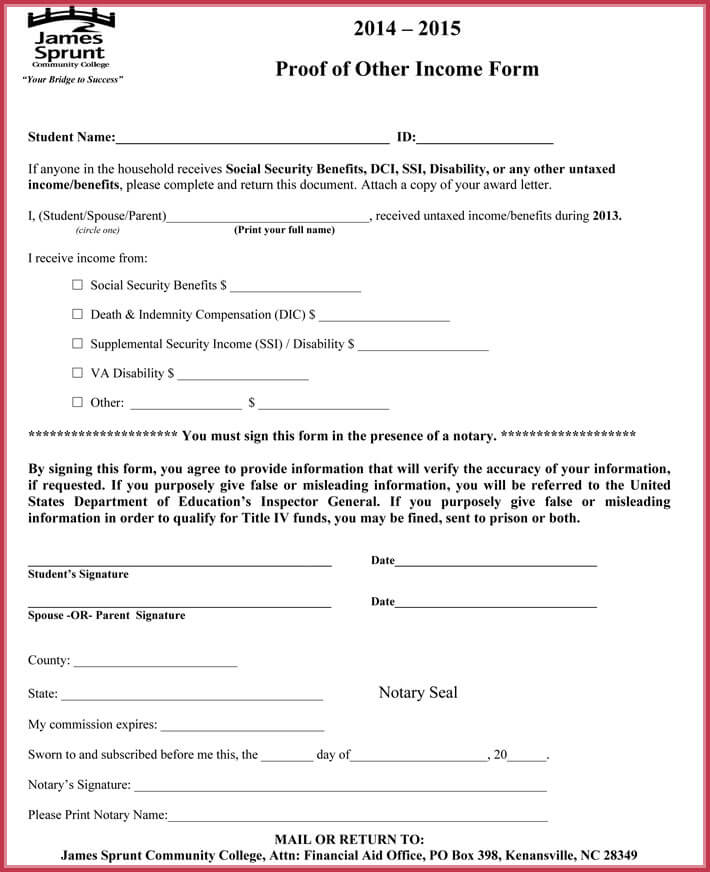 Proof of no Income Letter Template in PDF
Elements for the Proof of Income Letter
The proof of income letter has its elements. In detail, these elements differ according to the different forms of income itself. But in general, there are four basic elements of the income statement, namely Pay Stub, Bank Statements (divided into personal and business), Wages & Tax Statement, and Copy of Last Year's Federal Tax Return. Thus it can be concluded that the certificate of income is always updated at least once a year. The type of income influences the placement of the constituent elements. We can take "unearned income" as an example. In the unearned income case, some elements are set not found on other income sources such as proof of gifts and contributions, proof of inheritances in cash or property, proof of residuals, and so on.
Classical Problems for Proof of Income Letter
In fact, not everyone can make a proof of income letter. They sometimes have to race against time without knowing what to do while they are required to submit the letter as soon as possible. This is a classic problem that massively disrupts the state administration's order as well as personal interests. Many cases of borrowed money fail due to the inability to submit a proof of income on time. However there is always a solution to every problem. They need an example and nothing is better than the Proof of Income Letter template. In this context, what to look for is a site that provides for free samples and templates of proof of income. If you are one of them, you have arrived at the right place as I provide up to 5+ Proof of Income Letter Templates! The samples have been adapted to what is commonly applied or more accurately written by employers in behalf of employee who may applying for a loan, mortgage, bank account, insurance, etc.
Dos and Don'ts in Writing a Proof of Income Letter
• Dos:
– List your own personal information like name, address, city-state-zip code, email, phone number, and so forth
– State the purpose you make your income proof
– Give the true details of your income
– Include additional income if any
– Tell the recipient about the possibility of your income to increase or sustain
– Use formal ending with thank-you note
• Don'ts:
– Lie
– Make your letter casual
– Disguise your additional income
– Use nickname or something not your real name
After reading some points above I hope you can get an insight about what exactly the income proof letter is as well as how it works on. Once again, you are in the right place and if needed, you can use my samples and templates I am providing for free. Good luck!