When changing jobs, your new employer will probably want to verify your previous employment with the company. This will allow your new company to confirm that you were employed by the company you said you were. The big reason for this is so potential employees won't be tempted to beef up their resume' with a phony employment history. In other words, employment verification letters are meant to keep employees honest about where they have worked in the past. There are two types of these letters.
Company Requesting A Verification Letter
This type of letter is from your new employer to your old employer requesting employment verification. To do this, a formal letter needs to be sent making the request so everything can be properly documented.
When requesting employment verification with a letter, it should be in the formal business letter format. This means the requesting company's name is at the top, with the company the letter is being sent to is below. The letter itself should be concise, but still be detailed enough to include all the information needed to verify employment. This always includes dates employed, and sometimes can include information like salary history, position titles, hours per week worked, and so forth.
Every company has their own policy about what they will and won't include in the verification letters they write for former employees. Some will only verify the dates someone was employed at the company for. Others may give salary information. But most will not include information about the quality of the employee's work because former employees have been known to sue if their former employer writes something negative about their employment. So if you ask for a critique of the employee's performance, don't expect a response to that particular question. The quality of an employee's work should be dealt with in letters of recommendation from supervisors, managers, and co-workers. Some companies will respond to the question as to if they'd rehire the employee or not.
[ads]
Sample Employment Verification Request Letters
Employment Verification Request for Visa
Employment Verification Request Letter Format
Employee Verification Request Letter With Performance Questions
Employment Verification Request Form Sample
Example Employment Verification Request Letter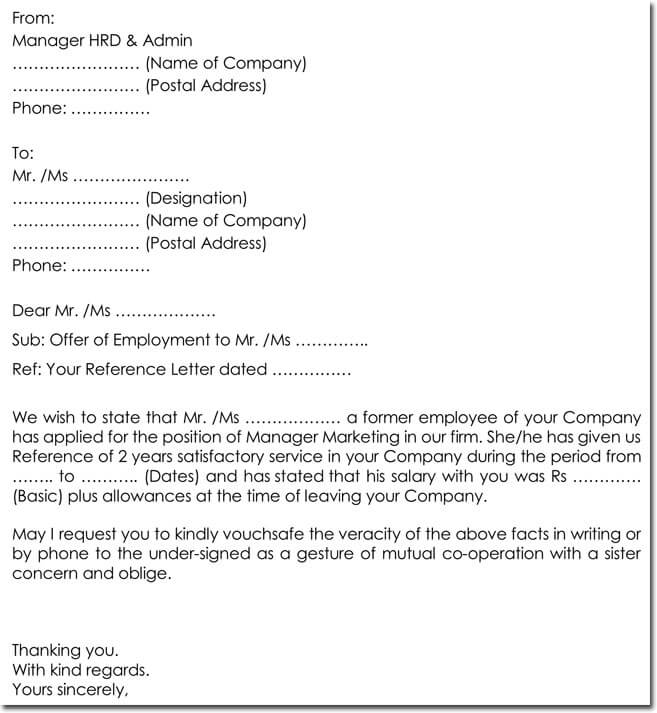 Company Responding To A Verification Letter Request
When a company receives a request for a verification letter, how they respond is largely up to the policies set by the human resources department. But regardless of the policies, the format that the response letter is given in will always be the same. Just like the verification letter request, the verification letter itself should follow the formal business letter format. Also, the letter should be as concise as possible, while still including the information requested.
The verification letter should, at the very least, acknowledge all the information requested, even if human resources has a policy against giving out such information. For example, if the request letter wants to know an employee's salary history, but the company doesn't provide it, the verification letter should at least say something like, "As a policy, we do not give out salary information for former employees." This shows the requesting company that their request was read in detail and gives a reason for not including some of the requested information.
[mdn]
Sample Employment Verification Letter
Employment Status Verification Letter Format
---
Employment Verification Letter Formats

Sample Employment Verification Request Reply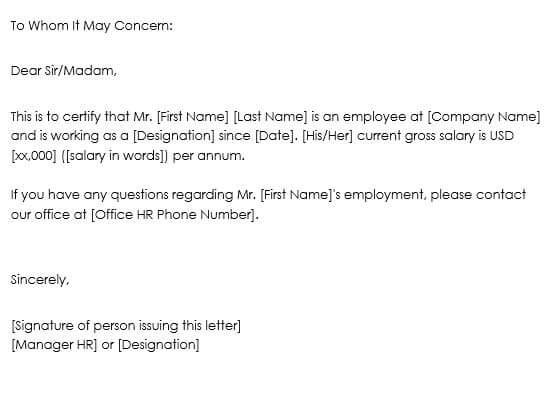 ---
Simple Employee Verification Request Reply Example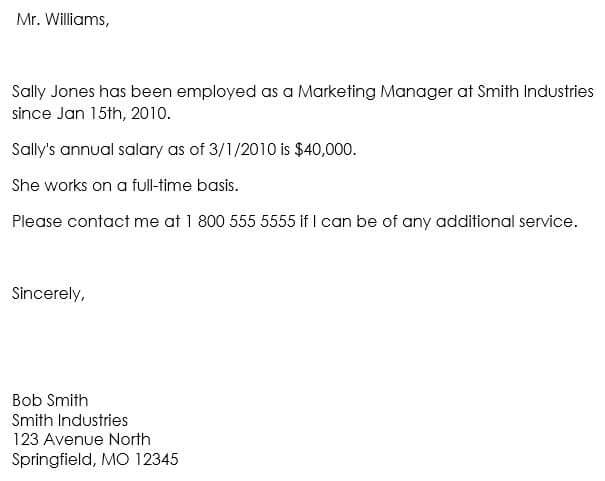 ---
Re: Employment Verification for [Name]
---
---
---
---
Using Employment Verification Samples As A Template
Human resource departments are usually very busy, so they don't have a lot of time to spend verifying that an employee worked there. This is why using a sample template is a smart idea, because the person writing the letter can simply fill in the information specific to their company. Once a good sample template has been found, the company should keep it on file for future requests.
If you need an employment verification letter sample, we provide ones that are high quality that you can use over and over again, saving you much needed time. Our samples are written by experts and are in the correct business letter format, so your letter will be professional and accurate. Whether you're requesting a verification letter or sending one, we have you covered with our samples.