When there is a special need for something we collect donations. This can be to help one person or to help a church, or even an entire community. The bigger the cause is the bigger the donations and the more attention that will catch on. But in order to get the most from your donations you will need to present a letter to those big organizations letting them know what you are about, and where their money is going to go. This is why a Donation letter template can be so important for your cause.
Our Donation letter templates were designed to help you with your cause. More specifically this donation letter template was designed to help maximize what you will be receiving from the company you are giving it to. When your cause is important to you, and to so many others then you are going to want to get as many donations as possible.
Whether those donations go to help someone in the community who is in financial distress, or perhaps a new bus for the church or a new roof on a community building. The cause can even go to help survivors of a disaster if needed. The Donation letter templates are designed professionally in order to speak to the minds of the readers. This takes the headache of you having to come up with something yourself, and can be reused when you have the need to again.
Our Donation letter templates can easily be edited so you can change the cause as you need to. Once you download the Donation letter template all you need to do is fill in the blanks and hand it out. You can even change the font and color in this Donation letter template so it looks different every time you use it.
[ads]
Donation Letter Templates and Sample :
2nd Fundraising Letter Template :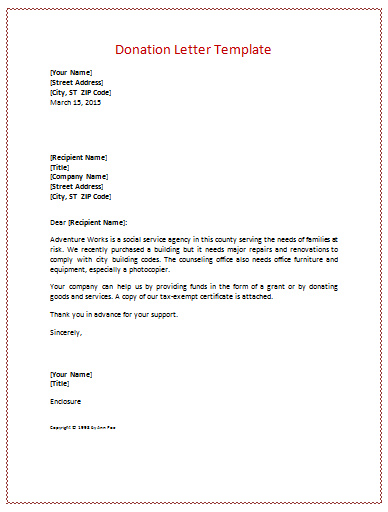 Donation Letter Template to Request Family and Friends :