If there is someone in your life who you would like to stay in contact with but who does not live close by, you need to be creative in finding ways of contacting that individual and in staying in touch with them. One of the options that you have in that regard is the option to write letters to the individual. You might find that the letter writing process is intimidating, but you can write great letters when you know what you are doing and when you use Friendly Letter Templates to help you with that.
When you are writing a letter to a friend or a family member, you want to start by greeting that individual and asking them how they are doing. You would like to start the letter by letting them know that you are thinking about them and that you care about them. After you have greeted the individual, then you will be able to share with them some of the things that are going on in your life. You should ask them about their life, too, as you are telling them about yours. You can make the letter as long or as short as you want it to be, sharing as little or as much information as you want to. You will find that Friendly Letter Templates can help you in your letter writing, and such templates make it easy for you to know how to share the information that you want to share.
You have the idea of creating letters to someone you care about, but you are not sure where you should start in order to do that. You will find that the free Friendly Letter Templates that are available will help you get started and they will help you do things in a good way.
Friendly Letter Templates for A Friend Moved Away for Career
---
Friendly Congratulations Letter
---
Sample to Write an Apology Letter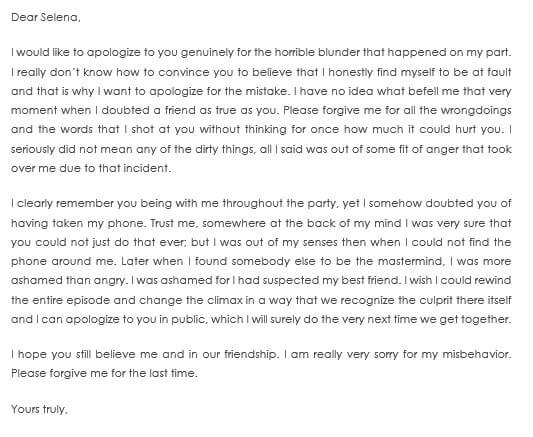 ---
---
Sample Letter to Friend on His Father Sickness
---
A Letter to Friend Lives Abroad
---
Intimate Friendship Letter
---
Friendship Memories Letter

---
Sample for Greatest Friendship Letter
---
Friendly Letter To Say Goodbye
---
Letter Formats to Write a Friendly Letter
---