Writing a car accident demand letter is the preliminary and most important step in a car insurance claim after an accident.
In the demand letter, the claimant (injured party) sets out the facts and circumstances that led to the accident and the consequent medical treatment.
The demand letter lays a foundation for which injury settlement negotiations kick off in earnest.
To officially demand compensation, you should write a comprehensive car accident demand letter that summarizes your claims' severity, the amount of compensation you are asking for, and the evidence to back your claims. A well-drafted car accident settlement letter sparks constructive negotiations that can lead to your injury claim's successful resolution. Read further to better understand how to write a great car accident demand letter.
How to Write a Car Accident Demand Letter?
After the occurrence of an accident, once you have filed a claim with the other driver's car insurance company, and you have already received medical treatment, and you feel entirely healed- you can reach out to your attorney to craft a demand for a settlement letter, or you can draft it yourself following these steps:
Gather all the necessary information
Before drafting the car accident demand letter, collect all the necessary information to help you write an articulate and robust argument for why you are entitled to a fair settlement. This implies that you need to obtain the police report, witness statements, medical records, and bills lost wage information, and any other notes made during your recovery period from the accident.
Relate the facts
Whereas it may seem unnecessary to narrate the accident's circumstances in your car accident demand letter, it is advisable to do so. This gives the claimant a chance to tell the insurance company your side of the accident's events, and it provides the insurer a foretaste of the type of testimony a jury would hear, should the claimant decide to proceed with the case to trial.
While stating the accident's facts, include the exact sequence of events leading up to and at the time of the accident. Recall the direction you were heading, what direction the driver at fault was driving to, the weather conditions, and any self-justifying maneuvers you took to avoid the accident. Remember to back up your evidence with the police reports and any witness statements to bring out your events of the accident strong and coherent.
This section should clearly show that the accident's cause was the other driver's negligence and not the other way round. If the police report encompasses a citation against the other driver, remember to include it as this is robust evidence of liability.
Write the injuries and medical treatment
Give a detailed description of your injuries sustained, damages incurred as a result of the accident, and all the resulting medical treatments from the actual date of the accident to the moment you healed from the injuries. While writing this segment, begin with your pain assessment or symptoms felt at the accident scene and state whether or not you received emergency medical care or services at the accident scene. Cite your evidence to any treatment reports prepared by paramedics at the accident site.
While describing your medical diagnosis and treatment, use appropriate medical terminology to a maximum and clearly set out the names of clinics attended dates of the visits, plus the events during those visits.
Medical expenses
Once you have explained all the related medical treatments received, provide an itemized list of all your medical bills. Ensure you include any ambulance transportation costs incurred, prescribed medication costs, and any other medical devices used, such as crutches. Whether or not your health insurance company paid for your hospital bills, you should include the total amount of the medical bill charged. Remember to attach any medical bill testimonials, preferably those that do not contain your health insurance payment information.
Lost wages
Logically, after the occurrence of an accident, one is bound to miss out on time and income due to the severity of injuries sustained. You may be eligible to recover any income lost due to the accident; therefore, give a detailed account of the time lost and missed income. Obtain wage information from your employer to verify your income and the number of days of work missed. Independent contractors or contract workers should describe how any lost wage amount was arrived at.
Miscellaneous losses
Provide the insurer with an account of any other losses incurred or inconveniences caused by accident. However much, it is difficult to calculate the monetary value of missing out on daily life enjoyments due to an accident. These intangible losses can be considered imperative in determining the overall value of an injury claim. Therefore, it is vital that you include them in your car accident demand letter.
Make a monetary demand
Once you have provided a detailed account of all the facts and circumstances of the accident, medical treatments and expenses, lost wages, and any other miscellaneous losses, you should sum up your car accident demand letter with a specific monetary demand as compensation for all your collective losses. Remember, the amount you demand is ideally going to be higher than the reasonable amount you can actually recover. Thus, it is very advisable that you ensure your initial demand is high to create room for negotiations.
Send your report to the accused party or their insurance company
After carefully drafting the letter and ensuring that every critical detail is captured, send the car accident demand letter to the vehicle's driver or appropriate insurance company. You may consult your attorney to give you counsel, or you may ask them to send the car accident demand letter on your behalf.
What to Include in Demand Letter
A car accident demand letter is the centerpiece of any insurance claim process. The document contents might help you get a lump sum as compensation for damages caused by the accident, and insurance adjusters may also use it to turn the case around on you. While writing the car accident demand letter, do your research well and use every resource available to build a robust and coherent case that will help you gain a fair insurance settlement. It is also advisable that you contact a trusted, experienced personal injury paralegal to draft a comprehensive car accident demand letter on your behalf to see you win the insurance settlement claim.
To make your car accident demand letter effective, here is a list of items you must include: –
A vivid description of the facts relating to the accident. The account should be poised and not emotional.
An explanation of why the claimant feels that the accused party should be held liable for all the medical bills incurred, injuries, and property damages caused.
The car accident demand letter should include an itemized list of all fees incurred due to treatments, medications, surgeries, property damage, or any other costs associated with lawyers, paramedics, etc.
A detailed account of any time taken off work and lost income
A medical report documented by the treating physicians
Any supporting evidence from law enforcement reports, witness statements, and employer wage information statements.
Sample Letters & Templates
If you are stuck on what words to include in your car accident demand letter, we've got you covered! Download our free, professionally designed demand letter templates and tailor them today to meet your unique demands, to get you started in your quest for car accident demand compensation.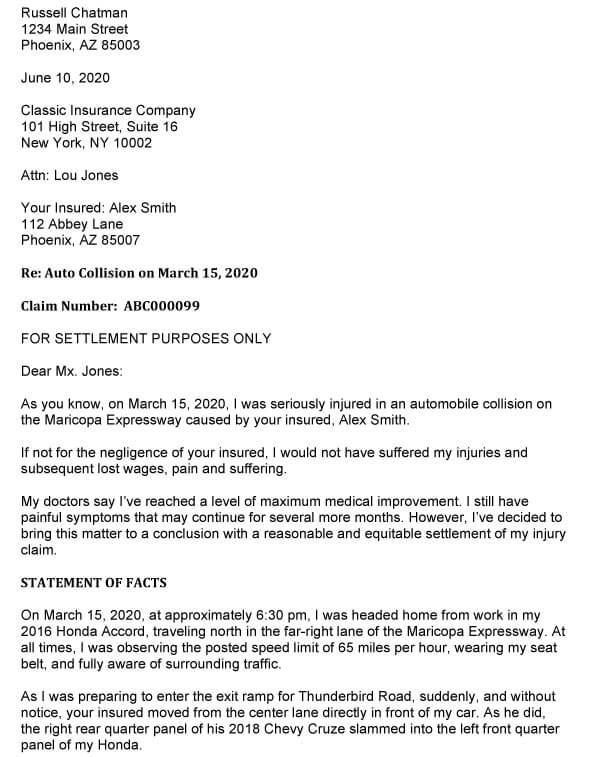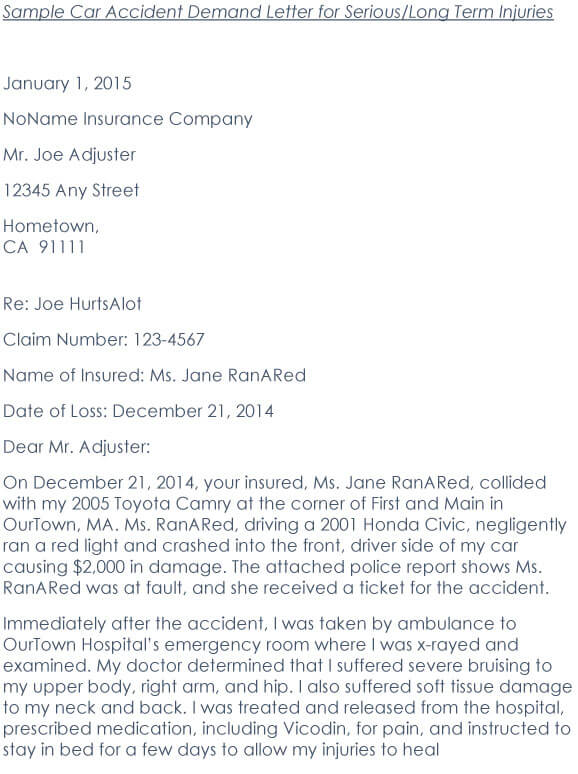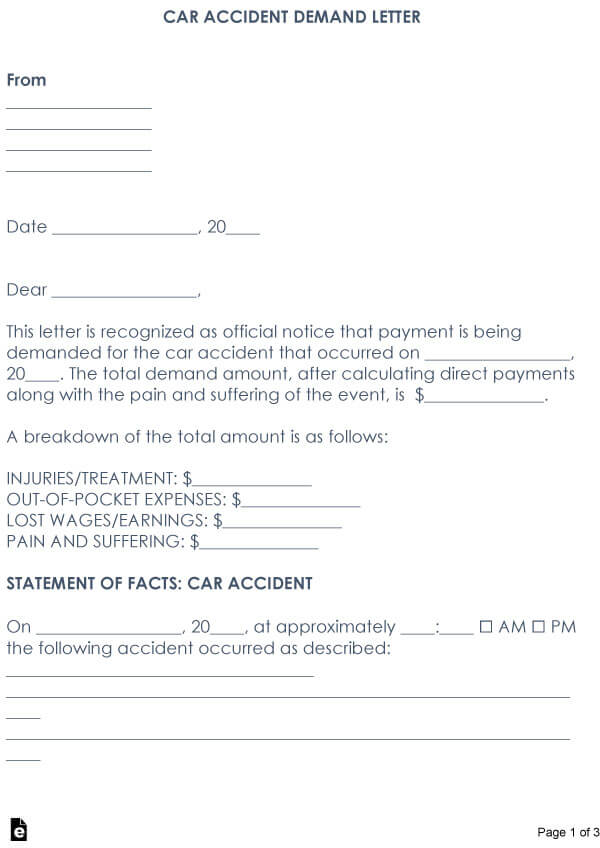 Frequently Asked Questions
How do I write a demand letter for an auto accident settlement?
Here  is a guide on how to write an accident demand letter for an auto settlement:
1) Request your medical records
2) Document your injury
3) Establish the extent of property damage
4) Document your expenses
5) Be organized
6) Do not exaggerate and do not be greedy
7) Calculate your pain and suffering
8) Seek professional legal advice
How long do insurance companies have to respond to demand letters?
The response time for most insurance demand letters usually ranges anywhere from a week to eight months. The response time depends on the insurance company, the claim, the jurisdiction, and its complexity.
How do I write a letter to insurance for pain and suffering?
Here is what you should cover in your insurance letter for pain and suffering:
1) What injuries you incurred
2) Why the other party is liable for the injuries you incurred
3) The cost of your medical treatment
4) Your lost income as a result of the accident
5) Other damages that you suffered
6) Why you qualify to write the demand letter against someone else under no-fault automobile insurance
7) The total amount of cash being demanded as compensation
How do I write a demand letter for an insurance settlement?
Here are the tips for writing the best demand letter to an insurance company for settlement:
1) Provide a detailed account of the physical facts of the case
2) Give details on what injuries you incurred
3) Include an explanation of why the other party (accused) should be held legally responsible for the damage and injuries caused.
4) Add a description of your medical treatment and the costs attached to it- including proof of medical reports, bills, and receipts.
5) An estimated income loss as a result of the accident
6) Add details of any other damages, and inconveniences suffered
7) Provide a realistic monetary value encompassing your economic and non-economic damages as compensation.