Most businesses dread the process of collecting payments on delinquent customer accounts. Most barely have the time to make all the phone calls or send out emails, let alone make an individualized collection letter for every step of the collection process. However, sending a personalized follow-up letter every few weeks truly helps to collect payment on time.
Writing a collection letter sample requires that one follows the right steps and includes the right tone to inform your clients that a debt is owed and is past due. There are four different collection letters that you will have to send to your clients before hiring a collection agency or recording it as a bad debt expense.
Elements of a Collection Letter Sample
When drafting a collection letter sample, it is important that you remain professional yet firm. You must let your debtor know that you are serious about collecting your payment while, at the same time, doing your best to preserve your relationship with them.
Here is some information that must be included (or) excluded in your collection letter sample:
Keep your collection letter brief and to the point; use a simple language
The letter should be typed not handwritten
Use the company letterhead
Company letterhead
Payment dates
Acceptable payment methods
Your contact information, i.e., phone number, mailings address, and your email address
The Do's and Don'ts of Writing a Collection Letter
There are two key objectives that everyone wants to achieve at the end of the collection process; get paid and maintain your relationship with the customer. For you to meet these two objectives, here is a list of the dos and don'ts we recommend during your debt collection process:
Dos
Keep it professional
Assume that the customer will make the payment
Attempt to call the customer before sending them the first letter
Send an email before sending them the first letter
Don'ts
Don't use harsh words
Don't harass the customer
Don't send them text messages
Don't communicate to them via social media links
The Four Types of Collection Letter Samples
There are four different types of collection letter samples that one is supposed to send to the customer when demanding payments from them. Remember that if your customer fails to respond to your phone calls or one of the letters, you don't have to send them an additional letter unless they fail to follow through with the payments. The first two collection letter sample formats are light, whereas the last two have a bit more aggressive language but it is to be noted that all the letters must follow the business formal format.
The First collection letter
The first collection letter sample should only be sent to the customer after trying to reach them by phone and email.
If you contact them and they agree to make their payments and their failure to honor the agreement, you should then proceed to mail them the first collection letter. Generally, the first collection letter sample should be sent no later than 14 days after the invoice due date.
Collection letter sample 1:
Dear,
This is a kind reminder that your account is overdue. According to our current records, your outstanding balance is $100. We have sent you a detailed mail of your account statements. If you've not received these email messages and documents, here is a summary of your account.
Invoice number: 12345
Invoice Date: 19/02/2018
Amount: $100
Due date: 01/01/2018
Days past due:49 days
We will be delighted if you inform us of the status of this payment. Kindly contact us or send your payment of $100 to the address provided below by February 19, 2018, if you have not done so.
ATTN: Accounting Dept.
If there are any errors to this invoice or you are unable to pay now, please contact me so that we can make the necessary changes or arrange for a different payment plan. Thank you for your quick response to this request.
Sincerely,
The Second Collection Letter
The second collection letter sample is usually sent after trying to reach the customer by phone to see if they received the first letter and to see whether they would like to make new payment arrangements. If your efforts to reach the customer by phone are unsuccessful, it's time to now send them a second collection letter. The key difference between the first and the second collection letter samples is that you will include the fact that you tried reaching out to them in the first letter.
Collection letter sample:
Dear,
We haven't received your payment of $100 or a response to the letter we sent you dated February 19, 2018. Your account is days past due, and your balance is $100.
We'd appreciate it if you let us help you to quickly remit the payment to avoid any penalties or actions that could affect your credit rating and future credit limits with our company. If there is any reason you are not able to pay in full, please contact us for a new payment schedule that is mutually convenient.
Otherwise, please submit your payment of $100 by close of business, March 1, 2018. Remember, we accept credit card information through our online payment portal, over the phone, or we have enclosed a self-addressed envelope for your convenience should you decide to send a check in the mail.
We are looking forward to your quick response to this letter and your continued business.
Sincerely,
The Third Collection Letter
After sending the first and the second letters, you should try to reach the customer by phone or email. If they fail to make any kind of attempt to communicate with you within the first couple of weeks, you will then have to send them a third collection letter sample.
Just like the second collection letter sample, you must inform the customer of your previous attempts, which were all unsuccessful hence your reason for sending the third letter.
Collection letter sample:
Dear,
Until now, we have not heard from you or received any payment regarding the invoice we sent you. Our numerous attempts to call or email you have also gone unanswered. Your account is days past due, and your outstanding balance is $100.
Kindly purpose to pay in full by the end of business today or contact us to work out an agreed-upon payment plan by today. Failure to which, we'll be forced to turn your invoice over to a collection agency or our attorney.
I look forward to hearing from you before this action is taken to avoid damage to your credit rating or our future business rapport. Please contact me immediately so we can settle this matter amicably.
Sincerely,
The Fourth and Final Collection Letter
Even though there are some exceptions, by the time you decide to send the fourth collection letter sample, it should be crystal clear that your customer is either unable to pay or is unwillingly defaulting on their debt. The language you use in this letter should be assertive but must remain professional.
It is recommended that you send this letter via certified mail as you will have proof that the customer received the letter.
Collection letter sample:
Dear,
At this time, we have not heard from you, nor have we received payment regarding our invoice of $100 to you, due on January 1, 2018. We have also tried to reach you through phone, emails, letters, but you have continued to ignore us.
Because we have failed to work out this issue with you directly, I regret to inform you that we have forwarded this issue to the credit bureau and turned this invoice over to a collection agency, who will contact you concerning the payment of this invoice.
Sincerely,
Collection Letter Samples
Following are free editable collection letter samples that can be customized as per needs: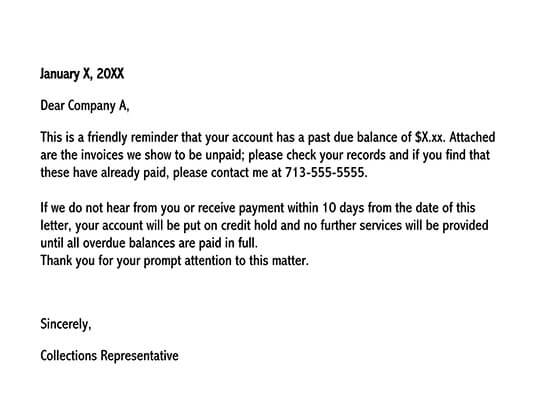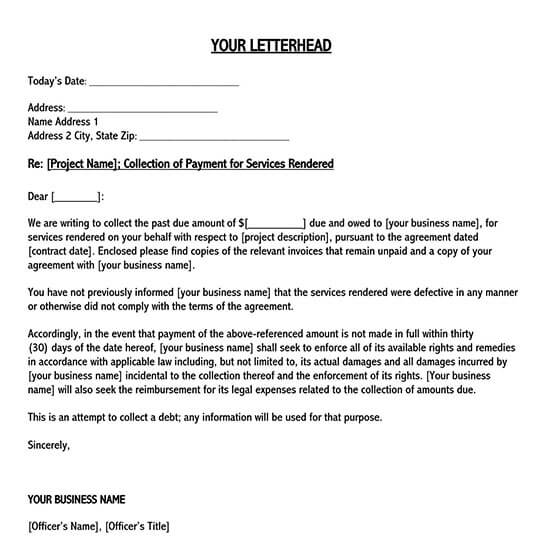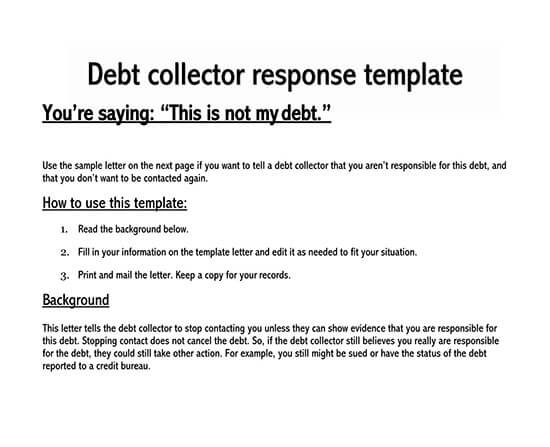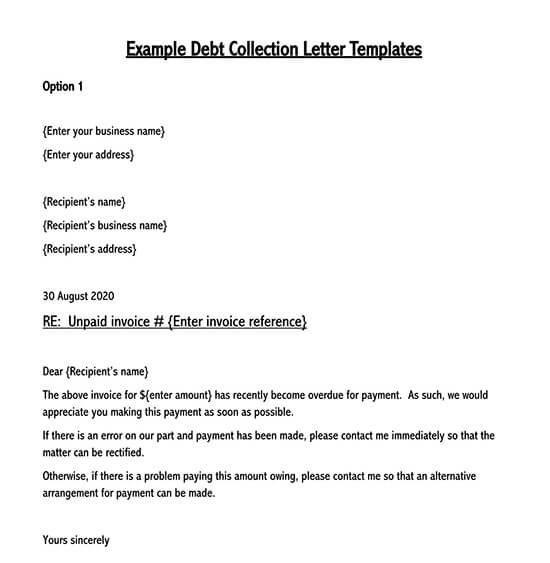 When to Hire a Collection Agency
You should consider hiring a collection agency after multiple attempts to collect on a delinquent account after your attempt to reach out to the customer via mobile and email bears no fruits. One thing that you should remember is that if you seek the services of a collection agency, you won't receive the full amount that is owed to you. Most collection agencies charge between 25-45% of the total amount collected. Depending on the amount to be collected, hiring a collection agency could just be the best move to make.
How to Avoid Payment Collection Issues
If you have been in any business long enough, you are likely to have encountered a client that you may have had difficulty in collecting payments from them. To minimize such situations from happening again, there are a few things you can do. For instance, you can offer early payment discounts and run a business credit check on your customers to see if they have the potential to make the payments.
Here are a few tips on how you could use to avoid issues when collecting payments from customers:
Review aging report (A/R)
The account receivable report is one of the key financial reports one should always be keen on. It includes the information on all the unpaid customer invoices, including the invoice amount, date, due date, and the number of days the invoice is past due.
Offer early discount payments
The best way to mitigate payment collection issues is by offering the customers an incentive when they make their payment on time. This can be anywhere between 1-5% and generally require that they make the payment within 10 days of the invoice date. Most customers will be for the idea and will rush to ensure that they don't miss out on the discount.
Request deposits upfront
Even though it might sound a little awkward at first, asking the customers to make a deposit before providing them the goods and/or services is more common than you might think. It is advised that you always ask for a deposit if; you are dealing with new clients, high-dollar projects, or projects that run for more than 30 days.
Run a business credit check
Just like your credit score, you should run a credit check to determine the prospective client's business credit profile, including their payment history. This is vital as in doing this; you will have a general overview of the client's payment behavior and help you establish if it would be best if you conducted any business with them.
Frequently Asked Questions
Should I continue doing business with a customer if they end up paying you eventually?
There is no definite answer to this question. And the general answer here is "it depends." If, for instance, you were able to collect the payments without having to forward the client to a collection agency, then you should consider working with the client again with the caveat that you will require them to make a deposit upfront.
How Can I select the Right Collection Agency?
One should consider several things when selecting the best collection agency; these include:
• Asking if the agency uses skip tracing
• Verifying that the agency is legitimate
• Making sure that the agency is insured
• Comparing fees and contingency costs
• Etc.
How much do Collection Agencies Charge?
There are two ways in which collection agencies usually get paid: flat fees and contingency fees. Most collection agencies, however, charge contingency fees; this simply means that if the customer fails to pay, they also don't get paid. Contingency fees can run anywhere from 25-45% of the collection amount. However, this depends on different factors like how long the debt has been outstanding, and the number of attempts one has made in trying to collect on the debt.