Terminating an agreement of any description can be an emotional process, whether you are leaving a job, vacating a rental property or evicting tenants proper communication is key to keeping things professional and civil. Written notice often an essential component of that communication and a 30 Day Notice Letter Template can help you to construct a notice letter appropriately.
30 day notice intent to vacate
A 30 day notice intent to vacate letter is issued to a real estate agent informing them that you are leaving the premises and will no longer be paying tenant.
Verbal communication or a quickly scribbled letter is an ineffective means of giving notice, whereas a properly formatted notice of intention to vacate is an effective and appropriate way to formalize your intentions.
Many rental agreements require extended periods of notice before a tenant leaves and that notice must be in the form of a written letter.
Knowing what to write in your intention to vacate notice can be difficult but with a great template, most of the work is done for you.
Sample 30 Days Notice Intent to Vacate
Notice of Intent to Vacate Template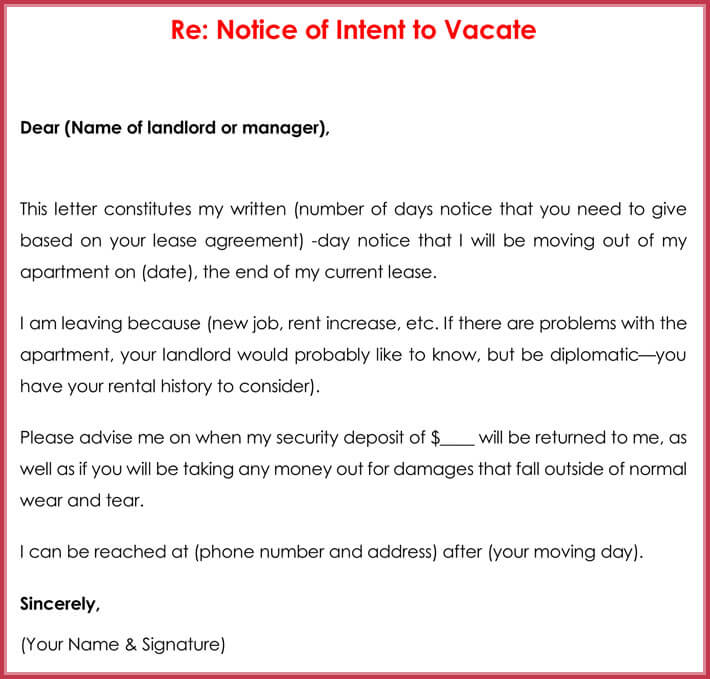 Notice of intent to vacate format
30 day notice to landlord
A 30 day notice to landlord informs a landlord that you wish to terminate your tenancy at their property. A 30 day time frame allows a landlord to make alternate arrangements to advertise the property and find new tenants. A 30 day notice addressed to a landlord allows you to meet your obligations as far a written notice is concerned. Landlords will appreciate a well crafted and professional letter, which will allow you to terminate the tenancy amicably.
Sample Notice of vacate to Landlord
Sample 30 Day Move Out Notice
A Notice Letter to Tenant to Move Out informs a tenant that they will need to vacate the premises by the specified date. Tenants need time to find alternate accommodation and in order to make the transition as smooth as possible clear written notice should be issued. Unlike an eviction notice due to misconduct, an extended notice period of 30 days should be extended to a tenant when they are asked to vacate for other reasons not related to their conduct as tenants. Keeping your notice letter to your tenants professional and civil will avoid confusion and limit damage to the relationship between yourself and the tenant.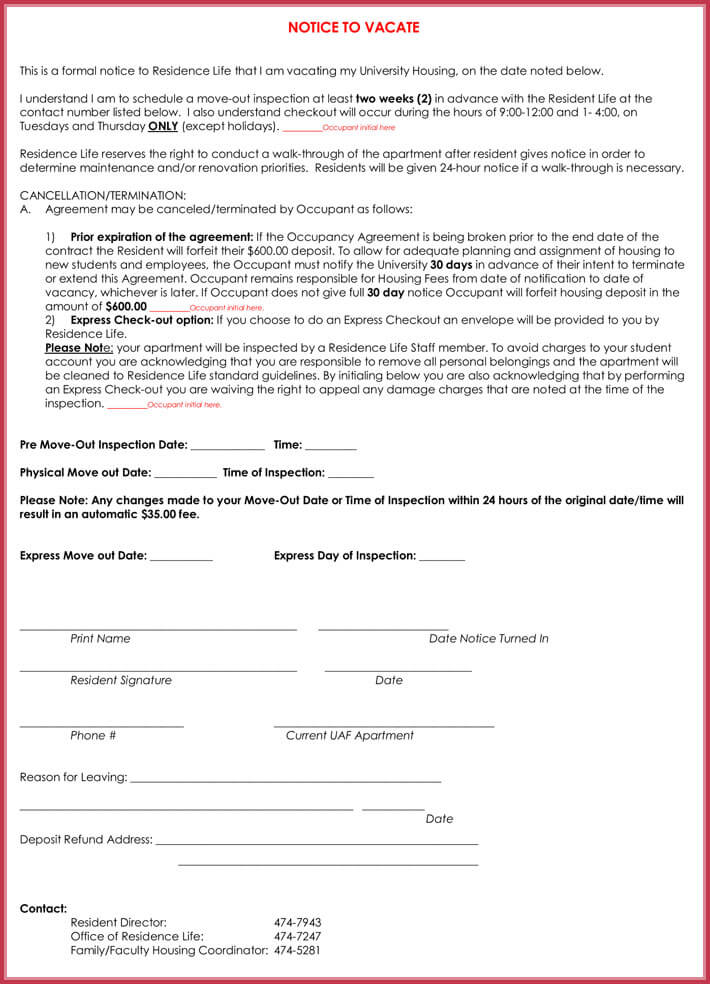 30-Day Advance Notice of Intention to Vacate to Landlord
30 Day Notice Letter Samples from Landlord to Intent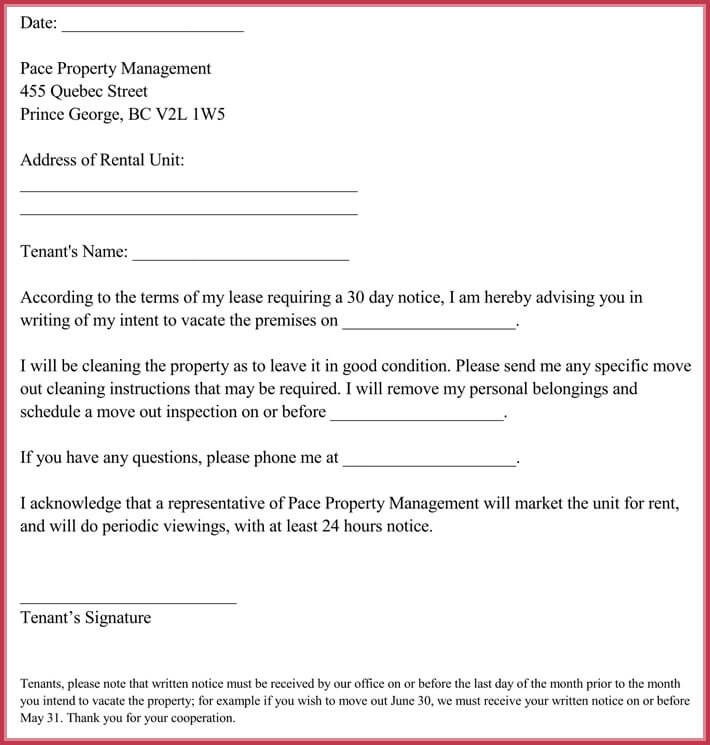 Sample Job Resignation Letters with 30 Day Notice
A Job Resignation Letter with 30 Days Notice gives an employer notice of your intention to leave your position of employment at the specified date. Giving your employer extended notice of your intention to leave your position helps ensure a positive reference for future use. Allow your employer time to fill your position before you leave with a resignation letter. A professionally worded resignation letter with specific details is important when filing your resignation, particularly if you have been filling the position for an extended period.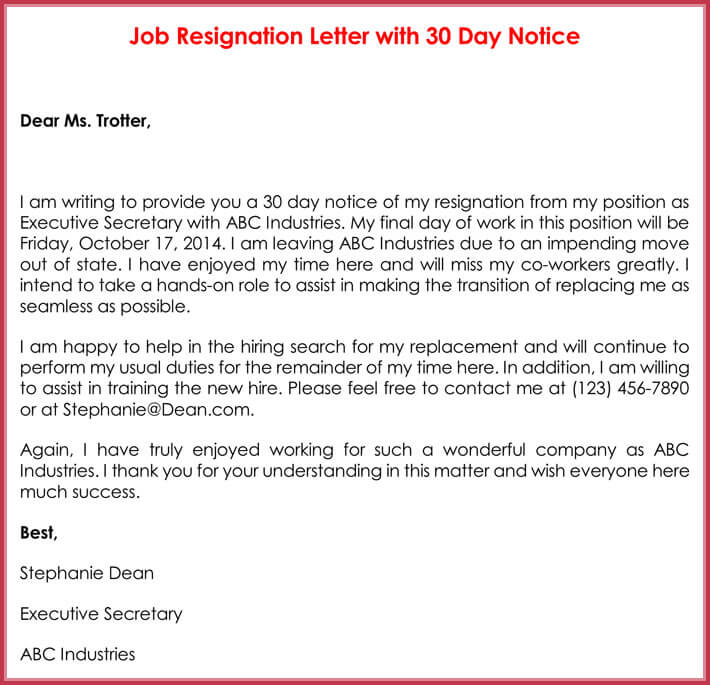 30 Day Notice Resignation Letter Format
Why It's a Better Idea to Look at Some 30 Day Notice Letter Samples
Giving notice can be fraught with emotional and professional difficulty and it can be hard to know what is appropriate to say under the circumstances. Using a 30 day notice letter sample can give you a guide to work with and ensure that your letter of notice says on track.
Things to Keep in Mind While Writing a 30 Day Notice Letter
Professionalism – Use professional and concise language that delivers your message in a way that is both coherent and informative, without being unnecessarily flowery, hostile or long winded.
Simplicity – Keep your lay out and formatting simple, elegant and clean. Elaborate designs and complicated fonts are to be avoided.
Relevance – Ensure you stick to the message you are trying to convey without getting diverted into unnecessary details that do not relate to the specific details of your notice.
Informative – Layout your preferred terms of notice in a way that is firm and clear to prevent any ambiguity. Uncertainty or complexity leaves room for confusion or interpretation.
Call to action – Ensure that you detail the exact dates, location or position about which you are giving notice and inform the addressee of what they need to do next. Make sure they are aware of any action that needs to be taken on their part.