A Past Due Letter is one which is written to inform a debtor that their loan payment is past its due date. If a loan provided by the creditor is due for payment on 10th and is not paid by that day, it is past due from 11th going forward.
The over due payment reminder letter is written to inform the debtor of the state of their loan. It can indicate that they are subject to fees. It could also indicate that the debtor is now in a grace period during which the loan can be paid with no adverse implications. The Past Due Letter can also indicate that the debtor is subject to collections on a particular date. Generally, Past Due Letters are utilized to inform debtors that they have exceeded the date when they were supposed to have paid their debt.
Requirements for the Past Due Letters
In the world of business, payment for services rendered or products that are delivered is prompted using an invoice. This is an official business document which indicates the details of the transaction, amounts involved and the date when payment is expected. If a customer does not honor the payment by this time, then the invoice becomes past due. In this case, the business owner or officer in charge of accounts receivables can send a Past Due Letter or payment reminder emails to the customer in question.
Sample of Past Due Letter Template
10 days Past Due Payment Notice Format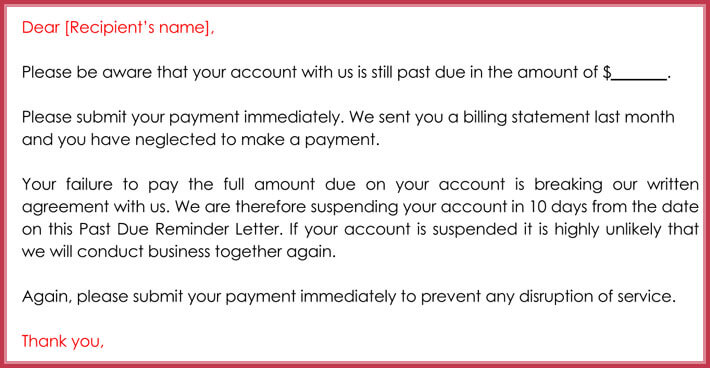 Past Due Payment Reminder Letter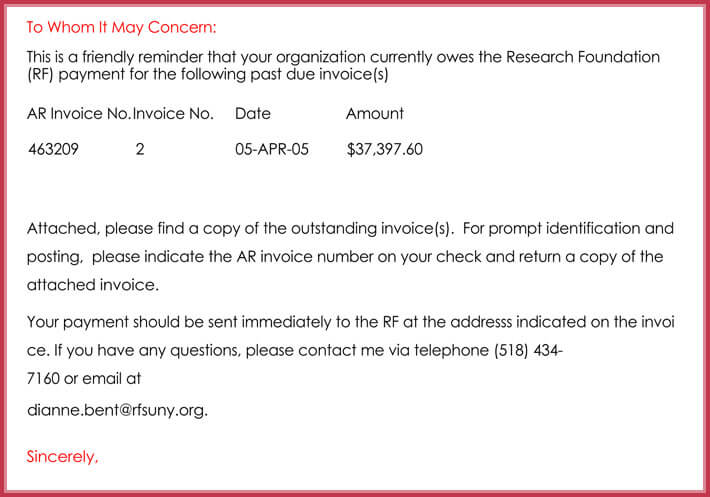 Sample of Past Due Payment Reminder with Offering Flexible Plan on Next Payments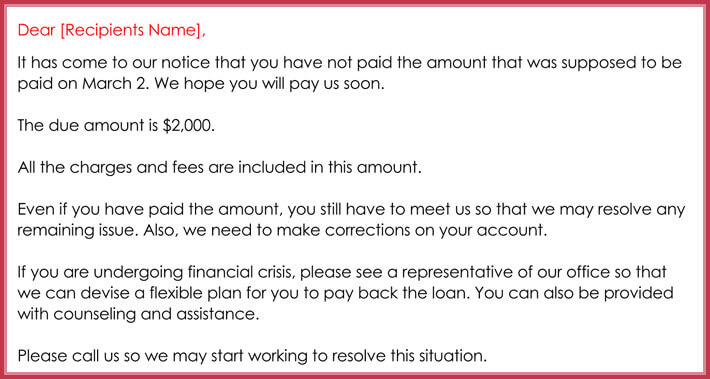 Final Past Due Payment with Warning of Credit Reporting Agency Format

Elements of a Payment Reminder Letter
Your name and complete address
The name of your company and its complete address
The name of your debtor and their complete address
The date when the Past Due Letter is being sent
Details of the payment owed by the debtor
Amount of money that is involved in the transaction
The date when the debtor was supposed to pay you
The next deadline for payment
Any additional fees or fines involved due to late payment
An outline of the steps which your company will take in case the debtor does not respond positively to the Past Due Letter
The signature of the person or officer sending the Past Due Letter
If you intend to send a Past Due Letter, it is always a good idea to use reminder samples or a Past Due Letter Template. They are available for free on the Internet in MS Word or PDF formats. These samples have the correct outline of this document. Moreover, they have blanks that you can fill in to enter the elements of your Past Due Letter.
Dos and Don'ts While Writing a Payment Reminder Letter
Dos
When writing a Past Due Letter, you should explain the transnational situation briefly. Make sure to indicate its elements clearly. Also, ensure that you are polite but firm. Let your language be clear and concise. Last but not least, indicate that payment by the debtor is required promptly before any further action is taken.
Don'ts
Do not make any threats. Control your emotion and prevent it from spilling into the Past Due Letter. Also, do not write a Past Due Letter which is longer than 1 page.
Conclusion
In business, a customer may forget to make a payment. They could also be reluctant to do so. A Past Due Letter lets them know that they are late and you still expect payment. The details of this letter are indicated above.