When it is time for you to resign from a board position, whether temporarily or permanently, courtesy demands that you do so with a professional board registration letter or email, the resignation letter allows one to put down the details of their departure and help the board to prepare for their absence and make transition plans.
Although most board positions are usually unpaid, this doesn't mean that one is not compensated, either through the opportunities or contracts that they made or found along the way. For this reason, one should treat their board resignation as they would from any other job or position.
NOTE: Being a board member can be advantageous for your resume, as it depicts your willingness to get involved and your interest in impacting change in the community.
What is a Board Resignation Letter?
Board registration letters allow one to professionally communicate to the board their intent to leave their position, whether temporarily or permanently. The letter also allows one to write down the details of their departure and help the board to prepare for their absence.
If you have been contemplating resigning from a board position, then this might be the right time for you to learn how to draft a great board registration letter. Despite your final decision to leave the board, you will still have to professionally tender your resignation so that your colleagues can view you as a professional.
Even though it may be important for one to inform the board and chair of their intent to resign from the board, one should follow that conversation with a professionally written board resignation letter, addressed to the board's president.
Sending a formal resignation letter gives you a chance to explain yourself and your reasons for resigning from the board. The letter also notes down the date of your official resignation from the board so that there is no confusion and allows the board to make the arrangements for a smooth transition. The letter is usually considered as a professional courtesy that allows one to leave their position gratefully.
Tips for Writing a Resignation Letter
Use a standard font and font size in your writing. You can use between 11- and 12-point font, like fonts that are smaller, can be too hard to read, and larger ones can appear unprofessional. For fonts, make sure to choose one that is clean and easy to read and understand. You can use one of these for your writing: Times New Roman, Arial, Roboto, or Helvetica.
Use proper formatting
After choosing the best font to use, you will have to decide on either indented or block format. Normally most people use block format when writing professional letters. Although one may also use an indented format, it is not always recommended for professional letters.
Be professional
Be very professional when drafting your board resignation letter, just as you would any other job or position. Draft and send your letter using a standard business letter format to the president or boards' chair. If you decide to send the letter via email, make sure that you use a standard email format and that you include your contact info and your signature.
Include the date of writing and addresses
At the top left corner of your resignation letter, include your contact information, i.e., your name and address. You can also include your email address and phone number so that it is easy for the recipient to contact you should they have any questions or concerns. After writing your contact information, skip a line, and then write the date you will be sending the letter. Then skip a line and write the recipient's information, i.e., their name, company name, and address.
Make sure to provide your last day at work. Also, try to give the board as much time as possible to facilitate a smooth transition.
Create a body of the letter
Start off your letter by expressing your intent to resign from the board. Inform them of your last day at the board. Make sure that you include the right date if you won't be resigning immediately. While you may not want to go deep into details about why you are resigning from the board, it is always recommended to give some info on why you have made such a decision. You may want to simply state that you have come to such a decision due to a family emergency or due to new commitments that will occupy most of your time.
Express gratitude
Use your resignation letter to formally thank the board for the opportunity to be one of them and offer your best wishes for their future endeavors. Despite your reason for leaving, maintain a positive tone, as resigning from the board doesn't mean that you won't be interacting with the board members from time to time.
Offer to help
Offer to help the board with the transition. If possible, offer to continue helping the board on a freelance basis or help them finish ongoing projects that you are currently working on.
Closing
Close your letter professionally. Use a complimentary closing such as "best wishes" or "sincerely" if you are printing and mailing the letter, sign the letter after the complementary clause followed by your name.
Board Resignation Letter Samples & Templates
Finding the right words to start your resignation letter can sometimes be hard, especially if you are withdrawing from the board due to personal reasons. If you are finding it hard to draft your board resignation letter, simply download our free or premium templates to help you find the right words to include in your letter.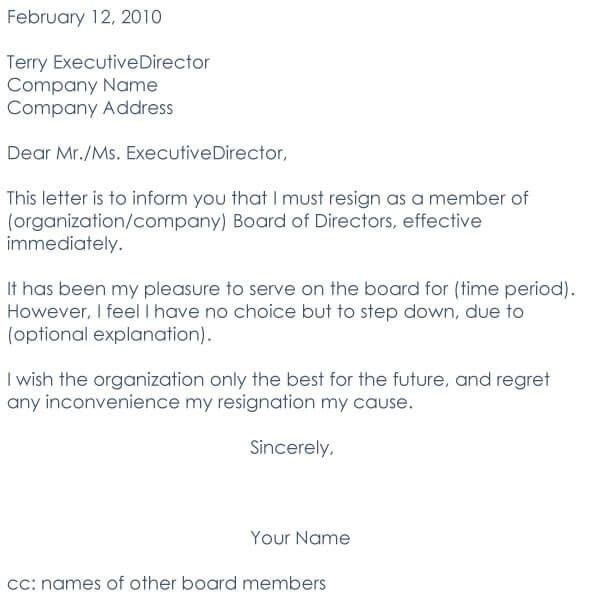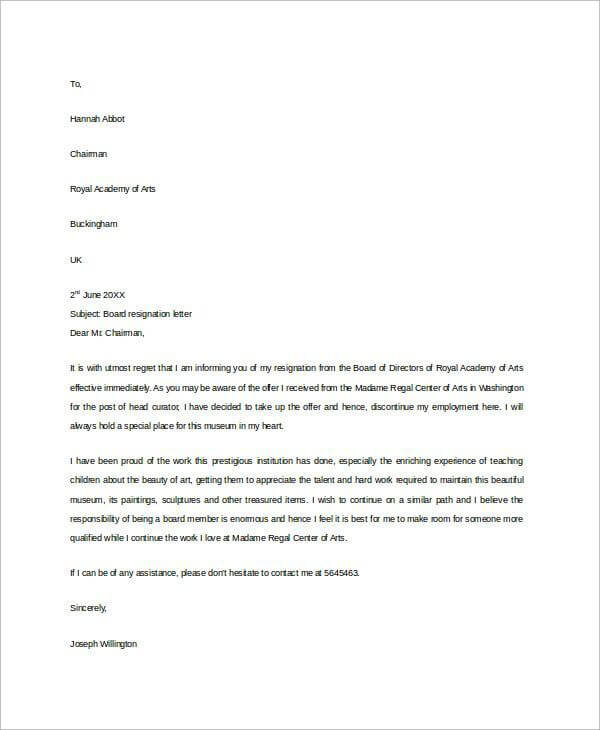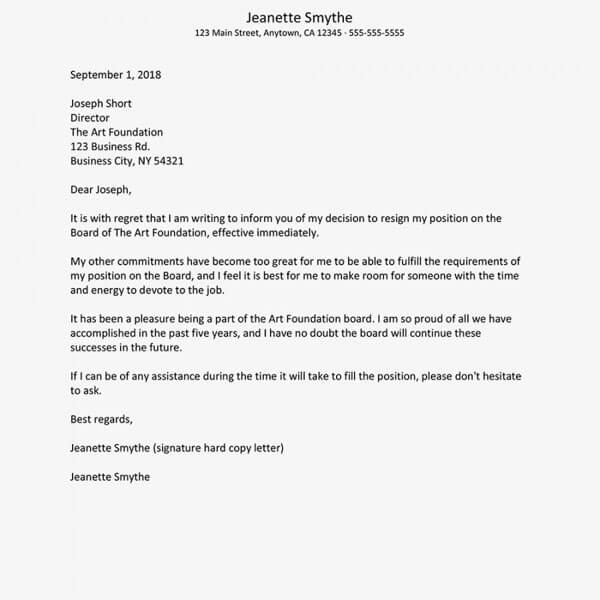 Whatever your reasons for resigning from the board may be, it is a professional courtesy to tender your resignation letter more professionally. To do so, you have to come up with a well-written document explaining why you have decided to make that decision and your effective date of resignation. When writing your letter, try as much as possible to remain positive through and through as this may not be your last interaction with the board members, even if your resignation is effective immediately after the letter is received. Drafting a great letter will help you maintain a great relationship with the board, something that may come in handy in the future.
Frequently Asked Questions
How do you write a letter of resignation from the board?
A board resignation letter, just like any other resignation letter, follows a standard format and should include the following:
1) The effective date of resignation
2) Your reason for resigning from the board
3) An offer to assist with the transition
4) A show of gratitude for the opportunity to be a member of the board
5) Your contact information as well as the recipient's
How do you resign from a non-profit board?
Just like you would from any other job, resigning from a non-profit board follows the same process. Write a great resignation letter using a standard format informing the board of your decision to resign from the board. With non-profit boards, you can offer to assist with any pending projects o make the transition much smoother.