A resignation letter is an official document that an employee uses to announce their intent to leave a job. The letter is often required by an employee after he or she has decided their decision and needs to formalize their departure from the organization or place of work by communicating with the employer either in person or through email.
While it's not a basic requirement during resignation, it helps serve various purposes. One major purpose is to facilitate a smooth transition at the workplace, for the attainment of the benefit of a positive relationship with the employer/managers that proves to be helpful in several spheres of an individual's career life in the future.
If an employee notifies his or her employer of your resignation through the professional letter of resignation, the employer will be able to plan on how to have a suitable replacement, which will make him or her appreciative of the resigning employee. Secondly, it helps an organization document your resignation in a proper official manner, ensuring that you had in-fact worked at this organization for as long as you did and then which specific date of which year you left the organization on. This also enables the HR officials to process your exit benefits and keep your employee files for future records.
Types of Resignation Letters
There are various types of resignation letters.
The types include:
One week notice letter
One-week notice letters are resignation letters that are presented to the employers, notifying them that you will quit within seven days. Typically, they are among the shortest types of professional resignation letters.
Two weeks' notice
Two weeks' notice resignation letters are the most common types of resignation letters. In these letters, the employer gives the employee a two-week notice of their intent of resignation. In many cases, two weeks is often enough time for the employer to find a perfect replacement, therefore this particular type of resignation notice/letter is most preferred amongst organizations.
Board resolution resignation
Board resolution letters are often addressed directly to the board of directors, notifying them of your plans to quit your job. Depending on your reasons to quit, the board resolutions can either be immediate or take a specified time as stated in your dismissal.
Church (religious) resignation
A church or resignation letter is a formal letter that describes your intentions to quit or leave a position in a religious organization such as a church, mosque, or temple.
Email resignation
Email resignation letters are written letters either to the HR department or supervisor showing them your intent to leave the job via email. Unlike most resignation letters, these letters are often sent purely online to the department's email address and falls in the category of a lesser professional notice.
Immediate resignation
Immediate resignation letters are sent to employers, notifying them of your intentions to quit your job with immediate effect. While they are not a professional way of leaving a job, there are situations that may make you leave promptly. For these letters to be impactful, your reasons for immediate resignation should be strong and convincing.
Standard job resignation
A standard job resignation letter uses the standard format of writing. They help convey the employee's intention to depart from a job in a formal and standard way.
Nursing (RN) resignation
Nursing registration letters are sent to medical or hospital offices, notifying them of your will to quit working as a nurse. Preferably, the nurse should always give enough time to the medical offices to plan for their departure.
Police officer resignation
These resignation letters are used by police officers to convey their intention to quit working as service officers in a professional and formal way.
Professional job resignation
Professional job resignation is used to announce your intention to leave the job in an official and professional fashion. Depending on your job, there are some cases you will be required to present professional job resignation for you to qualify for employee benefits and entitlements.
Retirement resignation
Retirement letters are official notices that explain your plan to retire and request any attached benefits. Preferably, these resignation letters should be sent to your employer 6 to 12 months prior to your retirement.
Teacher resignation
Teacher's resignation letters are documents that notify the employer of your intent to leave a teaching position in a specific institution or school. Similarly, these letters should be presented early enough to allow your employer to find a suitable replacement.
Basic Components of a Letter of Resignation
Regardless of the type of resignation letter you choose, there is common information that must be included in the letters.
These include:
Statement of resignation from the company
First and foremost, you need to state and submit your formal resignation from the position you have in the company. Let the employer know your intent in the first place. That's said, you need to indicate your resignation in clear and understandable language.
Date of last day of work
The other thing you shouldn't exclude from the letter is the last date of reporting to work. Listing your last date of work will help the company to prepare and plan on getting a replacement who will carry on with your duties eliminating the possibility of wastage of precious time that could be utilized in an organization's functioning or progress.
Statement of gratitude
Even as you quit your present workplace, it's important that you keep your relationship positive and strong. Therefore, you can write one or two sentences showing your thankfulness and gratitude for the opportunity. It will help maintain a good relationship with your employer.
Next steps and other critical information
It is suggested that you inform your employer of your next move. You can decide to avail yourself to ensure a smooth transition of the duties. In addition, you can let the company know your willingness to do everything possible to ensure your responsibilities goes on as earlier expected. Usually, this kind of gesture will be appreciated by the employer.
Signature
Always finish off your professional letter of resignation with a formal closing clause such as 'Sincerely, Thank you or best regards.' This is then followed by your signature and your name. Signatures are unique. Therefore, once you have put them in the letter, it will act as a legal binder that you consented to your resignation from the company.
Note: Regardless of your reasons for leaving a job, there are certain things you shouldn't include in the resignation letters. For instance, you need not complain about the company. Even if you are on bad terms with the employer, try to keep it professional by not showing your resentment. Also, you need not always provide your reason for resignation unless requested. Since you will be moving to your new job, you don't have to brag about it either. Lastly, don't disrespect or write ill of your coworkers or the company in any way.
Crafting a resignation letter can be challenging. If you are wondering where to start, the following important elements will help you through.
The elements include:
Create a header
Start by writing the employer's address and contact information. This is then followed by the date of writing, then your address and personal information. Then, you need to start off with the official greeting.
For example:

Antonio Ablan

515 Straight Rd.

Illinois, IL.

1 612 32324343

MAY 16TH 2021

Ronaldo Geron

Blue Screen Ltd.

2 Dark way

New York, NY
Include a body paragraph
It is essential to pay close attention to the body paragraph(s) of the professional letter of resignation as the recipient(s) will consider elements such as those that support your reason for resignation most importantly, therefore firstly include your clear intention to resign. If suitable, secondly it is suggested that you provide your reasons for making the decision in clear and professional terms. Make sure you remain positive and humble as you draft your body paragraphs and avoid bringing personal feelings in this paragraph considering that it a resignation letter is of professional nature.
For example:
Kindly receive this letter as a formal notice of my resignation from my position as a teacher at your school. Note that my last date of work will be May 24th, 2021. I must say I have enjoyed my time during my working period with you. Unfortunately, due to family reasons, I will no longer be able to offer my services as a teacher. I appreciate the chance you offered me at your school.

I have gained a lot of knowledge and experience that I believe will shape my future career. Also, I want to thank my fellow teachers for being such wonderful people. I believe two weeks will be sufficient time for you to find a suitable replacement.

I am ready and willing to offer my assistance to necessitate a smooth transition. Thanks again for your time and understanding.
Ending and signature
As you conclude the resignation letter, you need to add a closing clause and append your signature. The signature is a necessary requirement as it makes the letter legally binding.
For example:
Sincerely

[Insert your signature]
Mohagher Iqbal.


Delivering the letter
After crafting the letter properly, you will need to figure out how you will have it delivered to the right recipient. Depending on your company policies and requirements, you will ensure that the method chosen matches the company's policies. In many cases, the resignation letters are sent either through standard mail, email, or personal hand delivery. Regardless of the method you choose, you should ensure that the letter reaches the intended person on time.
Resignation Letter Writing Tips
If you want your letter to be written professionally, the tips will help you through.
The tips include:
Keep the letter positive: You may have different reasons for writing the resignation letter. Some employees may not be on good terms with their employers, regardless of the reason for resigning, it's important that you part your ways in a positive tone. One last thing you would want to do is to air your frustrations or anger on the resignation letters.
Deliver the letter in person: With the current technology, it may be tempting to send letters electronically through email, social platforms, or through the mailbox. Well, it may work just fine. However, it's highly recommended that you deliver the letters in person. It's easier to ascertain that the letter is delivered to the right person if hand delivery is used.
Consider networking opportunities: For you to write the resignation letters, it's obvious that you are parting ways with your employers. But this shouldn't mean you won't keep in touch. In fact, you need to include a statement that encourages your former manager to continue having a professional relationship. As you write the letter, remember to include your personal contacts to necessitate your future interactions.
Make the letter short, concise, and brief: The letter should be brief and straight to the point. Avoid using bulky or irrelevant words that doesn't relate to your resignation as it is supposed to be a professional letter.
Maintain professionalism through formal format: If you intend to submit the hard copy of your resignation letter, make sure you use formal business letter format. This should include the date of writing, your personal information and address at the top of the page. On the other hand, if you are sending the letters electronically, the business letter format won't be necessary. Instead, you will simply salute the recipient and address them by name.
Adhere to the manager's instructions to the latter: Once you have presented your letter to the employer, you need to follow their instructions to ensure an efficient exit; you may be requested to necessitate a smooth transition by completing some final tasks. For instance, you can help finish certain projects or help train a new employee to take up your place.
Resignation Letter Samples
Formal resignation letter
Dear [insert supervisors/managers name],
I am writing this letter to notify you that I will be leaving ABC Company for XYZ. I believe that XYZ Company will help my career advance for a better future. Please accept this letter as my formal resignation. My last day of reporting to work will be on May 30th, 2021, which is two weeks from now.
I am sincerely grateful for the opportunity you gave me at your company. I gained lots of experience and knowledge during my stay at your company. If you need any help to facilitate a smooth transition, please don't hesitate to let me know.
Sincerely,
Jacob Wayne
Signature
Resignation due to relocation
To whom it may concern,
Kindly accept this letter as my formal resignation from G & D Company. Since I will be relocating with my family to Canada, I find it difficult to continue executing my duties as your full-time employee.
I appreciate the opportunity you gave me to work with you. I hope and wish that you find an employee who is equally aspiring, dedicated, and determined to achieve the company goals.
Please let me know if there is anything I can do to facilitate a smooth transition.
Sincerely,
Vico Sotto
Resignation due to family reasons
To whom it may concern,
I am writing this letter as formal resignation from my position as an accountant at your company. My dad got involved in an accident which resulted in him getting paralyzed. Ever since he has been facing difficulties coping up with his new state, for this reason, I would prefer to stay at home and look after him as he recovers. My last day at work will be two weeks from now.
Thanks very much for understanding. Please let me know if there is anything I can do to make the job transition smooth and efficient. If you have any questions, please do reach me at my number [insert phone number].
Best regards,
Edwin Oliverez
Resignation due to change in career
To whom it may concern,
Kindly accept my letter of resignation with immediate effect. Having worked in your company as a marketing officer, I have decided to change my career path to accounting. Already, I have accepted the position of assistant accountant at ABC University.
I am very grateful for the time and resources you gave me during my work at your company. I indeed gained a lot of skills and experience, which I believe will help me be all grounded.
I am also grateful for the fellow coworkers who provided support and motivation as we worked in the organization. Please let me know if there is any assistance you would want during the transition. Thanks again for believing in me.
Regards,
Victor de Padua
Resignation due to returning to school
Dear Mr./Mrs. [insert supervisor/managers name]
Kindly accept my resignation effective from June 30th, 2021, which will be two weeks from to date. I am planning to enroll in my master's program beginning next month. In order to concentrate well on my studies, I will have to resign from my duties.
I am very grateful for the great opportunity you gave me at your company. The learning experiences, exposure, and skills I acquired at your workplace will definitely shape my career course towards a positive direction.
Please let me know if there is anything I need to do during these two weeks to facilitate a smooth transition of duties and responsibilities. Thanks again for your understanding and kindness. I look forward to keeping in touch.
Sincerely,
Benigno Aquino
Download free professional letter of resignation templates from below:
Templates by type
General templates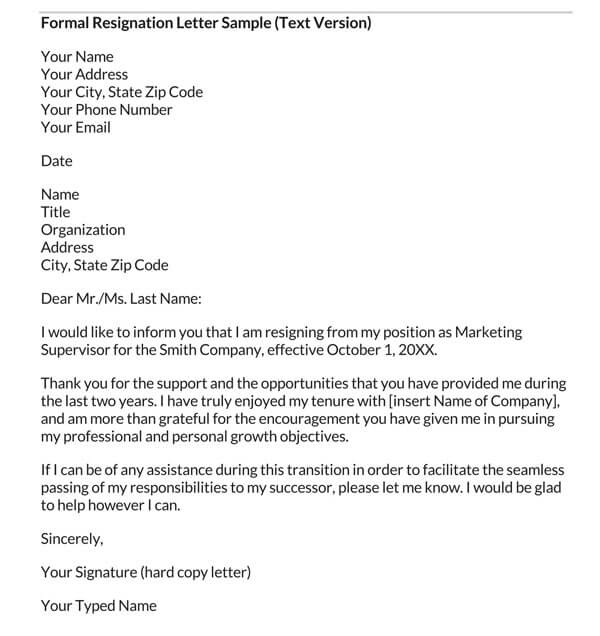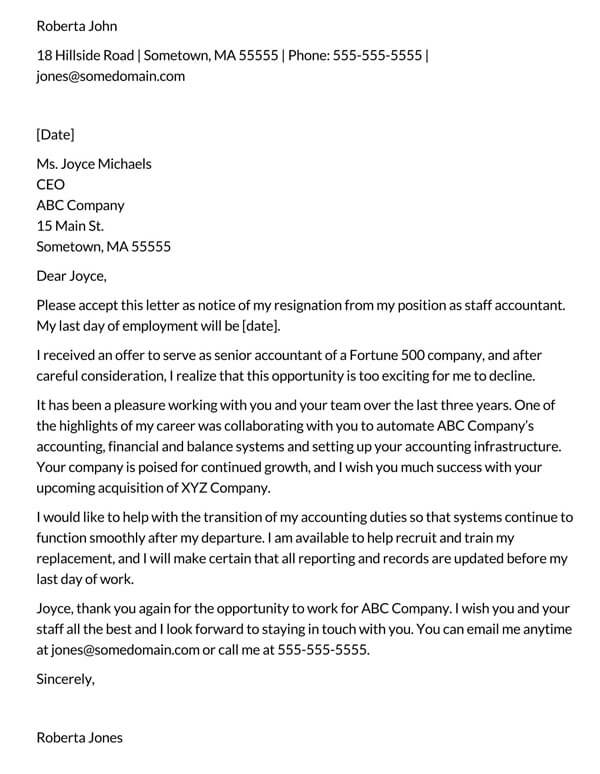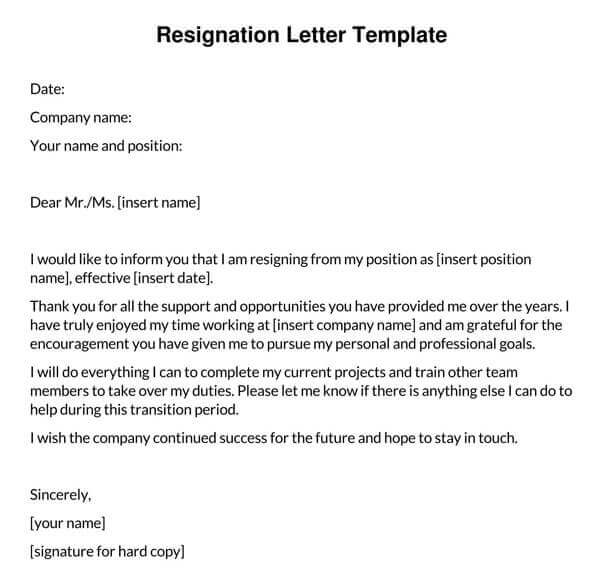 Is it necessary to write a resignation letter when you quit a job
No. a resignation letter isn't a mandatory document for most companies in the US. Nonetheless, it is a professional way of saying goodbye to your employer. If written properly on time, it can help the employer prepare for your leave. Also, it will help foster a good relationship even after your departure.
When should I hand in my resignation letter
Resignation letters should be handed over when you are certain of your resignation. It will help the HR department to document your resignation officially.
Should you give a reason why you are leaving in a resignation letter
Generally, your resignation letter should not indicate your reasons for leaving. Rather, it should contain a resignation statement as well as the last day you will be reporting to work.
Can I quit without a resignation letter
The simple answer is yes. The majority of employers in America offer 'at will' resignations. This means that you can quit your job whenever you want without giving in your resignation letter. However, there are some companies that will want you to produce the letters before leaving. As such, make sure you are familiar with the company's terms or quitting before leaving.