The wedding day itinerary refers to the scheduling of the day's festivities. The wedding itinerary is carefully compiled, down to the finest detail, and includes such information as wedding practice, arrival of the bride and groom, time to take photos, reception and much, much more. Each wedding itinerary is unique to the type of wedding. For instance, a wedding which takes place over the weekend, will have a schedule of events from Friday to Sunday. Whereas a simple chapel style wedding may just have a very short itinerary for that morning and afternoon.
Why a Wedding Itinerary is Must for Your Wedding Day
The wedding itinerary is vital to keeping up with all the activities. Without an itinerary, you risk falling behind, arriving late for important appointments or missing them altogether. For instance, many wedding photographers have several appointments in a single day, so it is imperative that the happy couple be present when the photographer is scheduled to arrive, or they might miss out on the pictures. The same with hair and makeup for the bride. If she and her party miss their hair and makeup appointments, they may not even get their hair done at all.
As you can see, it is the itinerary which keeps the wedding ceremony moving smoothly, at an even pace and takes care of all the details so no mishaps can occur. If you're new to the idea of a wedding itinerary, here's a brief example of what you might put for your mornings activities:
6 am: Wake up, shower and get dressed.
7 am: Eat a hearty breakfast
8 am to 11 am: Hair and makeup.
11 to 12 pm: Put on Wedding Dress…
You're wedding itinerary will be much more detailed, of course. But this sample gives you an idea, and helps you to get organized. The wedding itinerary is also extremely useful for friends, family and vendors, so they know the time and place of the events. Vendors especially appreciate a well laid out wedding itinerary which keep them abreast of where they should be and at what time.
Many Benefits of Using Wedding Itinerary Templates
Weddings are complex events that involve many people from different industries such as photography, catering, beauticians, flower delivery, dress fitting and much more. In order to make this a much simpler and less time-consuming task, many brides and wedding planners choose to download wedding itinerary templates. Wedding Itinerary templates are forms which you download and customize to suit your needs, by adding dates, times, and events.
Our wedding itinerary templates are free to download, beautifully designed and are sure to have everything you'll need to plan your special day. These templates are easy to use, simply download to your computer, open up in Microsoft Word, and proceed to add your wedding details for the day. Save both time and money using our free wedding itinerary templates, as you are free to print out as many as you need for your big day. You'll have more than enough to hand out to vendors, the wedding party, family and friends, and at no cost to you. We guarantee that by using our templates, you'll be able to plan your day to absolute perfection, from beginning to end!
Samples of Wedding Guest List Template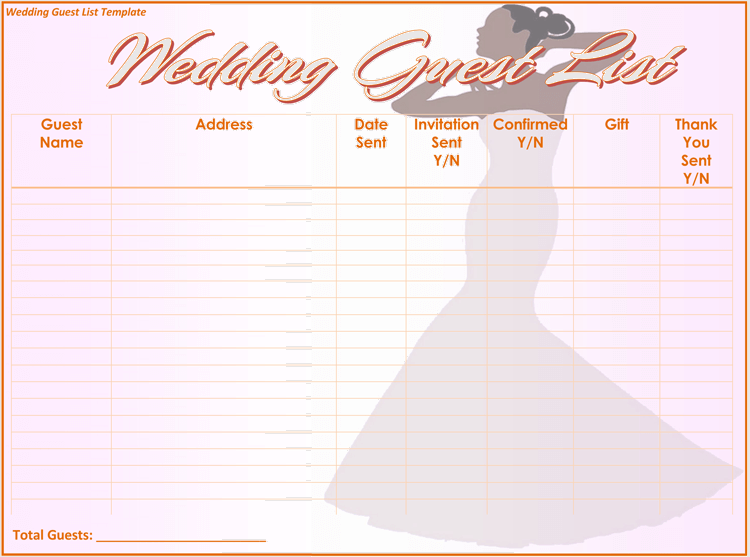 Samples of Wedding Itinerary Templates