It's so important to express your appreciation through a well-crafted sponsor thank you letter because Even after all of your hard work, you know nothing would be possible without the generous support of your sponsors . A letter can strengthen your relationship with your sponsor as well as update them on the impact their contribution is making.
Thank the sponsor as soon as you receive the donation so they know you are grateful. Assure your sponsor the impact their support will have. Making sure they are happy will increase your chances of working together again. The sponsor thank you letter should be brief, as the sponsor will already be familiar with what they are funding. It is extremely important that the sponsor's name and/or organization they represent is spelled correctly or you risk offending them. Although the tone should be heartfelt, maintain a professional tone (e.g., "We sincerely appreciate your contribution" rather than "We sure are grateful for your help!").
Thank your sponsor for their support at the beginning of the article so they understand why you are writing. Next explain why the sponsor's contribution is appreciated. Sponsors are careful with their money. They chose to support your needs out of other investments because they believed in its success. Help them know their money was well spent by explaining the results that came of their contribution.
Personalize each letter even if you have multiple sponsors. Match your values and goals with the values and goals of the particular sponsor. The sponsor should feel that you are really speaking to him or her. You show that you recognize the value in the person or company besides just the contribution. Sponsors do not want to feel like a bank. They want to feel like you and they have a common purpose.
[ads]
Sample Sponsor Thank You Letter Templates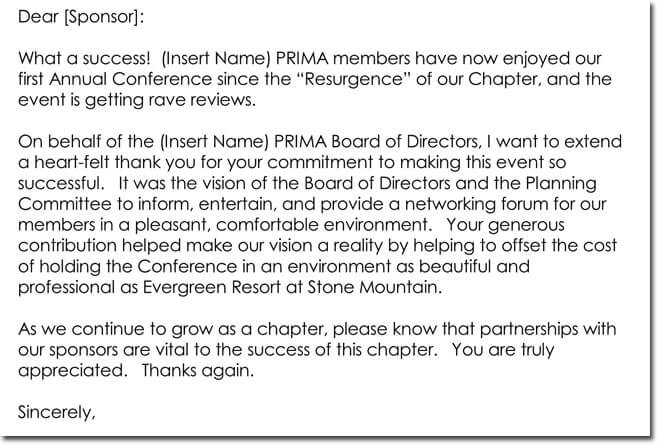 Personal Student Sponsor Thank You Letter Template
Co-Sponsorship Thank You Letter Template & Sample
Team Sponsor Thank You Letter Template & Format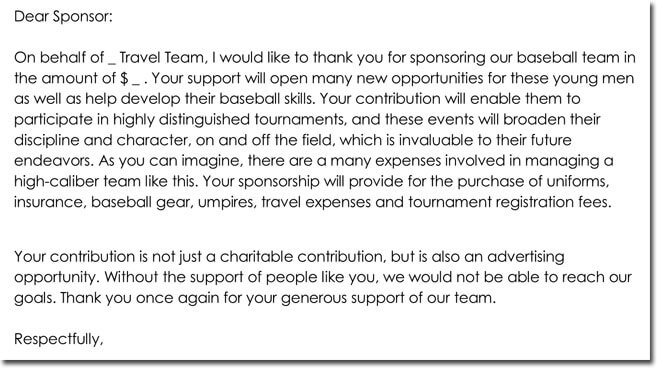 [mdn]
Football League Sponsorship Thank You Letter Template
Product Sponsorship Thank You Letter Template
School Sponsorship Thank You Letter Format
Sample Thank You Letter Example
Before the conclusion of your letter, you may invite further correspondence, if appropriate (e.g., an invitation to attend an event). Thank your sponsor again, ending on a positive, sincere note.
Remember to keep your letter brief, maintain a professional tone, and be specific and personal. The sponsor thank you letter templates below will help you express your appreciation and strengthen your business relationship with your sponsor for future transactions.