If you run a business or are in charge of collecting payments from customers, then you know how challenging it can be to get people to pay what they owe. This is where an overdue payment reminder letter can be one of the best tools in your payment collection toolbox. This type of letter is fairly straightforward: it notifies the customer that they are overdue on a bill and need to make a payment. Instead of having to make a phone call, which can be very uncomfortable, this letter is a much more polite way to remind your customers a payment is overdue.
Who need this type of letter?
Anyone who bills customers for products/services can benefit from using a payment reminder letter. This includes doctors, lawyers, loan companies, and any business that allow customers to pay in installments. The best part about these letters is that they can be used over and over again. All you need is a basic payment reminder email template, then it's just a matter of plugging in your customer's information and sending it in the mail.
Writing an overdue payment reminder letter
The key for these letters to be effective is by how they are written. First, the letter must be polite. Remember, this is a reminder that a payment is overdue. You don't want to insult the customer or make them angry at you just by sending a reminder. Keep the tone of the letter friendly, but at the same time professional.
Further, key information must be included in order for the letter to be effective. Some of this information includes; amount owed, the due date is past, how much longer the customer has to pay until further action is taken, and methods of payment you accept, like checks, credit cards, and cash. All this information must be very clear and concise so the customer can understand both why they are receiving the letter and how they can rectify the situation. The information they need to make their payment must be very straightforward.
[ads]
Sample overdue payment letter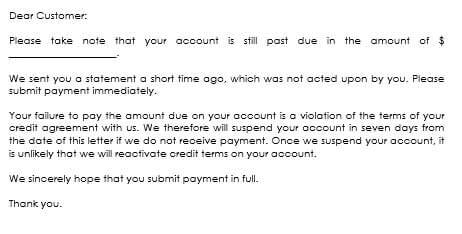 10 days overdue payment reminder example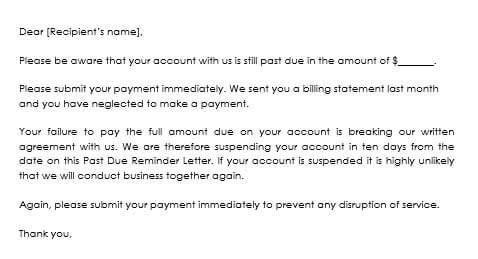 Letter of friendly reminder of overdue payment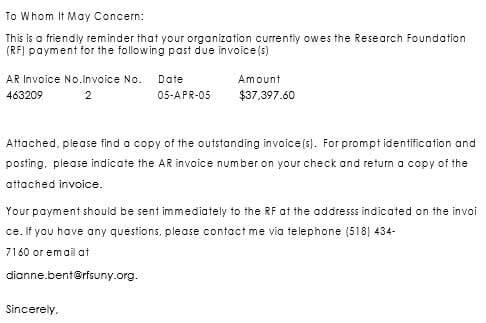 Overdue Invoice reminder letter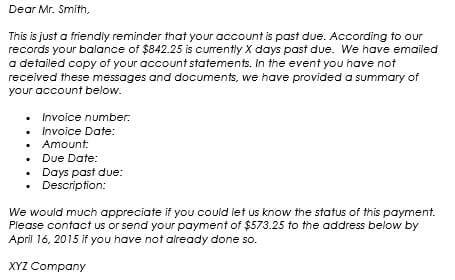 Overdue payment reminder with offering flexible plans for next payments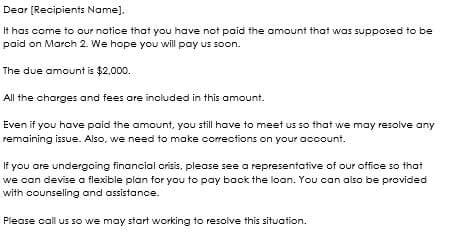 Sample 1st Overdue Payment Reminder Letter
Sample 2nd Overdue Payment Reminder Letter
Do's And Don'ts
Do check your letter for any mistakes or typos. It'd be embarrassing and highly unprofessional to send a reminder letter with the customer's name misspelled (for example).
Do have a timeline for sending the letters out. Are they sent every 30 days? Every two weeks? It's up to you. Just makes sure you stick with that timeline so you're consistent.
Do make it easy for the customer to contact you if they have any questions about the letter they received.
Don't make the letter threatening or condescending. It'll just make the customer mad. You want to work with the customer to get the money you're owed.
Don't get the amount they owe wrong. Whatever amount is stated in the letter should match up with their account information.
Our Templates
We have samples of overdue payment reminder letters that you can use as a template to fit your own business. Our templates are friendly, easy to use, and will save you time because you won't have to write a letter from scratch.