The purpose of a business is to create a profit for owners and investors. In order to run a business efficiently, business owners must use certain processes and procedures. One of the business tools used is the business invoice. Invoices are detailed accounts of business transactions. Basically, business invoices are billing documents that itemize goods and/or services sold to clients, this information is then sent to the accounting department to be recorded and filed.
There is a vast variety of invoices used by businesses today, with each one conforming to a specific department or purpose within the business. There are standard invoices, commercial invoices, pro forma invoices, service invoices and automatic invoices. Invoices are designed and customized to suit whatever needs the business requires. For example, businesses that require employees to do a lot of traveling will utilize specialized travel expense invoices. Those businesses that offer services instead of products will use hourly service invoices. Companies involved in import and export may find pro forma invoices to be of great use.
All business invoices contain similar content, with adjustments made due to the specific purpose of that particular invoice. Common fields within business templates include, but are not limited to: Business contact information and logo, customer contact information, Invoice number, shipping address, dates, payment method and terms, taxes, quantity, and the total amount to be charged. There is usually also a special area for any notations, and an area for authorized signatures.
As can be seen, not only are business invoices an integral part of a businesses day-to-day operations, but they can be complex to create. Customizable business invoice templates offer the company an efficient and cost-effective method to manage invoice creation. Time is money when it comes to running a profitable business. Using our free to download free invoice templates offer you a great advantage in that they are easy and efficient to use and customize to your specific business needs. Downloading our free invoice templates also means that you do not have to spend money on invoice creation software, nor spend valuable business hours trying to learn the software.
We currently offer businesses 32 free invoice templates in various layouts for immediate download. Each of our invoices are professionally designed and developed specifically to be easy to customize, so are suitable for any small business or department within a business. Using these free invoice templates is quite easy. All you do is download, edit and print.
Our free invoice templates are available in 3 formats: PDF, Microsoft Word, and Microsoft Excel. To customize an invoice to your specific requirements, you first download the free invoice template, then proceed to edit the fields in the form using either PDF, Word or Excel. For example, if you are in need of a travel expense invoice, you would make the appropriate alterations to an invoice layout, save and print. That is all there is to it. Simplicity, efficiency and cost effectiveness are primary key elements when running a business, and our free invoice templates give you just that, and are the perfect addition to your business model.
[ads]
Free Invoice Templates for Excel
---
---
---
---
---
---
---
---
---
---
---
Free Invoice Templates for PDF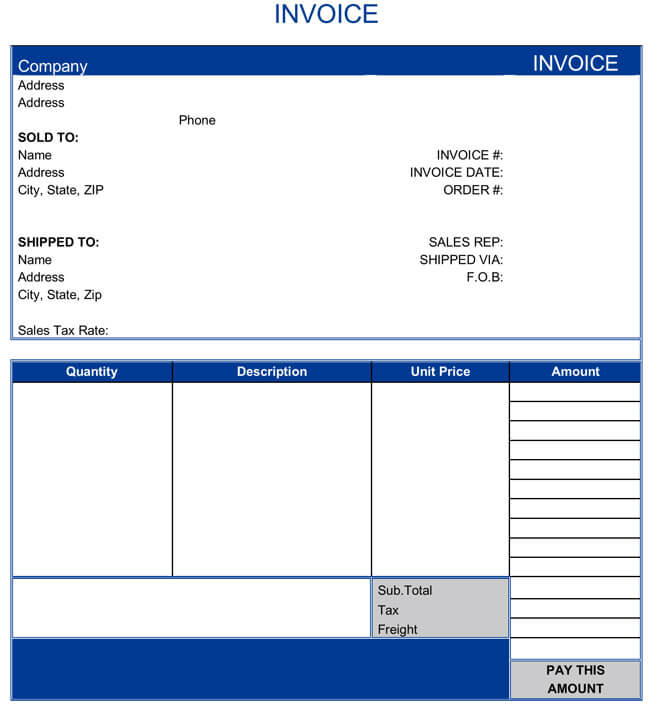 ---
---
---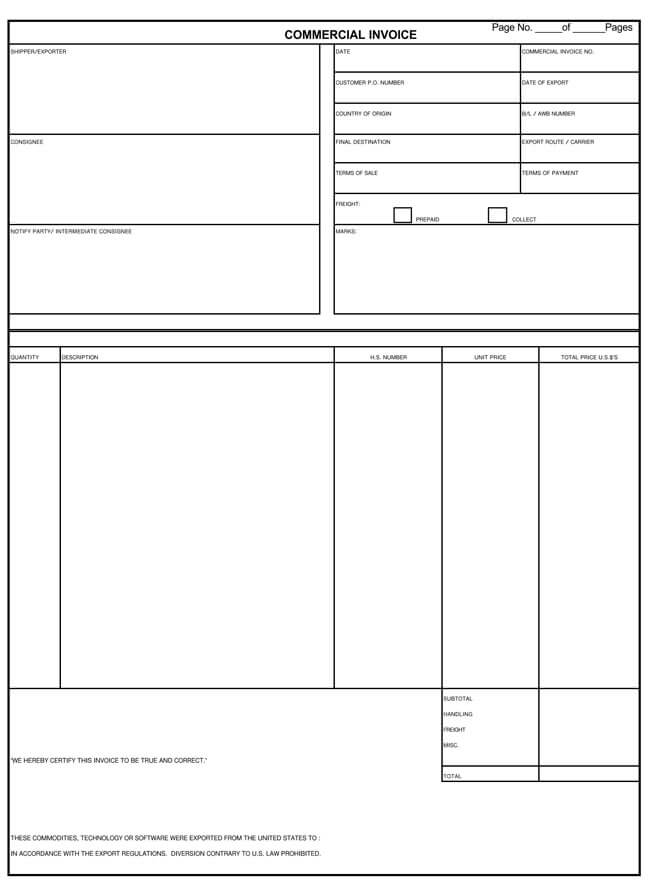 ---
---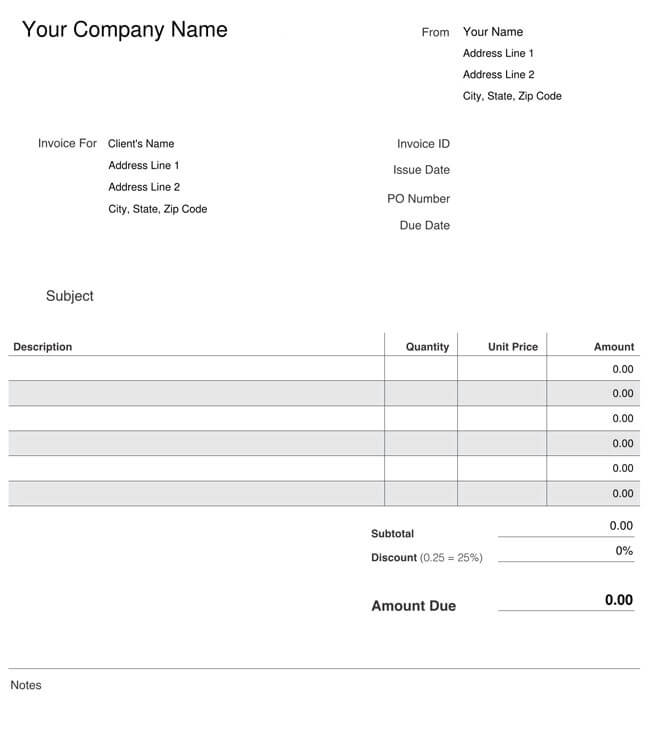 ---
---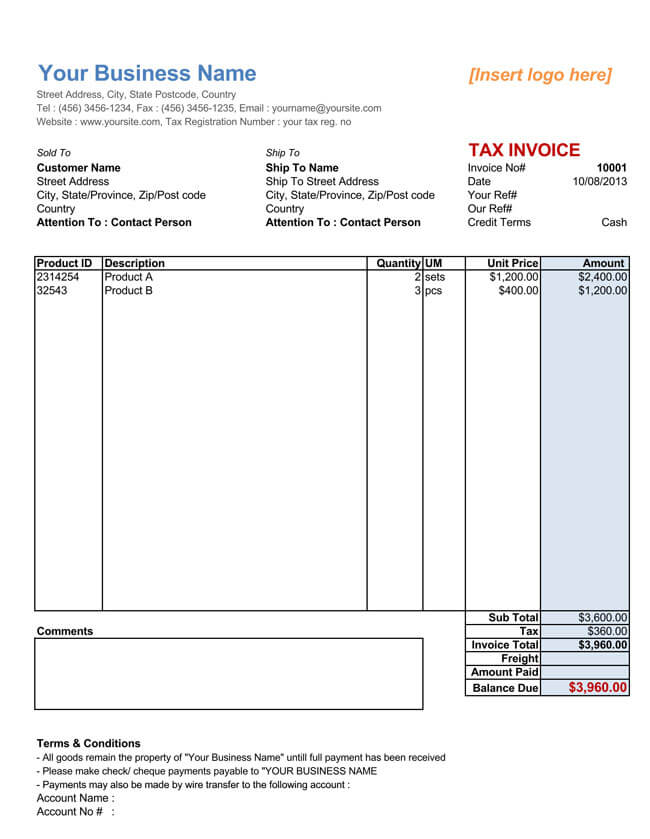 ---
---
Free Invoice Templates for Word
---
---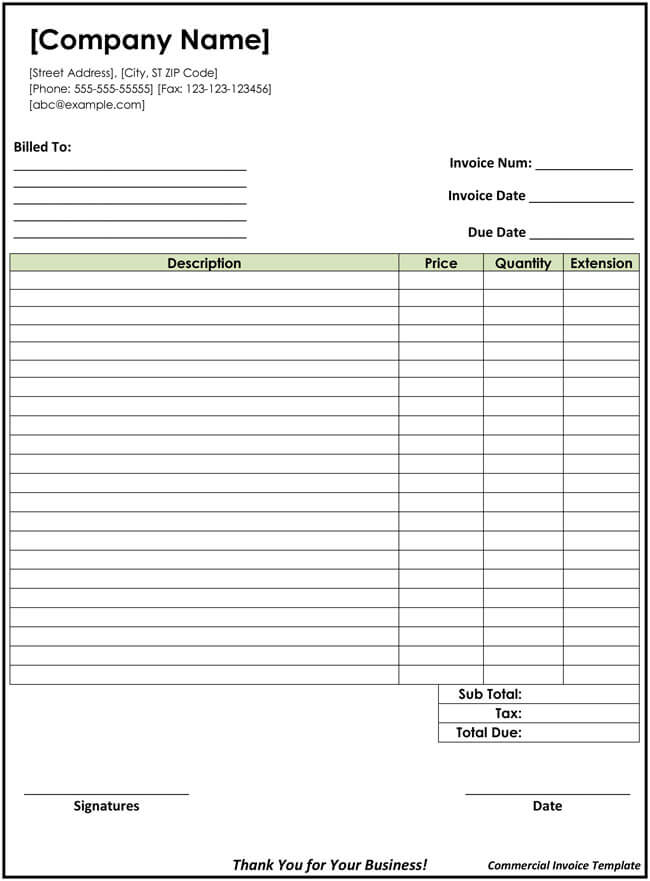 ---
---
---
---
---
---
---
---
---
Related: