It is necessary to acknowledge receipt of the letter and accept the resignation when a corporation, sector, or organization receives a resignation letter from its employees. Today we will guide you on what a resignation (acceptance) letter is, why it is essential and how to create it.
Resignation in business means that you are for any reason leaving the job on your own. The reasons for leaving the job can vary. It could be the work environment or just that employee has a chance of getting a better position elsewhere.
Resignation vs Termination
As we have mentioned, resignation involves the employee's will, that is, he is leaving the job due to his reasons, while termination is when an employer dismisses or removes an employee from a particular position or job. Again, the reason behind termination can vary as well.
What is a Resignation Acceptance Letter
The letter of acceptance of resignation is a letter to recognize that you have accepted an employee's offer to resign. An employee will give the employer a letter of resignation. If the employer approves the employee's resignation, he has to write an acceptance letter.
If a worker is a good performer and pay is the problem, management increases the salary and asks the worker to stay. But if the reason is different beyond the consideration of management, the employee is asked to serve the notice duration. The management issues the employee's letter of approval of resignation.
Should you Write a Resignation Acceptance Letter?
The acceptance letter of resignation recognizes the employee's experience and contributions to the company. For future endeavors, the management wishes him good luck. This letter is a formal way to acknowledge the worker's resignation and relieve him or her of the organization's services.
It's crucial for a variety of reasons to have the resignation acceptance letter in place and verified. It is not unusual for staff to give their resignation and then change their minds later on. If the employer has not approved the resignation officially in writing, the employee could contend that the resignation was never approved. For this reason, an employer needs to respond formally promptly.
How to Write a Resignation Acceptance Letter
When an employee sends a letter of resignation, responding to them with a formal written letter of acceptance of resignation enables you to acknowledge receipt of their letter and confirm in writing their last date of employment. It also allows you to express good wishes and share other information.
Here is how to write it:
Use the right formatting and structure.
It's essential to use the right format and structure when writing a professional resignation letter. In general, it's better to write without indentation in a block format. You should also make sure that on all sides of the letter, there is a one-inch margin. Use a font, such as Helvetica, Arial, Calibri, or Times New Roman that is easy to read. The font size should also be the smallest size that is readily available.
Include the date and contact information
At the top, begin by writing your name, title, business name, and company address. Under your contact information, leave a blank space, write the date, leave another room and then place the worker's name and address who submitted his or her resignation.
Include a salutation
Start with a formal greeting. You could also leave the salutation off and lead with the name of the individual like 'Mrs. Smith'.
Accept the resignation
Be straightforward and to the point and, in the first sentence, accept and formally recognize the receipt of their resignation letter. You may want to add your regrets regarding their decision in the first paragraph, depending on the employee and their departure circumstances.
Include the final date of employment
Include the final date of employment of the person with the business. You may want to agree that you are authorizing them to remain in jobs until the last date, per their request, or you may wish to indicate that their final date will be earlier, even that day, based on the situation.
Add other information
You might like to add other things to the letter after you have verified the employee's last day, such as information about the next steps or the goals for the remainder of their tenure with the company. This move is optional and based on the organization's status and policies.
Express appreciation
Regardless of the cause of the employee's resignation, it is always best to show gratitude for their contributions during the period they were with the company and wish them luck in their future efforts. You may also want to offer to guide them in the future, depending on the conditions.
Add a complimentary close
Once you're done, add a free one near the bottom. "Sincerely," "Best wishes," or "Regards." are the most effortless helpful closings. With your resignation acceptance letter, it is best to use a formal conclusion.
Sign the letter
Leave a space after your closure to sign your name after the letter is written. If you send a letter by email, you can try typing in your name and leave the space blank.
Important Points to Consider While Writing it
It's important to respond appropriately to the resignation of an employee. Although you have the option to consult an employment lawyer for the specifics of what is needed, the following are some points to consider while writing acceptance letter:
Keep the letter short
Keep it short and to the point with your message. Praise the employee on some aspect of the services he or she rendered.
Use the right subject line
You should have a subject line that clearly expresses what the text is about, such as "Resignation acceptance."
Proofread thoroughly
Resignation acceptance is also a chance for you to extend your network. Ensure that your email is error-free and professional, and you will improve your bond with your former employee.
Use professional language
Your letter should look like a business letter, so do not use informal language more suitable for personal correspondence.
Use business letter format
You must use the business letter format for your letter since this is a formal letter. Enter your contact details, date, and contact details for the employee in the letter's top left corner. Enter your handwritten signature with the letter and enter your name below.
Accept the resignation
You must notify the employee that their letter of resignation has been received and approved. Clearly state their last days with the company.
Express understanding
Write the letter in a dignified and constructive resignation tone, regardless of circumstances. If you regret the employee's loss but feel good about the agreement, let the letter convey your sincere regret. Any personal comments otherwise omit.
Keep a record
Keep one copy of the letter or give it to your human resources office. It will help you to keep a clear record of when the worker left the organization.
Company Resignation Policies
You may want to consider developing a method or procedure for managing resignation letters, depending on your company's size. It would look professional to have a fixed policy for resignations and put both you and the employee at ease.
It is obligatory to provide the employee with competent separation services, clarify items' notice criteria, the final distribution of paychecks, employee compensation status upon termination, and decide their last employment date.
In writing, you need a resignation to apply it to the employee's personnel records. The letter records that the worker requested the firing and not due to any punitive action. Although it is mentioned in the employee resignation policy, an employee doesn't need to have two weeks' notice. There is no law that mandate that an employee should not resign without two weeks' notice being presented. However, to assist with the adjustment process, it is nice to promise the employee.
Tips for Sending an Email Resignation Acceptance
If an employee sends you resignation through email based on the situation and your business culture. In that case, you can also respond via email.
Following are some essential points that you need to consider:
Write a professional email
While the address sections and the signature are omitted, the remainder should represent a business letter's style. Do not use informal terminology that is more suitable for personal conversations.
Use the right subject/ CC
You should choose the subject line that effectively addresses the email subject unless you respond directly to the employee's resignation email.
Consider providing your non-work email
Provide your non-work email so that employees can later contact you for the referral.
Proofread and test your message before sending
Resignation acceptance is also a chance for you to extend your network. Ensure that your email is error-free and professional, and you will improve your bond with your former employee.
Samples of Resignation Acceptance Letter
Manager Resignation Acceptance Letter
A manager resignation acceptance letter is one that is written to respond to the resignation letter given by an employee at any manager position. Its format and structure is described in its sample attached;
ABC
Logistics Manager
Name of Company
Address
City, State Zip Code
Date
Name
Address
Dear ABC,
Your resignation from your position has been accepted, effective on February 18, 2021, as requested.
I have no reservation in saying that you will perform to your usual high standards during your remaining time with the company.
It has been a delight working with you, and I wish you all the best in the future. If I can provide a reference, do not hesitate to ask.
Sincerely,
XYZ signature
Manager Resignation Acceptance Email Sample
CC: Resignation Acceptance
Dear ABC,
I was sad to hear you're going to move on from XYZ Limited, but I'm happy to hear you have such an exciting new chance at work. I know that you're going to be a huge success there, as you are in all your positions.
My formal receipt of your resignation constitutes this. Your last day will, as requested, be February 18, 2021. Please stay in touch and let me know if a letter of recommendation is ever required.
Best Regards,
Name
Position
Contact Number
Email
Resignation Acceptance Letter Notice Period
The resignation acceptance letter where the employee serves notice period is the type of resignation acceptance letter that is sent when the employer requires the employee to serve a notice period before he or she may leave/resign. Sample attached clarifies its structure and format;
ABC
General Manager
Name of Company
Address
City, State Zip Code
Date
Name
Address
Dear ABC,
I acknowledge receipt of your letter dated February 15, 2021, with effect from February 18, 2021, to resign your position as manager with the company.
We acknowledge your resignation, and you are expected to work for your notice period in compliance with your employment contract. You will be compensated up to and including the date of the termination of your work. If I can provide a reference, do not hesitate to ask.
Sincerely,
XYZ signature
Resignation Acceptance Letter Immediately Effective
The resignation acceptance letter immediately effective serves the purpose such that the employer allows the employee to immediately resign as per their requirement. The letter clearly states that the employee is free to leave immediately and does not need to complete any notice period .
ABC
Risk Analyst
Name of Company
Address
City, State Zip Code
Date
Name
Address
Dear ABC,
It is with regret that I accept the receipt of your letter of resignation dated January 30, 2021, resigning your position with XYZ Inc. as an Analyst with effect from February 15, 2021.
We accept your resignation and have agreed, under the circumstances, that we will not expect you to work through the length of your notice period. Therefore, today, February 15, 2021, will be your last day with us. Thank you for your hard work, and in your future endeavors, we wish you all the best.
Sincerely,
XYZ signature
Now that you know what a resignation acceptance letter is, how it is written and what needs to be considered before writing an acceptance letter, we offer a fully customizable acceptance letter that you can download for free.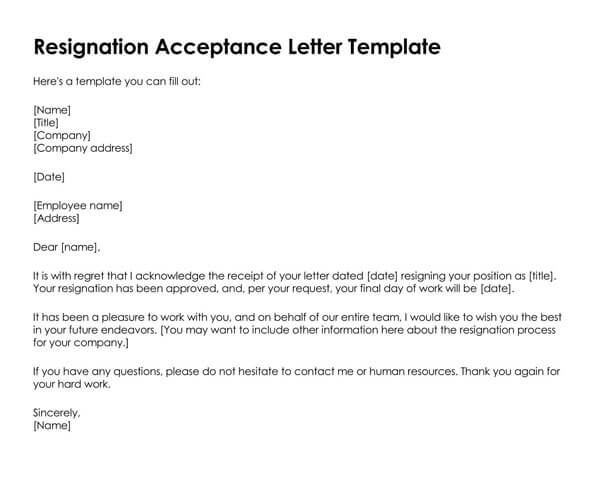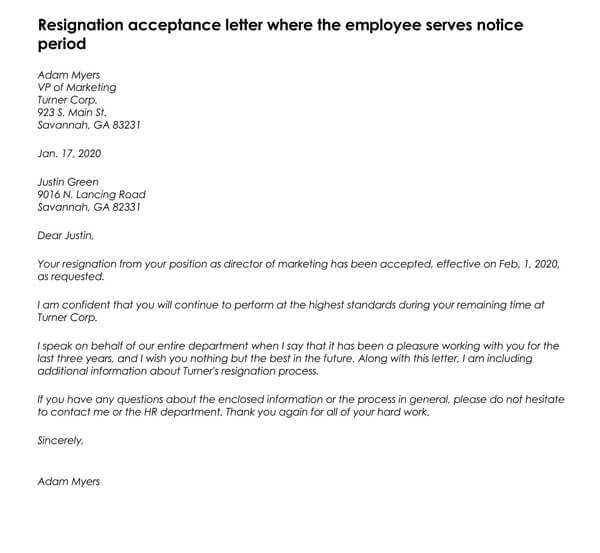 Can you accept the resignation immediately?
Yes, you immediately accept the letter of resignation, but you are bound to clear everything in the company.
Does an employer have to respond to a resignation letter?
Yes, an employer has to either accept or reject a resignation letter.
Accept the resignation in a professional and formal letter and mention when the employee will officially annul employment. Thank the employee for giving adequate notice, if necessary.