A job inquiry letter is a letter sent to employees who may be intending to hire but they have not formally advertised their jobs. It is usually sent by a prospective employee to express an interest in working for a company and seeing if there are any existing job opportunities that match their skills. The labor market is flooded with many people who are unemployed such that if an advertisement for a job were to be made by a company, numerous applications would flow, making it difficult in selecting the best few candidates. A job inquiry letter, therefore, becomes the best tool for a company to select candidates who may be having a genuine interest to work for them.
When you should send a Job Inquiry Letter
Several situations require the use of job inquiry letter. The first situation is when you want to get noticed by the employer who may not be recruiting. By sending a job inquiry letter to them, it acts as a way to get one's resume in front of hiring company and they may possibly consider you for the job even before the job is advertised. Employers like people who are proactive and therefore, in most occasions, those who send job inquiry letters are more likely to be given a priority over the others.
The second situation is when a candidate lacks relevant experience and they may like to join the company as interns. Many companies do not advertise for internship positions and in such cases, job inquiry letters are extremely necessary if the candidate has to land any available opportunity in the company.
The third situation is when a candidate is unsure of the available job opportunities in a company. Writing the job inquiry letter will help the candidate know the available jobs to be listed.
Contents of Employment Inquiry Letter
A job inquiry letter should have information that expresses why you like the company. You should also mention your skills and experience and how they can make you the best fit for the company. It is important to be brief and polite as this will help give clue to the type of person you are. Just like writing a cover letter, it is always good to make the best impression by using a professional tone.
How to format an inquiry letter
Here's more information on how to write the best inquiry letter, which format you should use and what to include in it.
Using samples and templates to write a job inquiry letter
Before writing a job inquiry letter, it is of paramount importance that you understand the type of organization and the role you are applying for. Therefore, use of samples and templates becomes useful in helping an individual to strictly follow the required format. Most samples and templates provide professional letter guidelines that will help the prospective employee to be considered for any future opportunity. For instance, including a copy of your resume, contact information and how you will make a follow up is something any professional template or sample should be able to offer. It is thus, good practice that you use the templates and samples.
Tips for Writing a Job Inquiry Letter
A letter of inquiry should be written to a specific person rather than using the generic greetings such as "To Whom it May Concern." It is, therefore, necessary to find information about the company and especially its employees from the website and LinkedIn.
When writing a job inquiry letter, only focus on your strengths and qualifications which will make you look more of an asset to the company than any ordinary job seeker. Do not appear desperate or mention how it has taken you a long time to find a job. Your goal is to find out whether there exists a job opportunity at that prospective company and not to show off desperation. It is important to keep it professional and focused on what you want and what you want to do for the company.
Sample of Job Inquiry Letter
Job Inquiry Letter for Internship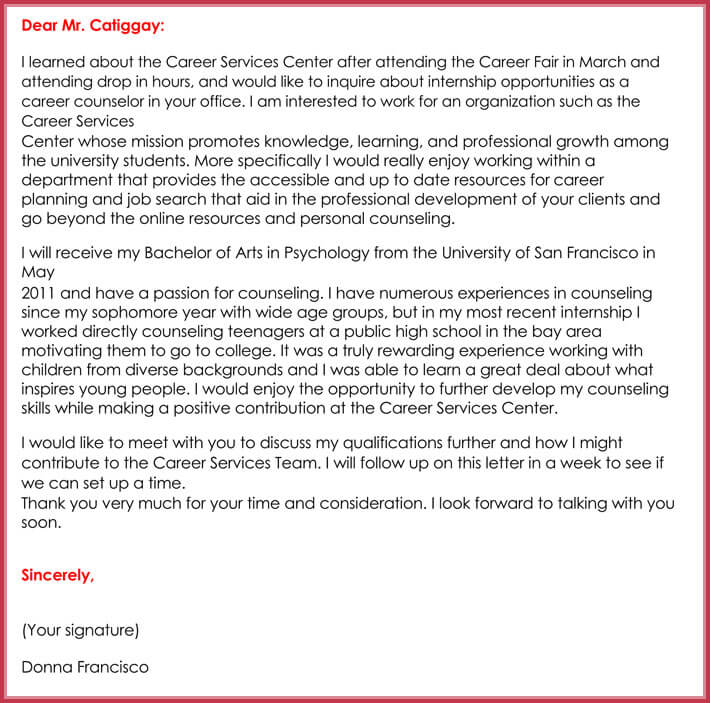 Job Inquiry Letter Example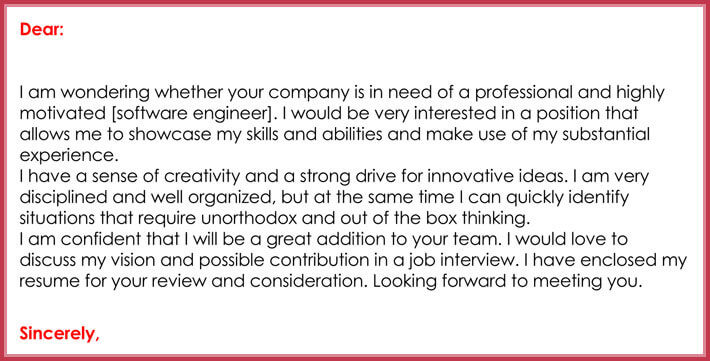 Sales Manager Job Inquiry Letter
Job Inquiry Letter Sample