When an employee has made a situation for a business or company that cannot possibly be fixed, job termination letters for cause are the suitable documents to send them. This letter is best when an employee shows an obvious cause for immediate termination.
Below average attendance, behavior issues, or extreme lack in performance are common reason to utilize this letter of termination. This letter summarizes what is said in a meeting about the infractions between management, human resources, and the employee. The meeting should take place as soon as the company has the proper documentation needed to termination employment. The official letter would have the date of termination, the reason for termination, and any other information the former employee might need.
Sample Job Termination Letters for Cause
Download Job Termination Letter With Cause
Termination Letter for Cause Format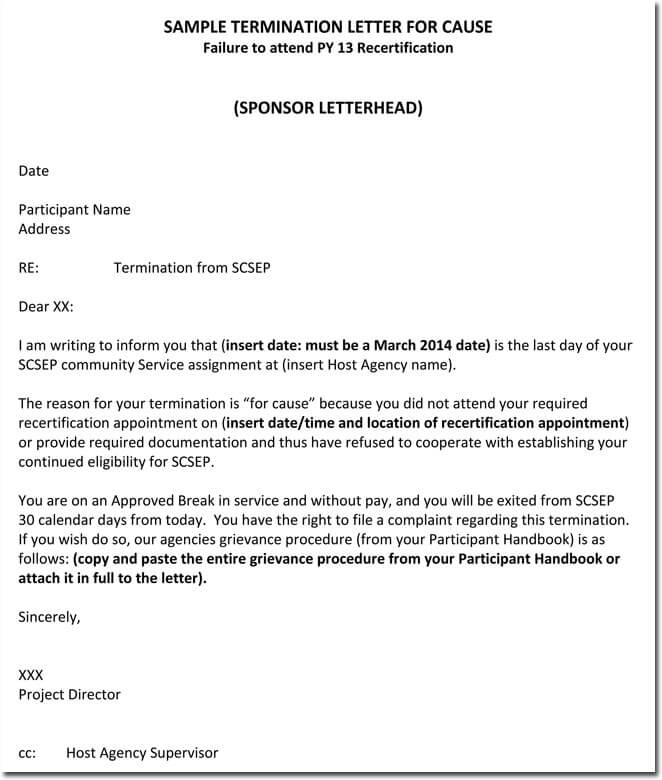 Download Sample of Termination Letter for Cause
Termination Letter Samples Without Cause
On the opposite side of things there is an option to terminate employment without cause. A letter of termination without cause is best suited for companies that use employment-at-will policies. With these policies in place, employers can use the same letter to terminate an employee that violated company rules or for another reason. A letter of termination without cause will usually tell the former employee how they will receive their last paycheck, the date of termination, and any other vital information needed. This letter allows a company to relay their decision without casting or accepting blame.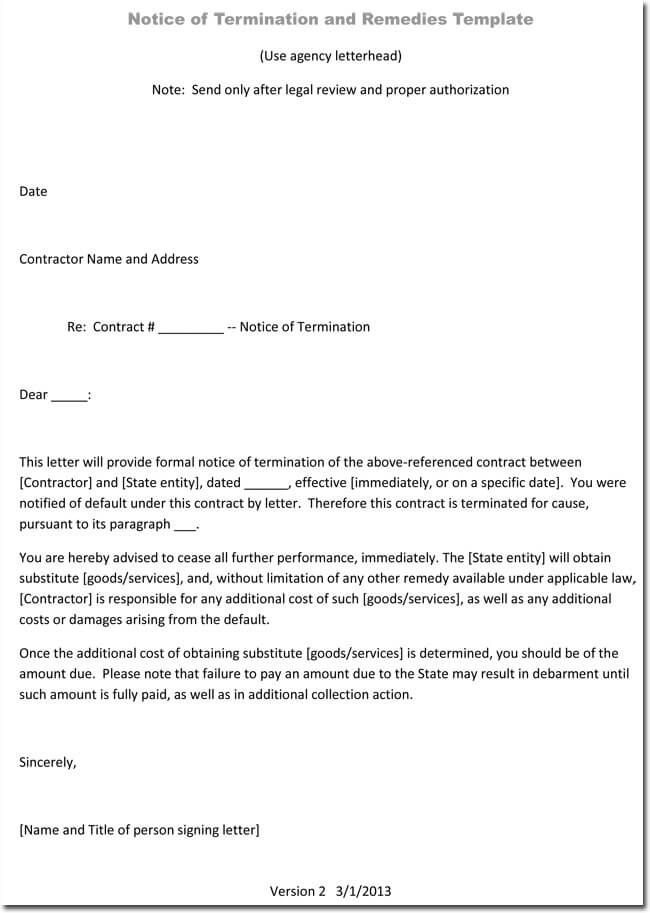 Using professional letters of termination whether with a reason or not is a good way to keep track of past employees and see what behavior is shared among the terminated. A letter of employee termination for cause is given out after an official meeting between the employee and staff. The employee could be given prior notice of termination possibly giving them time to prepare. Certain policies that are adoptable give employers the opportunity of having employment-at-will contracts. The 'at-will' contracts grant those employers the power to terminate an employee without reason. Picking which letter of termination is a best fit can lead to a more efficient business.
For all type of termination letters: https://www.doctemplates.net/termination-letter-templates/