A Customer Thank You Email is an appreciation message send via electronic mail, to the customer as a way expressing gratitude for buying a certain commodity, being a regular customer or creating customer loyalty.
Customer retention plays a very big role in every business. One of the simplest things to do in order to retain your customers is to send them a customer thank you message. In contrast to the early days, most modern businesses opt to use emails to send customer thank you messages rather than sending handwritten notes. Our customer thank you email samples will help you to write perfect messages in good way.
When Should You Send a Thank You Email?
There are many reasons as to why the seller should send a customer thank you email. Some of the main reasons include:
Thank you after purchase
Most sellers often send thank you emails to their customers after they (customers) have purchased a product. In this way, they create attention to their customers and bring a strong customer relationship.
Being a loyal customer
If a customer is served well, they will always come again for their favorite service. They will have faith with their service provider hence bring a strong customer loyalty. The sellers in return, will return the favor by appreciating their customers with a thank you email.
New customers
That very first reception will determine the future of that customer relationship with your business. A warm welcome for that new customer will make him/ her to come again. Sending them a customer thank you letter or email will retain them in your business.
During special days
On special days like end of the year, holidays and birthdays, take time to send appreciation emails to all your customers.
When a customer buys in large scale
When your customers make buy in large amounts than usual, it is always good to send then thank you emails and wish them well.
After promotion
If your business has had some recent promotions about certain products, it is always advisable to send a customer thank you email to the first time buyers and it might make them return again.
Sample 1
Thank you for your purchase!

Dear Customer,

On behalf of Oril Enterprises, I want to take this opportunity to express our gratitude for the
purchase of our latest products during the recent promotion.

Your business with us is much appreciated and we are pleased to inform you that we will do our very best to meet your needs.

Thanks again! We look forward to for a long business experience with you, to serve you better.

Best regards.

Kan Kreuk,

CEO, Oril Enterprises.
Sample 2
Thank you for trading with us!

Dear S.K. Traders,

As the year ends, we would like to take this chance to say thank you for being part of us.

It has been a great experience working with you over ten years now. Your trust in us forms an
important part of our company.

Thanks for your loyalty.

Sincerely,

Jay Keller,

Managing Director, Oval
Brands.
Customer Thank You Email Format
Sample of Customer Thank You Email
Customer Thank You Email for Product Purchase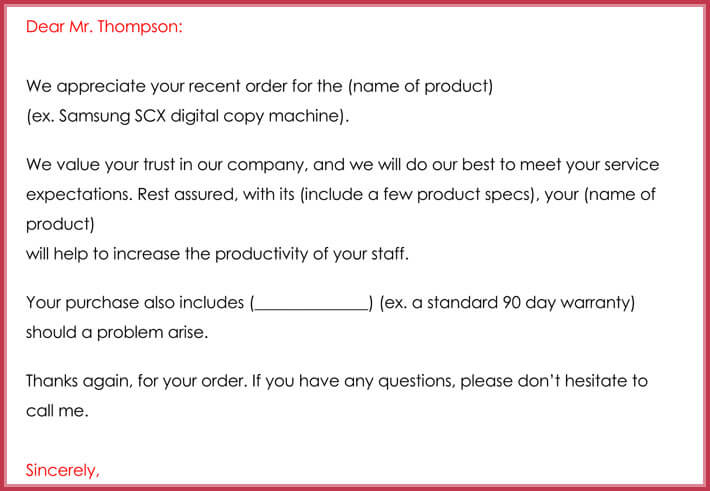 Sample Thank You Email for Customer Support
Customer Thank You Note

Format
Elements of a Good Customer Thank You Email
A thank you letter heading should be at most five words
Greet your customers by their names
Show gratitude, clearly telling them why you are sending them the message.
Include some details of why you enjoyed experience with the customer. This gives you an opportunity to be thoughtful and specific.
Again, repeat your thanks.
Close it with a proper sign off e.g.
sincerely, kind regards, warm regards, etc. and sign your name.
Dos and Don'ts
Do respond in time.
Don't use the opportunity to claim something e.g. a debt.
Do showcase the personality of your company.
Don't include anything personal or self-promotional.