Using a task list is a very effective way to stay on track with projects, both at work and at home. Breaking down a large project into smaller tasks makes it feel easier and more manageable. Virtually anyone can benefit from taking time to stop and organize their day, no matter what industry they work in or what their interests are. A task list can be used for a huge variety of things, whether it's just planning your day or organizing steps in a large work project.
To help you be more productive, we've created several task list templates in Microsoft Excel and Microsoft Word. These templates are free to use and are designed to help you get the most out of your day. We have a variety of different templates for different purposes. They work well for things such as creating a daily or weekly to-do list, organizing school or work assignments, or even planning your social calendar. Our templates are versatile and could be used in a variety of different situations. Many people use task lists at home, at work, and to manage hobbies or other activities.
list templates are particularly helpful for those who struggle with procrastination or feeling overwhelmed. Breaking a project down into very small parts not only makes it feel less overwhelming, but it also gives you concrete steps to help you finish the task more quickly. Task lists are also very effective for groups who are working on a project together. They will help you all stay on the same page regarding what needs to be done and where current progress is. Our task lists can be used to assign deadlines or items in a project to specific people on a project. These straightforward and effective task list templates are a wonderful resource for any busy professional or homemaker.
Simple Task List Templates (Excel)
Personal Task List Sample
Printable Gantt Chart Task List Templates
Free Project Task List Templates
Printable Daily Task List
Printable Weekly Task List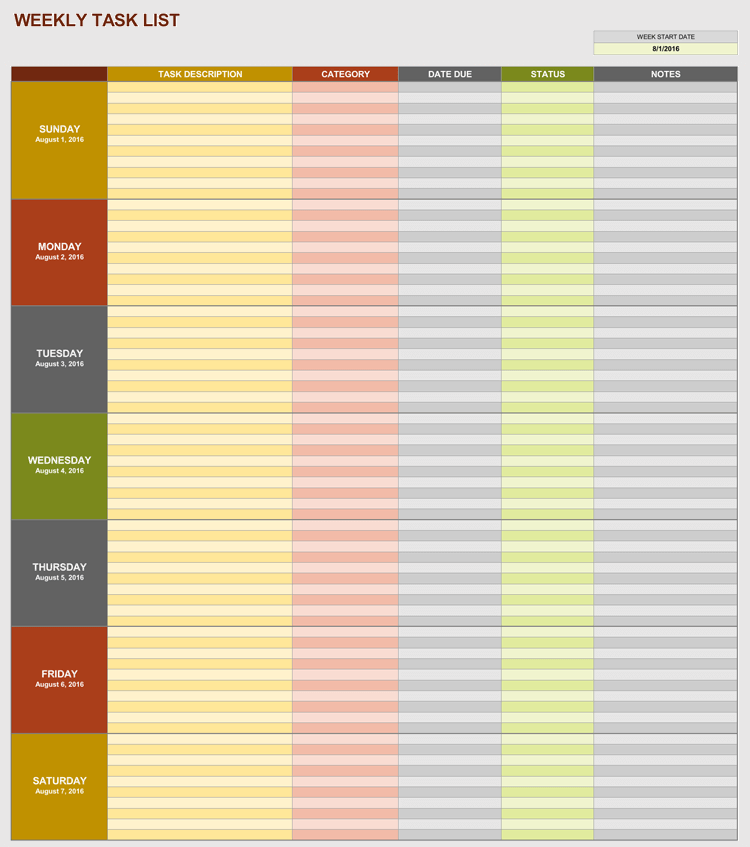 Drop-Downs To Do List
Free Household Task List
Student Task List Template
Day Task List Format
Business Trip Check List Template