Price lists are an important part of any business that sells a good and/or service. Price lists alert the customer to the product and/or service, their quantities and any discounts or sales promotions. When shoppers are looking for the best deal on a certain good or service, or perhaps choosing among a list of goods and services, they often check a price list. Price list templates are useful tools when comparing prices.
Price lists are simply a list of goods and or services that are offered by a particular establishment. The data on these lists include the names of products and or services along with their accompanying costs. Price lists can be used in coffee houses, restaurants, and beauty salons, just to name but a few. Indeed, any business that offers a variety of goods and/or services will find a price list not only helpful, but a necessary part of running a smooth operation.
Importance and Benefits of Price List Templates
Price lists perform an important task for both business owners and shoppers alike. For the Business owner, it is a logical way to compile and display certain products or services available to the public. For the shopper, the price list allows them to compare prices of various items quickly and easily. For example, a customer in a coffee shop who is deciding on what to order, taste, size, donuts or bagels, can do so with ease by studying their price list. Price lists can contain such data as the product or services price, quantity, or size, and be useful in keeping track of inventory, or even for new hires to study in order for them to become familiar with pricing. Price lists can also be used in the business office for quick reference when doing billing and general accounting work.
Types of Price List Templates
Price lists are versatile in that they can be adapted to any business that produces goods or services. Those with a home based catalog business, for example, can insert price lists that announce certain sales or discounts by simply slipping a price list inside a catalog. Price lists for businesses that offer services include: Auto repair shops, beauty salons, health spas, car rental agencies. Price lists for businesses that offer goods include: Coffee houses, restaurants, pet shops, and super markets.
How to Make Best Use of Price List Templates
Always remember to date your price lists. This is important in that some customers may keep this list for a long time. When they return to your establishment they may insist on using the prices in the old price list. Providing accurate dates and keeping records of when you altered your price lists can alleviate this. If your price list has discounts, sales or special offers, always make a notation as to the date they end. It may also be wise to place a disclaimer at the bottom of your price list, stating that prices are subject to change. If items on the price list need to be shipped out to customers, it is a good idea to post any shipping'/handling charges as well. Also, any products that are offered by bulk should have discounts added, as it will be beneficial to attracting customers.
Our Free Printable Price List Templates
As can be seen, a price list may look like a simple piece of paper, but in reality it is an important business document that can assist in building client trust as well as attracting potential customers. Having an easy to read, high quality, well designed price list can only benefit your business, and the printable price list template is the most time and cost efficient way to accomplish it. Price list templates allow you total freedom in the creation of your personalized price list.
We are currently offering over 20, unique and professionally designed printable price list templates for a variety of business types. All of our price list templates are completely compatible with the following formats: Microsoft Word, Microsoft Excel, and in PDF. Downloading our printable price list templates means that you will not have to spend valuable business hours designing your own price list templates, or buy and learn any expensive template creation software. For business owners who want to attract and keep loyal customers as well as assistance in keeping price records, the printable price template is most certainly for you.
[ads]
Price List Templates for Word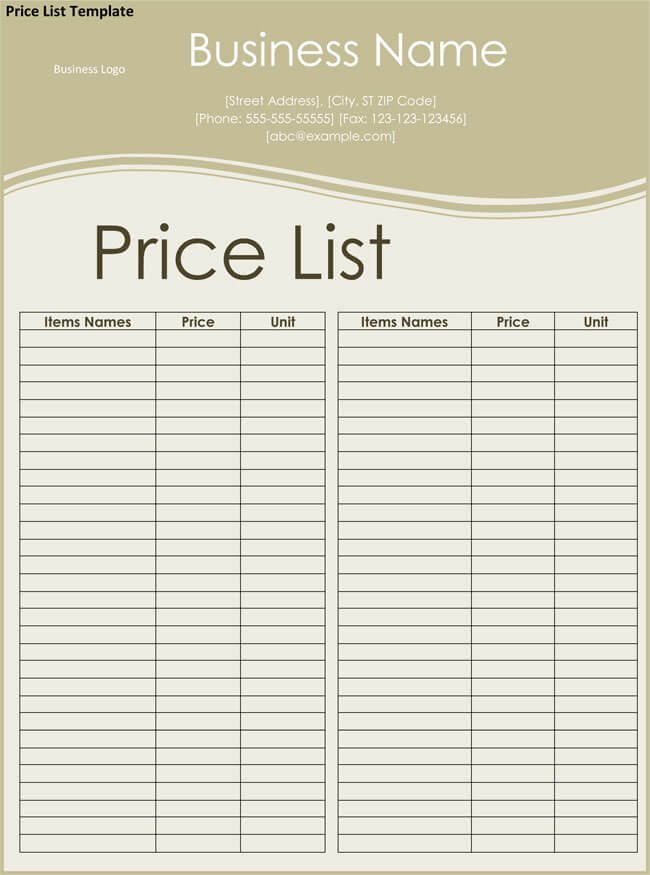 ---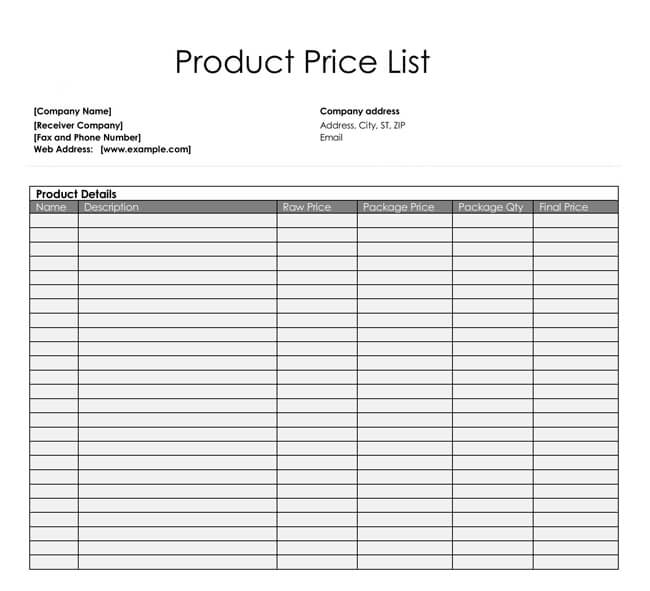 ---
---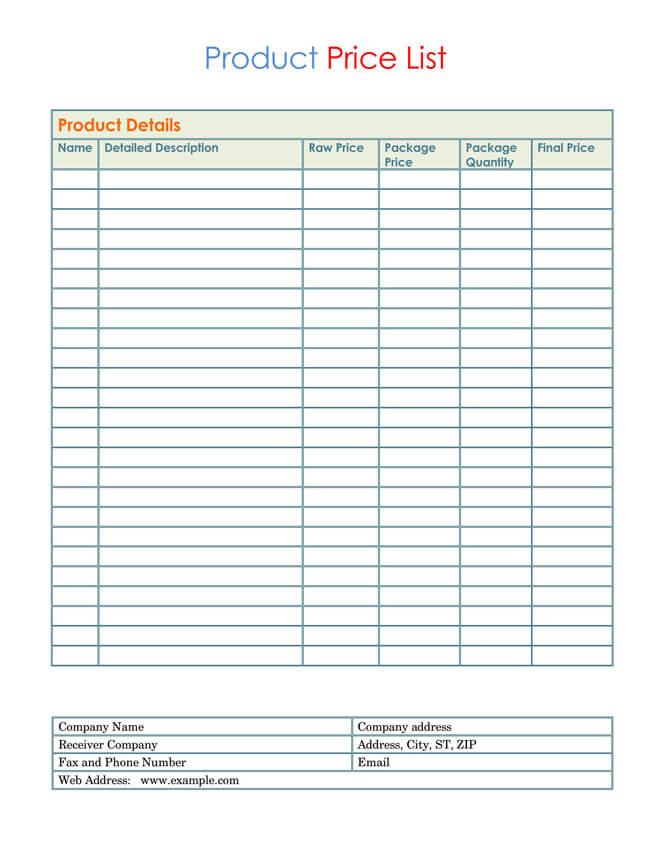 ---
---
Price List Templates for Excel
---
Service Price List Template for Excel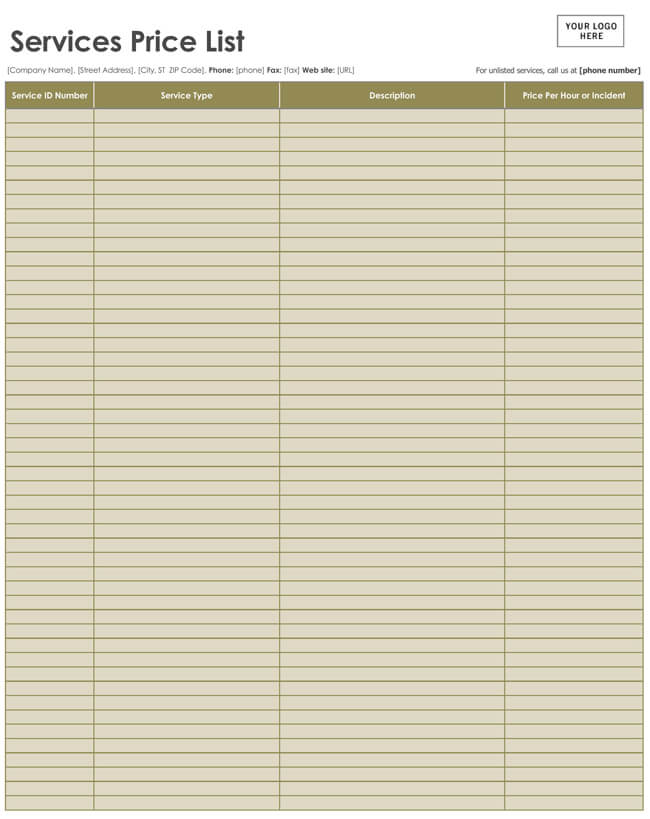 ---
---
---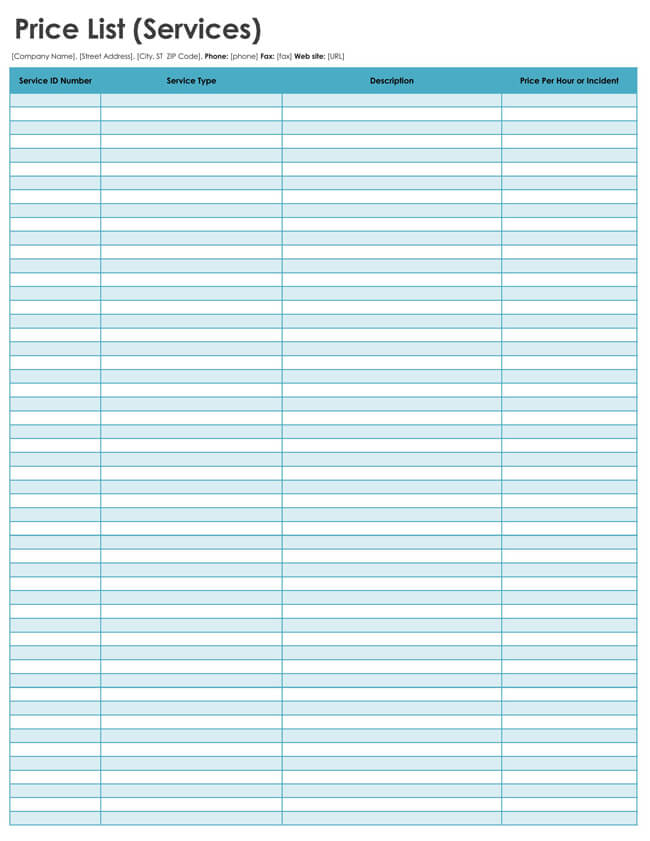 ---
Related: