Each one of us desires to have a lovely life, to be loved and to love. But this doesn't come easily and sometimes we face the reality that loving someone very much can hurt you too much. Anyone who has had a long distance relationship can tell you that trust is very important to any relationship. You don't have to worry about his/her whereabouts each day you go to bed or each day you wake up. Having trust and maintaining it is not that easy.
I once had a friend who had to break up because she could no longer trust his fiancé simply because their geographical location was too wide and many times making up for each other was not that easy. She felt enough is enough and wanted to break up but didn't know where to start from or even what to tell her lover. Breaking up can be a difficult situation and someone has to feel and face rejection and pain associated with it. The truth is you just have to be real and true to yourself no matter what others may say or feel. We have helped you design that breakup letter to ease the pain you already have.
Sample Break Up Letter Templates
Break up letter templates for Boyfriend
Final Good Bye Letter to Boyfriend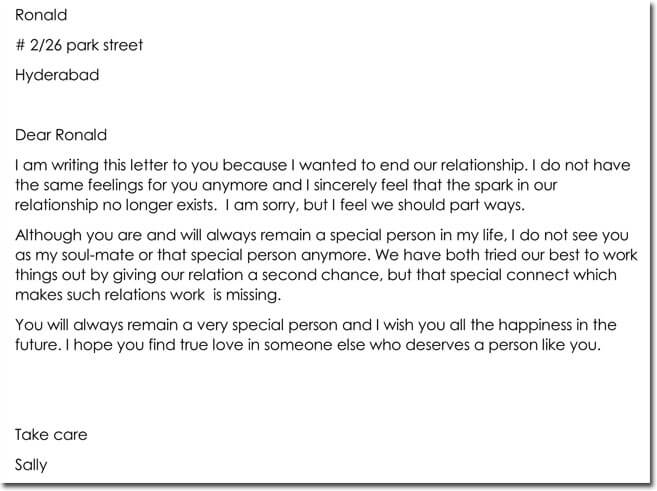 Best Break up Declaration Letter Example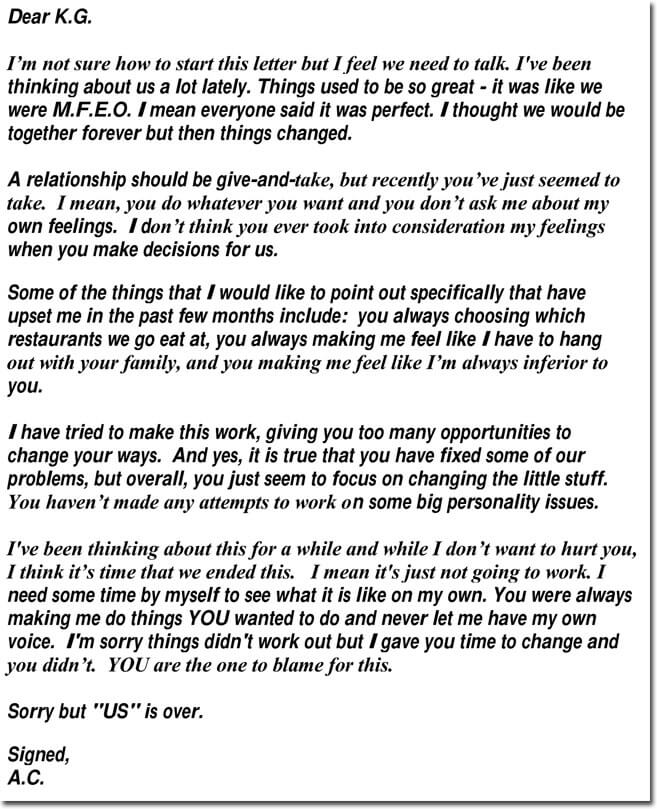 Sad Break Up Letter Samples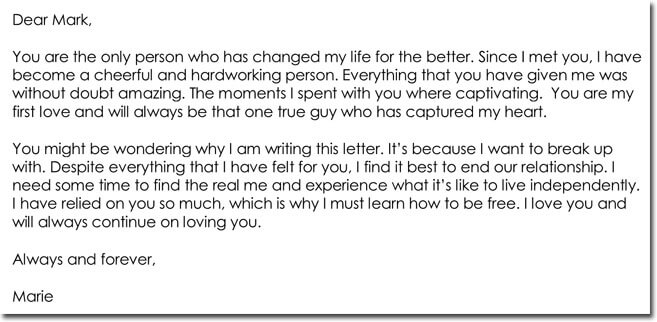 Break up Letter with Sad Wording
Sample Break Up Letters To Girlfriend
Emotional Break up Letter Sample
Reasons and situations where you may require a Breakup Letter
When your relationship will not be long-term
It is good to be true to yourself if you feel that you have dated for a while and your relationship will one day end, ending it will be the best thing. Your time is too precious to be wasted on a relationship that will not benefit you in future.
When you have been hurt emotionally or physically.
Staying in an abusive relationship will worsen the already existing wounds, saying good bye can the best thing to make up a new love life.
When someone else is on your mind.
Never cheat, this may not only hurt your partner but it may also make you regret why you did it. Terminating it and moving on is the best way to move on.
When you have cheated or you have been cheated on
When trust is gone finding it back is rare if you had a cheated relationship let her/him go, good things are always ahead and at least you have learn from your mistakes.
When you are not happy
The main thing for having a good relationship apart from building trust is happiness if you are not happy just quit. You may have ups and downs but sharing laughter and the great time together always make it worthy to hold together.
You don't have to struggle to write that breakup letter and move on, we have made it easy to wipe those tears and go on to the next level. Our sample breakup letters will guide you in making that breakup not only successful but also worth remembering.