Are you thinking about opening an Indian restaurant and or looking for an Indian menu template? Before moving to a template, here are a few things you should look at! Indian food is a delight, but there are several things you should know before approaching it, aspects that might even be interesting to those who claim to know it well and have been fortunate to have tasted several of their dishes.
To begin with, we must look with a magnifying eye at the past of the country from which so succulent delicacies come. Thus, we can see that much of the culinary wealth that Indian menu stems from the influences received by the cultures that passed through there and that, by the way, were not few. England, China, and Portugal are just some of the countries that at the time maintained extensive relations with it, either by a colonizing eagerness or with a desire to maintain a trade.
Since time immemorial, India was recognized as a rich spice spring, making them a fundamental part of its wealth, especially in times when the cost of a handful of cardamom was equal to the annual salary of a lower-class European.
Elements of Indian Cuisine
In India, there are more than 1,600 types of spices, many of which have a huge presence in their kitchen. In fact, the famous curry is but a masala, which is the name with which the mixture of various spices is described with the aim of providing certain aromas and flavors.
It was from the passage of time and, above all, from the success that Indian food began to harvest in the United Kingdom that the meaning of the term was broadened and began to be designated to the whole dish, that is, a certain stew dipped in spice broth.
While, and although "curry" has become synonymous with Indian food, there are other elements that also occupy an important place. Among them would be rice, chickpea, lentil, and soy, to mention some seeds and plants such as spinach, coriander, and laurel. It should also not be forgotten that bread, in its different varieties, is always found in The Hindu tables, which makes wheat an essential piece in the whole.
Vegetarianism
Before we introduce a small list of dishes that you can't miss from the Indian menu, it should be noted that much of it is made up of vegetarian dishes. This is because approximately 80% of India's 1.2 billion inhabitants are considered practitioners of Hinduism, a religious tradition that, according to its variants, may or may not prohibit meat consumption but does not recommend it in any case.
Rules on the table
It should also be mentioned that many Indians still taste their food in the traditional way, that is, sitting on the floor and using only the right hand to take them to the mouth, since the left is considered impure – the most orthodox even avoid using the index, which they also describe as dirty. Among other reasons, Hindus consider food to be divine and therefore, must be ingested with all the senses, including, of course, touch.
Some of the most famous Indian dishes which deserve a place on the Indian menu :
Butter chicken
You should include it in your restaurant's Indian menu as the most popular Indian dish, and it is! It
consists of a chicken marinated in yogurt and a spice mixture that is cooked with a Makhani sauce made with butter, tomato puree, and other attachments. It is usually accompanied by black lentils, green salad, and a piece of unleavened bread called naan. It is considered one of the tastiest dishes in the Punjab region, located in northern India.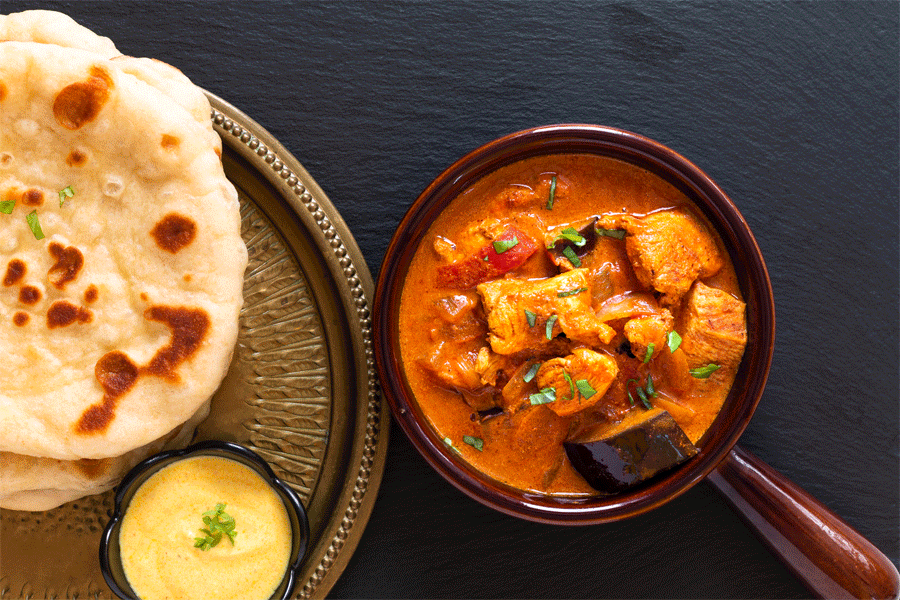 Tandoori chicken
We are sure you've read the word "tandor" or "tandori" in some letters. In this case it refers to the chicken, on the one hand, marinated with yogurt and a masala type tandoori (which carries garlic, salt, and coriander combined with ginger, nutmeg, and other spices), and on the other, that has been cooked in the Tandoor, which is a cylindrical oven of rotating mud. Like most Indian menu dishes, it can be combined with lassi, a refreshing and light drink composed of lean yogurt and fruit liquefied. The mixture is simply delicious.
Vindaloo
It is one of the most popular curries in India and, at the same time, one of the most puckish. Moreover, legend says that some of its ingredients are due to some influence of Portuguese cuisine. This curry consists of cardamom, chilies, cinnamon in a branch, ginger, garlic, and mustard powder, then added vinegar and then added to the mixture, according to taste, chicken, or lamb. The less orthodox eat it with potatoes as a garrison.
Palak Paneer
It is undoubtedly one of the tastiest and most sought-after vegetarian dishes of Indian food and is a must-to-have in an Indian menu. Its name is due to the combination of Palak (spinach) and Paneer (cottage cheese). The curry sauce that bathes it is made based on spinach puree and hath leaves. Boiled rice is an ideal complement, although there are people who prefer to accompany it with bread. It also comes from the Punjab region.
Chole Bhature
There is no doubt that in food, as in many other things in life, the least is more. As proof remains this simple but delicious recipe, composed only of the delicious fried bread is known as Bhature and a side of chickpeas with spices called Chole. It is consumed mostly in northern India, where it is considered the perfect lunch.
The Thali
Thali is a great invention and is a prominent dish on the Indian menu. If you don't know what to eat, ask for thali: it's a metal tray where you'll get different dishes in a tapa plan. There are vegetarians and meat. They usually come with rice, nan, raita (yogurt sauce and vegetables), dhal (lentils), palak paneer (spinach with cheese).
An ideal Indian menu for your Indian restaurant or to carry shop. Deliver an authentic feel, and you will welcome your customers willing to delve into the delicious food on offer.
Indian Menu Samples
The gastronomy of each country is a journey within the trip, and if you are getting into the gastronomy business of a country as immense and as different as India, surprises are guaranteed!