Chinese restaurant food menus come in many designs, templates and formats. However during the design process, there are some key points to remember. Firstly, China is huge. Being one of the oldest civilizations on the planet means that you are going to encounter both variety and specialty in restaurants and potential foods on your menus. You must distinguish what kind of Chinese restaurant you are.
Are you a Cantonese restaurant? Local noodle or hot pot shop? Perhaps a spicy or vegetarian restaurant? The potential is nearly limitless as China's food industry is one of the widest ranging in the world. Secondly, it is important to keep your design simple with some pictures. The simplicity will accentuate traditional Chinese styles and pictures will familiarize new customers with what your restaurant has to offer.
There can be many preconceptions about Chinese foods that are easily quelled with a simple and sleek visual. Keep in mind that since you will include variety in your shop, do not be afraid to showcase what your restaurant specializes in – Will it be the Beijing Duck? Chinese styled dumplings? Or authentic noodles that you can't find anywhere in town? Regardless, distinguish your shop from the masses of Chinese Restaurants.
But how do you choose a stand out Chinese restaurant menu design? Take a look at our elegant designs below. The menu has variety. Showcasing classic beef and pork combinations and even incorporates shrimp varieties and options. The red is easily associated with China and pictures are clear, concise and look fresh. Another thing to note is the potential for take-away. Add your take-away phone number on your menu in bold. This is a cornerstone of what comes to mind when people think – Chinese Food. Lastly, there are some alcoholic samples that you may also want to add to your menu or even have your customers sample for variety – Chinese white wine, fermented juices etc.
Our collection includes selections of 20+ menu templates for aspiring Chinese restaurants that are memorable and easily customized to fit the niche that your restaurant provides. Showcase what makes your restaurant truly Chinese. Most people think that hospitality will make a memorable experience. But before any of your servers interact with you customers, the first impression always lies with the menu. It is the beginning of the experience and first impression. Remember that menu design should never be overlooked, because as the Chinese say, "Of a Good Beginning comes a Good end".
[ads]
Free Chinese Food Restaurant Menu Templates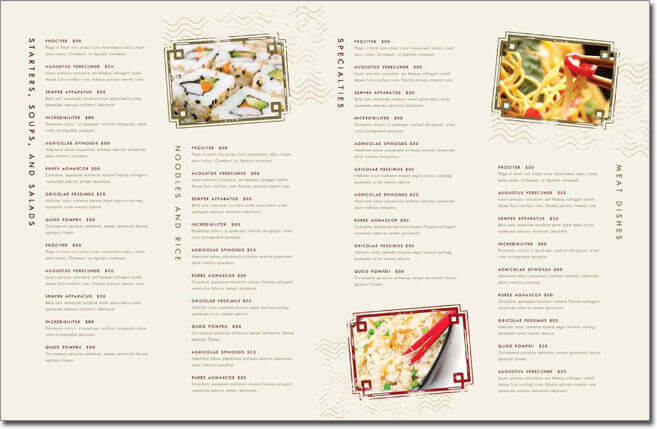 Chinese Restaurant Menu Designs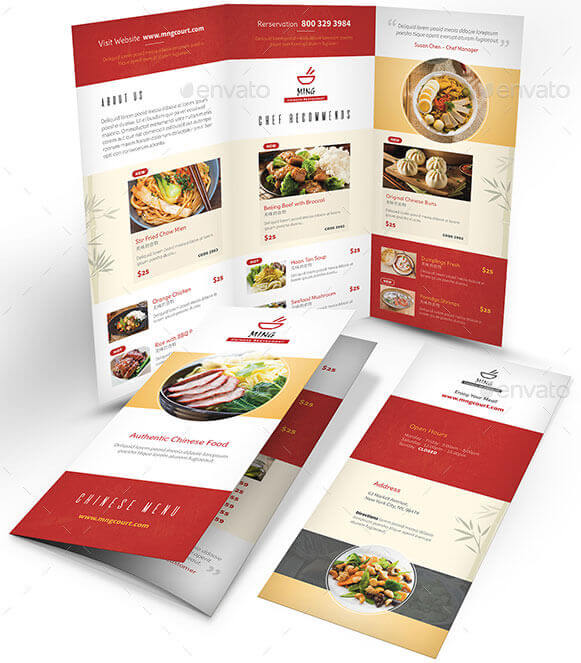 Chinese Restaurant Trifold Menu