As the name suggest, an inquiry letter for product/service is written to request for more information concerning about a product or service. These letters are generally written in response to advertisement that are published in paper and or magazines or through television commercials seeking for its authenticity and other information. An inquiry letter for product/service could be written by an individual or on behalf of a business inquiry before making a final decision.
Tips For Writing Inquiry Letter For Product/Service:
Since inquiry letter is an official document, it should be formatted in formal tone.
It should not be authoritative rather it should look like a request has been made.
It should be concise and make sure that requested information is clearly mentioned.
When requesting for a lot of detailed information, inquiry letter for product/service should be written in bullet points. This avoids missing any important details.
If bounded by any deadline, notify the receiver about deadline by when you need the information.
If necessary, mention that information provided will be held strictly confidential.
Ensure that there are no grammatical errors and spelling mistakes in inquiry letter for product/service.
Use company letterhead and check that it has correct contact and phone details.
Guidelines For Writing Inquiry Letter For Product/Service:
Be very formal at the start. Use 'Dear Sir or Madam'.
At the beginning of inquiry letter for product/service, write a short description about your company.
Give reference about the advertisement published in paper, magazines etc along with its date.
Write clearly about the information requested and any specific reply required from recipient like requesting for brochure or catalog.
Try to make the things easy for recipient of inquiry letter such as enclosing stamped envelop etc.
At the end, give signature and thank the recipient.
Sample Inquiry Letter For Product/Service:
Street Address
City, ZIP code
Contact Number
Date
Individual's name
Designation
Company Name
Street address
City, ZIP code
Dear Mr/Miss ..
We are an auditing company and often require printouts for documentation to carry out our business.
With reference to the advertisement published by your company in XYZ paper dated mm.dd.yyyy, could you please provide more details by letting us know about the different brand of printers you supply.
I am also looking for the following queries to be answered:
How do your printers stand wear and tear?
Can you install printers which are accessible by our offices at different locations?
Please reply by date mm.dd.yyyy as we are planning to install them in a month.
Appreciate your quick reply and helping us in good selection of printers and their installations. Thank you for your time.
Sincerely,
Signature
Inquiry Letter for a Product Samples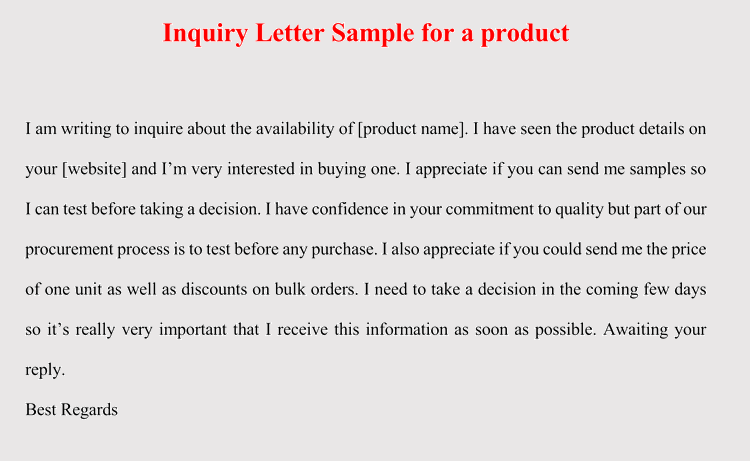 Inquiry Letter for a Service Samples