A Graduate School Letter of Recommendation is a document that approves a student's unique attributes, skills, character traits, and attitudes towards a crucial role or program.
In addition, it provides additional insight into student's academic accomplishments, extracurricular activities, and volunteer work.
A Graduate School Letter of Recommendation can be used to gain financial assistance or employment as a class assistant or research assistant when used along with the student admission essay, a requirement for the desired school admission program. The letter provides clear perspective and detailed information regarding student's abilities, honors, extracurricular activities, competencies, strengths, volunteer activities, and work habits. Additionally, a graduate school letter of recommendation provides additional information that is not present in the transcript or grade sheet to the desired faculty of applicant graduate schools, such as student's level of intelligence, ability to handle pressure, problem-solving attributes, managing teamwork, and work ethic.
Students who wish to apply to their desired graduate school program will require at least a minimum of two to three graduate school letters of recommendation.
These letters of recommendation can be from their respective program faculty, including school program advisors, counselors, professors, or the student's employer, including work supervisor, office colleagues, and research associates.
Students requesting a graduate school letter of recommendation from their respective faculties and employers should ensure that:
The recommender has a positive relationship with them knows the student well throughout his academic history.
The recommender can positively highlight and point out the student's solid attributes, competencies, experiences, and accomplishments like excellent decision making, student's creative thinking, and if he is a great team player to make him stand out from the other students.
The recommender has witnessed the student's accomplishments. They can objectively point them out through examples, e.g., a student showing a high level of commitment and excellent research abilities as compelling evidence of why the applicant student would be a great asset to the respective graduate school in the future.
The recommender has good communication ability and can provide a solid persuasive letter of recommendation.
The recommender is well aware of the applicant's desired career goals and required graduation school admission criteria.
The recommender can positively provide a reference with their personal contact information.
How to Get a Graduate School Letter of Recommendation
Students who wish to acquire school letters of recommendation from their respective mentors should be cautious when selecting their desired professors, recommenders, or employers. A graduate school letter of recommendation can largely impact positively or negatively the acceptance of an applicant's case towards their desired graduate school.
A graduate school letter of recommendation provides additional insight into the student's educational attributes and accomplishments. For example, what makes the applicant student a perfect match and a great asset to the graduate school or institution in the future.
The following steps clearly outline how to acquire the desired letter of recommendation from a recommender successfully;
Ask for the recommendation
The student should first search, sort, and list out the best person they have had a strong positive relationship with during their academic study period. Someone who may be best suited to highlight their accomplishments, positive experiences, behavior, and educational competencies. This step will significantly help the students to get accepted into their respective graduate schools successfully.
Making an appointment with the respective professor, recommender or employer would be an appropriate and respectful method for getting letters of recommendation. Professors and employers are working professionals, and engaging them without an appropriate appointment is not recommended.
Politely and respectfully ask the respective recommender or employer for a short one-on-one meeting if possible, and ask for the desired letter of recommendation associated with the respective department of the desired school or institute.
Let the recommender or employer know your desired academic requirements or careers goals to stay on the same page. If the recommender or employer is busy or hesitant in writing the recommendation letter, arrange an alternate backup recommender for consideration.
The applicant should consider the value of their desired recommender or mentor's time and remain apt in terms of communicating what parts of academic attributes they could cover in the graduate school letter of recommendation.
Inform the respective professor, recommender, or employer typically a month in advance. Suppose the recommender or employer is busy with work or does not know the applicant's academic history well enough to be able to write efficiently. In that case, the student should arrange a small meeting or phone call to discuss ways to overcome issues.
Finally, create some space for the recommender gently so it is not burdensome for the recommender or employer to decline the request from the student.
Give a copy of your resume
Students should ensure that they have provided an updated copy of their educational transcript and resume to the recommender or employer during their meeting with the respective recommender.
An updated resume ensures that the recommender positively and accurately highlights the applicant student's central area of interest, the student's educational competencies, and attributes that make them a positive fit for the respective graduate program.
Provide a list of your achievements
Students should list all their significant academic and extracurricular achievements during their study period that they could achieve and are proud of to their recommender or employer.
An example could be a medal of recognition for an entrepreneurship project, first prize in a science project, and first position in an undergraduate honors program.
Provide a list of your extracurricular and volunteer activities
Students should also provide all the details to the recommender or mentor regarding their volunteer work and extracurricular accomplishments during their study tenure.
Having details and highlights other than academic grading will significantly help the recommender or employer highlight the respective applicant student's positive behavior and achievements, resulting in acceptance into the desired study program in the graduate school.
Examples of achievement could be first prize in microbiology class, the best swimmer in the annual sports championship, dean's list student, and student of the year.
Give receiver's details
While requesting the letter of recommendation for their respective study program, students should never forget to provide the accurate receivers details to their recommender or employer.
Having the correct receiver details is vital as it ensures that the recommender or employer is well aware of the person and their position heading the desired department in the graduate school.
Recommender being well informed will highlight and mention all relevant attributes, competencies, and academic examples.
Give a deadline for submission
Students demanding the letter of recommendation should provide adequate time to their recommender to go through their academic details carefully and provide a positive and competitive letter of recommendation which will genuinely highlight and improve their chances of acceptance into their respective degree school program.
The deadline for submitting the letter of recommendation should be at least a month in advance to properly process all the relevant student details provided to the recommender. If the recommender or employer has become unresponsive, it is recommended that the students give gentle reminders like emails or messages to the recommender.
Students applying for the letter of recommendation are recommended to maintain a buffer period that is a specific time frame window like two to three weeks before the letter of recommendation submission deadline towards the respective graduate school or institution. Thus, if the recommender has any delays, the student should have enough time to arrange for an alternate backup recommender to submit his/her letter of recommendation.
Graduate School Letter of Recommendation Template
Here are some free downloadable templates for you.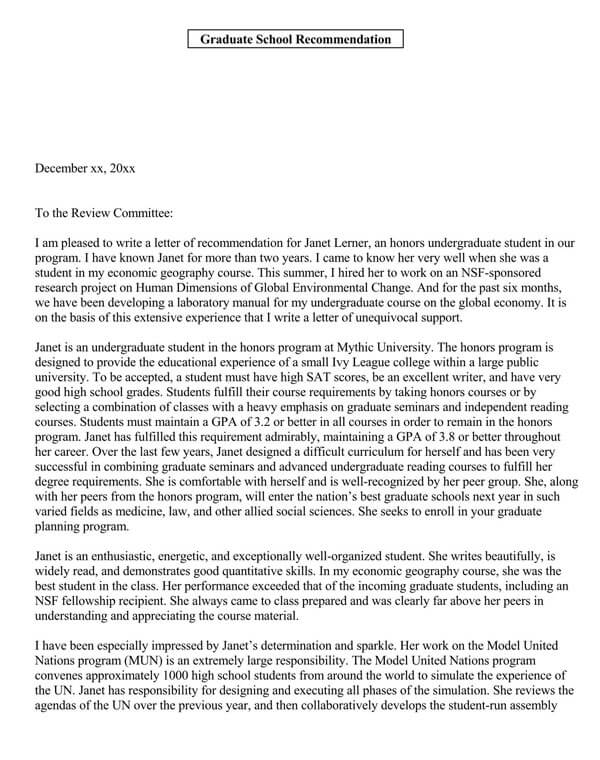 Frequently Asked Questions
Can I request my employer for a graduate school letter of recommendation?
Yes, the letter of recommendation can be obtained from a former employer, former employees, managers, and work colleagues. Employer's outline the applicant student's job competencies, working behavior, problem-solving skills, and leadership skills.
When should I ask for a graduate school letter of recommendation?
The student should ideally request their respective recommender or mentor when they do not have a massive academic course load, such as the beginning of the semester instead of during the mid-term or final term period during the semester.
How much time should I give the recommender for writing the recommendation letter?
Students should provide at least six weeks or more time for their recommender or employer to carefully go through their detailed resume, academic achievements, and academic transcripts. Having enough time is also mandatory to arrange a backup in case the recommender or employer declines. For professors or employers, having adequate time is ideal for bringing out their best to highlight and explain the applicant student's positive attributes and make them a perfect fit for their desired academic program.