Introduction letters are those that are drafted with the sole aim of making a person known to a third party, typically a friend, colleague, or a company. This letter comes in many shades and forms. That is due to the infinitely many circumstances wherein it may be used.
Regardless of how and when exactly the letter is employed, it is imperative to know how to go about the process of drafting one for yourself. That is the only guarantee that you will be able to do a great job, all factors considered. We devote the entire article to help you with just that.
Below are the steps you ought to follow to be able to draft this letter of introduction:
An introduction letter is not a formal piece of literature. On the flip side, it is casual and friendly. Start it out with a greeting to the audience or addressee. To do this, you have to start with a salutation and follow it up with a greeting.
Example:
"Hello! Jenkins,
How have you been?"
State the goal of your introduction
It is necessary that you let your reader know about the goal of your writing. In light of this, you should incorporate a sentence on why exactly you have seen it fit to write the introduction. Do this by providing the context that will help the reader to appreciate why you are introducing the person and how they might be affected.
Example:
"I draft this letter to formally introduce to you my business mentor-cum-associate, who has stood with me all the while…"
Reveal the full names of the one whom you are introducing
Get down now to the business of introducing the person of interest. This is something you do by revealing the full names of the said person typically by incorporating the first and the last names as well as any important titles that might guide the reader.
Example:
"Her name is Helena De La Cruz"
Explain this person in finer details
Having revealed the bare minimum pieces of information about the person of interest, you should now take a step further to highlight a couple of points or details about the person in question.
Include such pertinent details as their titles and follow it up with a brief overview of what they do that makes them relevant to the reader.
Example:
"Mrs. Helena De La Cruz is a trained and well-established authority in the field of business proposal writing. She has been instrumental in the matters of drafting proposals for well over 15 years now, and is hence well able to be of help to you as well…"
Highlight the potential benefits of the person to the reader
After drawing a connection between the person whom you introduce, proceed now to highlight the potential benefits of the person to the reader. You may wish to give forth information about any possibilities of future collaborations.
Example:
"Her immense wealth, potential, and expertise in the field of home management are bound to enrich your business management skills."
Incorporate the relevant contact information
This introduction is never complete without incorporating the relevant contact information. The contact is the avenue via which you may be reached going forward. Include multiple contacts if you tend to target a wider audience.
Example:
"Feel free to reach her on 314-675-9088 for more information."
Spell out the necessary causes of actions you want to be taken
What exactly do you want the reader to do? Wrap up the letter with a detailed explanation of the steps you would wish that the reader takes going forward.
Example:
"Kindly get in touch with her for your future correspondences and engagements. That will go a long way in fomenting the ties you already have and enrich your experiences all together."
Sign it off with your name and job title
Round up the letter with your name and the job title you hold, if applicable. Use kind and sweet words like the "Sincerely," or "Thanks," or "Regards," to name but a few! As always, include your full names, the job title, and the contact details as may be necessary.
Example:
"Sincerely,
Albert Whitaker – Proprietor of Ace Communications"
Sample Letters & Examples
Hello Diana!
How has going been so far?
From our past interactions, you expressed an interest in getting started in the matters of online writing. I am pleased to let you know that I have found a person who is qualified and experienced in such matters.
His name is Richard Nixon. He has pursued this art for 7 years now and has drafted in excess of 10,000 articles for various companies and persons. With his immense knowledge, he is certain to help you to also gain a foothold pretty fine.
Why not hook up with him to start out well? His telephone contacts 416-778-9881. In case of any issues that may impede your interactions with him, feel free to speak it out to me for further assistance.
There is never a better time to start out with him than now. Why would you even want to delay the benefits that come along with such a synergy?
All the best in your subsequent endeavors.
Regards,
Jacqueline Levers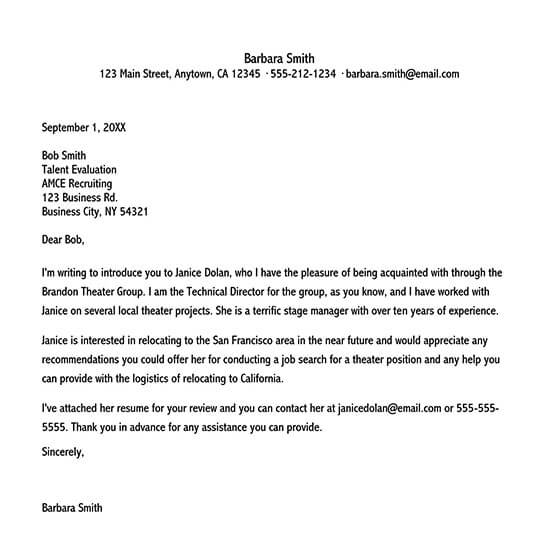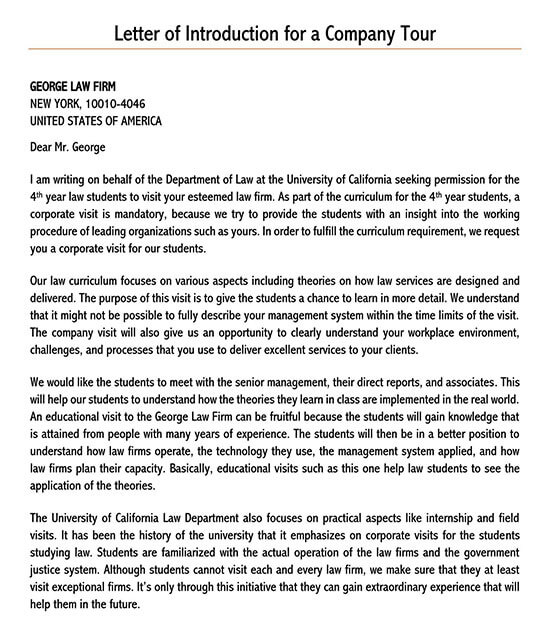 Just to recap a significant yet often overlooked point, a letter of introduction is highly diverse in the sense that it is designed for varying purposes and circumstances of use. You have hence to know and familiarize yourself with the exact purpose for which you want to dedicate yours.
Go ahead thereafter to customize the letter to mirror or conform to the unique purpose you have in mind. That will see to it that the letter truly serves its purpose. Perhaps one of the ways of achieving this awesome end is to learn the surrounding environments keenly before proceeding to make an attempt to do so.