Many individuals don't know that they have the right to terminate their current legal counsel as a client. It might be in your best interests to find someone new if you believe they are not serving you properly. Some are in a position where they do not think that their interests are being secured and need other advice.
You need to do so in an official letter to fire your attorney officially. The lawyer termination letter is something that needs to be precise.
What is a Letter of Termination?
Letters of termination are letters you write to cancel a service you have been given formally. In most situations, termination letters are given to workers by employers to terminate their services. It may be due to the poor performance of workers or severe misconduct. The employer has a meeting with the employee before writing a termination letter to clarify the reasons for his or her termination.
It would help if you were formal and direct to the point when writing termination letters. Provide only the required information, such as the reason for termination, date of termination. Be succinct – the worker already recognizes that he/she is being dismissed, so you don't have to write a lengthy essay. Send details about the final paycheck of an employee. Offer specifics of how and when to give back company property to the employee.
Describe any agreements about the termination outlined in the employee's contract. Mention how these would be managed if you have given services such as retirement accounts or health insurance. Sign the letter and include any attachments that are required.
What is an Attorney Termination Letter?
An attorney termination letter is a writing piece that informs the lawyer that he has been terminated from the job. The lawyer termination letter confirms the dismissal's details and summarizes the information the attorney will need to know.
You may want to retain a copy of the lawyer termination letter in a personal file so that you preserve a record for possible future use. These records are useful when, for example, request rehiring in another position or records action in a more unusual but not unknown situation.
Before firing and writing an attorney termination letter, you should consider the following things:
Pre-Considerations
A client always has the right to voluntarily fire an attorney, but it is not a decision to be made lightly. Even if you do not like your lawyer or do not think he or she is doing an excellent job, it may be best to let him finish the work currently in progress, as a layoff could be harmful and damaging to your case. When making the decision, make sure that firing your attorney gives you the results you want in the long term.
Some of the pre-considerations in the process include:
If your attorney has already spent much time on your case, it will be difficult for someone else to continue the work. It can be challenging to find a new attorney interested in taking your case, especially if it relates to an alien issue. Unless you are willing to pay much money to the new lawyer, he will not be interested in being a client.
Other lawyers may also be hesitant to take your case if they see you as a "problem client." It will not be a problem if you have a good reason to fire your lawyer, for example, if he has made many mistakes. However, firing someone because you don't like their personality could make it difficult to find another lawyer willing to have you as a client.
Another thing to have in mind is that you may have to pay expensive fees depending on the case and the agreement you have with your attorney. The longer your lawyer has worked on the subject, the more you will have to pay him. If you hire a new lawyer, you will have to pay further fees as well. Therefore, changing attorneys in the middle of a case can be quite expensive. However, if you have a good chance of winning, it could be worth it.
Steps to Prepare an Attorney Termination Letter
Your lawyer works for you, and if you feel that he cannot represent your case correctly, start looking for a new lawyer who can do that. If you find that your lawyer cannot meet your needs, consider writing a simple attorney termination letter stating your intention to fire him and move on.
Step 1
Write a list of reasons why you think your lawyer should be fired. Ensure that they are valid, specific complaints from that particular lawyer and that another will be able to serve you better. Valid complaints include an unwillingness to understand and research your case, an inability to understand your point of view, or total neglect.
Step 2
Clearly write an attorney termination letter to your lawyer stating your intention to stop working with him. Keep the text simple. You do not need to go into details, saying that the lawyer cannot meet your legal needs. Send the attorney termination letter by registered letter.
Step 3
Review the original attorney/client agreement. Find out if the contract requires a formal process to terminate the agreement. It usually does not happen, but if there is such a clause, follow the necessary steps.
Step 4
Research and interview new lawyers. Tell each of your unique circumstances to ensure that they can provide the service you need. Hire a new lawyer before sending the attorney termination letter.
Most Common Reasons to Terminate a Lawyer
Evaluate the reasons why you want to change lawyers. Although firing an attorney can complicate matters, it is sometimes the best option. If you believe that your lawyer is not handling your case efficiently, it is essential to find someone you feel more comfortable with.
Firing your attorney might be the best way to go if any of the following circumstances apply to your situation:
Dishonesty
Your lawyer has been dishonest with you. If you have ground to believe that your lawyer has stolen from you or has been too incompetent, you need to fire him.
Communication
Your lawyer has stopped communicating with you. This situation can usually be remedied, but if your attorney stops answering your calls and emails, you will have to find another attorney.
Efficiency
You are concerned that your attorney is not doing a good job. It can be challenging to know if your attorney is doing a competent job in your case. Before firing your attorney, do a little research to see if their work seems legitimate. If the answer is no, then it is better to break all kinds of relationships with your lawyer.
Comfort level
You don't like the personality of your lawyer at all. Firing your attorney for a personality conflict is not ideal, so it's best to try to make the relationship work. You don't have to like your lawyer, especially if he is doing an excellent job on your case. But if you can't work with that person and don't want them in your life, it's best to start working with someone you can trust.
Attorney Termination Letter Sample
Your Name
Address
City, State, Zip Code
Date
Subject/CC "Termination of attorney" optional
Dear XYZ,
I have decided to discontinue our current legal relationship and have acquired legal counsel elsewhere. I have received alternative legal counsel that I believe will fit my case's needs, based on their level of expertise and my needs as a client. Nevertheless, I appreciate the time and attention you have spent attending to my case.
I am terminating this relationship because I do not feel that your area of legal expertise properly matches my case's needs. I think more progress can be made with a lawyer who has specialized experience handling real estate lawsuits, knowing that your legal background is best suited to handling mortgage claims.
I will accept obligation for all fees that are owed and will pay this fee promptly. I request that you send a copy of my case file promptly to the address above to share this with my newly obtained legal counsel. You may send your final bill to the same address.
Sincerely,
ABC
Free Termination Letter Templates
The relation between a lawyer and a client has to be professional and conclusively beneficial to both sides. Suppose you believe that they are not acting in your best interest. Send a certified letter to your lawyer's workplace, stating that you are terminating the professional relationship and that they must immediately stop working in any matters related to the case.
Know that you know what is involved in writing a lawyer termination letter and what you need to consider before writing an attorney termination letter; we offer a professional lawyer termination letter template that you can download for free!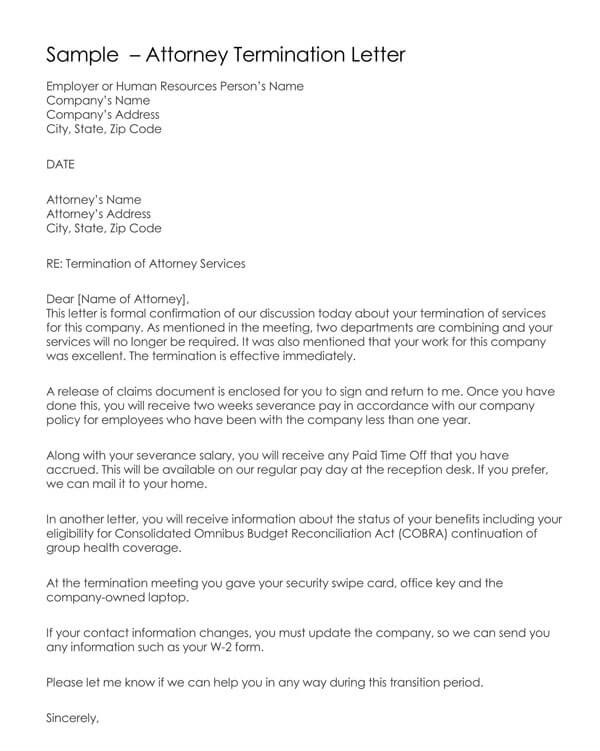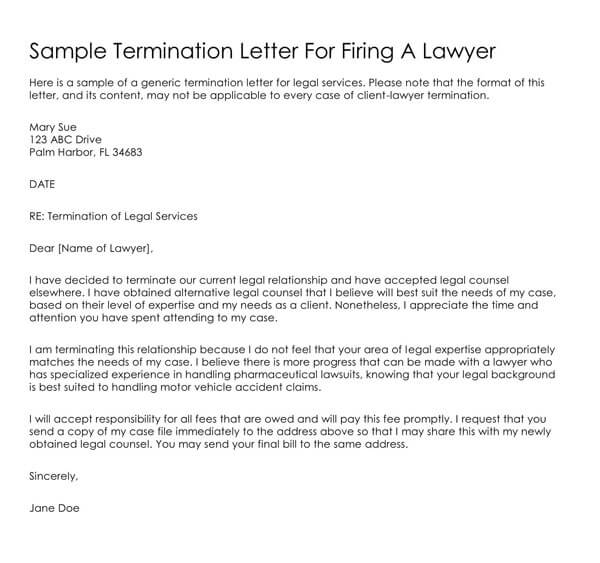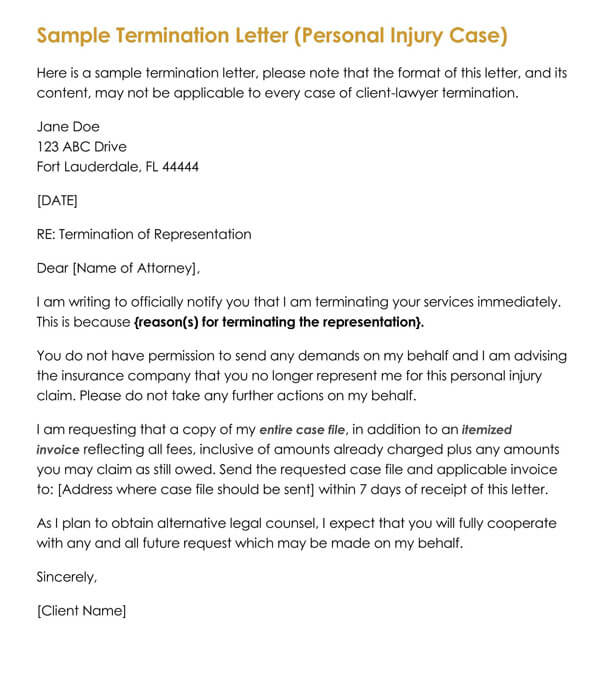 Tips to Consider While Writing
If you decide that ending the relationship is your final decision after serious examination, then you will want to send a formal lawyer termination letter. Make sure that terminating your current counsel is what you really want to do because the attorney-client relationship will be considered final in this type of letter.
Here are some tips you must consider in the process of writing and sending your attorney termination letter;
Get straight to the point: Write an opening section on why you are planning to end your contract. There is no need to waste anybody's time for your second paragraph, where you can include a brief description of why you have chosen to terminate services that are better suited.
Be firm: When writing a lawyer termination letter, the last thing you want to do is allow any room for uncertainty or negotiation. At this point, in your decision to seek legal representation elsewhere, you will probably feel resolute. In your letter, make sure that this comes across.
Make your case plainly: You do not have to get your point across using some unique terminology or legal jargon. Stick to the straightforward, assertive, and end of language. You do not want your attorney to challenge something that you've said or something vague.
Don't be spiteful: Regardless of why you want to end your use of their services while composing a lawyer termination letter, it's in your best interest to stay polite. Be strong, and make sure they understand why you need legal aid elsewhere, but keep the tone formal and precise. Consider sending another letter to the local bar association to express concerns about your lawyer's professional actions if you have a serious dispute with your lawyer that is inspired by feelings of spite or frustration.
Acknowledge your responsibility for applicable lawyer fees: Check any payment that needs to be settled. Your attorney may have to return fees you have made in advance if the services have not been provided. On the other hand, you may owe your attorney for charges relating to services rendered. The lawyer may also have the right to charge for copies of any documents.
Get a copy of your case file: You have the right to have a copy of your case files. Request your files in the dismissal letter and specify where they should be sent. Set a deadline for the transfer. If you feel more comfortable collecting the files in person, set the date and time, you will do this. You can also request that all of your files be transferred to your new attorney and set a time frame for the transfer to complete. It is illegal for an attorney to retain your files or charge you to obtain a copy.
Frequently Asked Questions
Is a termination letter a legal document?
Yes, a termination letter is a legal document and follows its requirements.
Does a Lawyer termination letter need to have a reason?
Yes, a lawyer termination letter needs to have a proper reason; not having a reason is both unethical and unprofessional.
Can I fire my attorney if I signed a contract?
Yes, you can fire your attorney if you have signed a contract, but you will have to pay all the fees mentioned in the contract.