There are a number of reasons why a person might write an appeal letter. First, it is important to understand the primary purpose of the appeal letter. An appeal letter is a professional letter that is written to appeal some decision that was made against a person for some undetermined reason. For example, a student might write an appeal letter because of a dismissal. A person might write an appeal letter because their health claim was denied. Other appeal letter areas might include freedom of information act appeals letter to an appeals letter to formally review a complaint. Included here are up to 4 different appeal letter samples to review.
Appeal Letter Samples for Health Claim
Why would anyone write an appeal letter for a health claim? Well, a person might have been denied a medical claim by their insurance company. However, they feel that the denial was unjust. They might decide to draft an appeal letter to give their side of the story in concise and to the point terms. The idea is that the appeal letter will change their decision. Often, a well-crafted appeal letter is necessary.
Freedom of Information Act Appeal Letter Template
An individual might request a document from a governmental source. Their request is denied. The fact is that any citizen has the right to appeal the denial. Of course, it is a good idea to work fast. You have to appeal the denial in a specified amount of time. The Appeal Letter Samples here are a good starting point.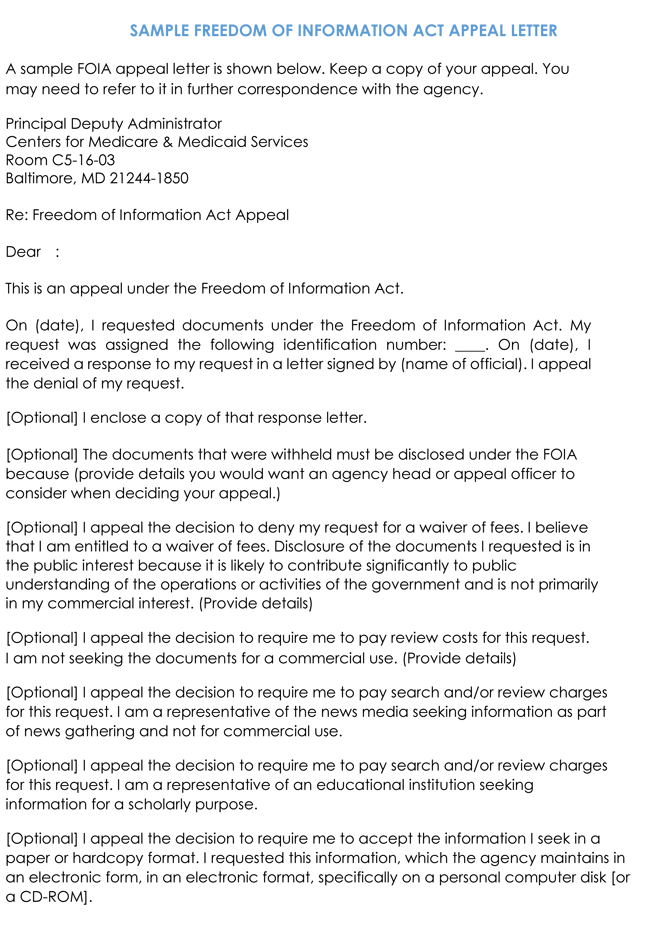 AN APPEALS LETTER TO FORMALLY REVIEW A COMPLAINT
A complaint was lodged against a person or business. They have the right to appeal the complaint. Of course, a professionally drafted letter is best. Get started with the Appeal Letter Samples that are included here.
---
An Appeal Letter for College Dismissal
Appeal Letter Sample for Financial Aid
Fundraising Appeal Letter Sample