There are many types of follow-up letters and each type has its own contents, purpose and specific ideal time to wait before you send it. I have listed few of follow-up letter types along with their key points and the time when you should send that follow-up letter. To be more informative, you can read more about how to format a follow-up email and key points to consider when writing a follow-up letter.
Job application follow-up letter
This type of follow-up letter is intended to be sent a week or two after initially sending your job application. The purpose of this letter is to remind your employer that you sent your application, and should highlight important skills and reasons why the company should hire you. Important things to take note of are:
Be polite – do not accuse the employer of deliberately forgetting your application.
Be concise – your employer probably has many things to do, and keeping your message short yet concise would greatly help in easing his/her workload.
Strengthen your skills – remember that you should keep your letter short, hence reinforce only your strongest skills and what makes you stand out among all the applicants. You could also site why you will be an asset to the company.
Be error free
Sample:
Job interview follow-up letter
This type of follow-up letter is used after you have been interviewed by the individual and should be sent no later than 48 hours after the interview. The purpose of this letter is to thank the interviewer for his/her time in getting to know you as well as considering you as a possible fit for the position. Take this opportunity to re-affirm strengths that you have which were discussed previously, make known your interest in the position applied for and in the company and personally respond to any concern raised during the interview. By doing so, you are able to remind the interviewer of the characteristics you have which make you a fit for the company as well as allow you to have another personal conversation which would then lead you in better being remembered for the vacancy.
Sample: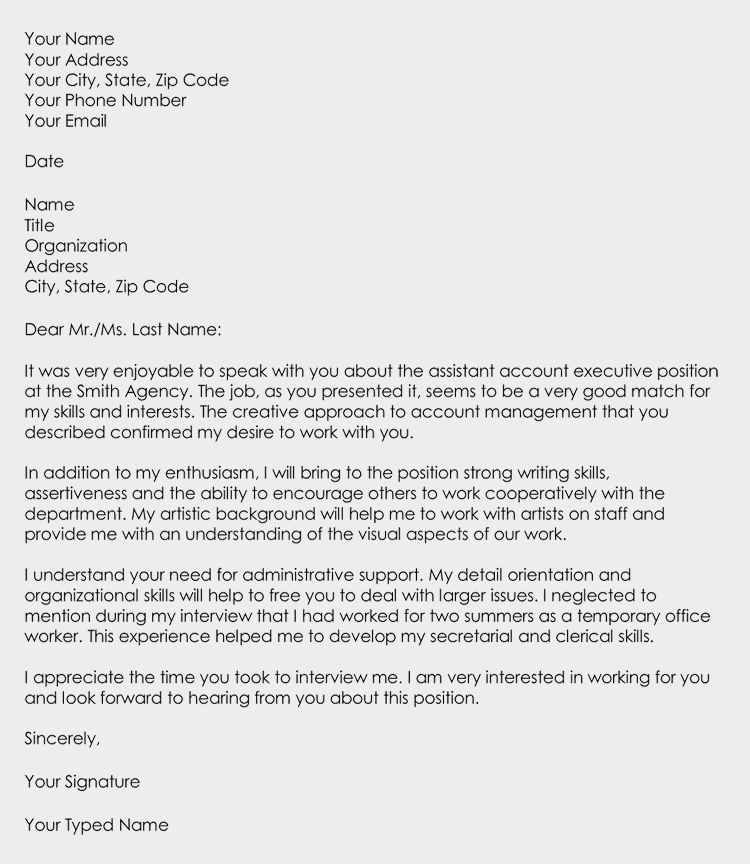 Periodic Service Follow-up Letter
This type of follow-up letter is used to inform the reader that the particular service that they have availed will continually be expected and done onto them. Periodic service letters inform the customer that they have availed of such a service, what the service entails and how long the service will be conducted. By creating and sending this type of letter, you inform them of when the service started, what is to be expected and for how long the program will last.
Sample:
After sales follow-up letter
This type of follow-up letter is used to inform your client that the service has been accomplished promptly and effectively. Even when the job is complete, you still have the responsibility to stay connected to your customer. By creating this letter, you assure the customer that you will always be readily available to service their concern and that the door is always open for them to communicate with you regarding the issue. The purpose of creating an after sales follow-up letter are:
Get feedback – by getting customer feedback, you reopen the avenues for communication by asking them on how to better improve the service you provided. By reopening the channels of communication, you leave yourself susceptible to negative or positive feedback, and it is important to take these constructively. When negative feedback is given, assure them that their comments are well received and will serve as instructions to improve the service. By receiving positive feedback, you can ask for customer testimonials which would further improve your brand.
Promote the business – by reminding the customer that exceptional service is expected of you, you generate possible new leads brought about by referrals and repeat business transactions.
Sample:
After Quote follow-up letter
This type of follow-up letter is used by suppliers to assure potential clients that the company is adequately able to meet their demand and would serve as an avenue for question clarification and transaction processing. Quotation letters are typically comprised of products, prices, warranties and periods of supply. A quotation letter is a requirement before you can send a quote follow-up letter. This type of letter is crucial in the possible creation of a business deal between you and your client because it serves as a reassurance that all demands will be met and that all possible loop-holes be resolved. Typical format for follow-up quote letters is as follows:
The tone should be formal
You should include your reference, meaning you should include all relavant information based on the quotation initially sent
Be polite
Be brief
Sample:
Complaint follow-up letter
Complaint follow-up letters are created when the initial complaint letter was met with no response. By creating this type of letter, you inform the company involved of the grievance you have and that it should be rectified. By writing this type of letter, you open channels for the supplier and yourself to work on a solution which would benefit both parties and could possibly be a reason for further business dealings. Characteristics of a complaint follow-up letter are as follows:
Tone should be formal so that the reader understands the urgency and the ramifications of the complaint
Precise – no need to go around in circles, identify what has been done wrong and ask for solutions
Use your previously sent complaint letter as reference and reiterate the problem encountered
Be prepared to include further information such as goods purchased, date of purchase and problem with the product or service so that the responsible departments are informed and an educated solution will be formed.
Sample: