A teacher letter of intent to return refers to the document that an educator sends to their school district to inform them of their decision to return in the forthcoming school year.
This document is part of the education codes and conditions. As a school teacher, you are required to send a letter of intent stating whether you plan to continue teaching in the same community after summer break.
Apart from the beginning of a new school year, there are other times when you can send in your letter of intent to return, and they include: if you are looking to change classrooms within the community, or if you desire brand new employment. In each case, you are required to provide your contact information and also address the letter properly.
However, if you desire to be transferred to another teaching position, department, or classroom, you can clearly state it in your letter of intent to return. In such a situation — where you wish to be transferred — you will need to provide a list of relevant experience and qualifications that support your request.
The letter of intent must be sent to the district in advance of the summer holiday. This would help to avoid the termination of the teacher's employment by the school authority. Early submission of your letter of intent also helps the management to plan adequately for the new school year.
Basic Components of a Teacher letter of Intent
Several components make up a good letter of intent to return. Without these segments, your letter may appear inadequate and poorly composed. Therefore, ensure that it contains the following basic sections:
Your contact information
It would be practically impossible for a district to reach you if you do not provide them with your contact details. You should begin writing your letter of intent with proper information at the top left corner of the page.
Date
Dates are essential in your letter as they help the human resource (HR) officers to know when you submitted your letter and when to take effect for reference purposes.
Address of the recipient
It is important to include the address of the recipient whenever you are writing letters of any sort. The address of the proposed reader should come immediately after the date.
Address the recipient in the salutation
After the address of the recipient, you should include the salutation of the recipient on a new line. You can simply address them as Sir or Madam if you do not know the exact names.
First body paragraph: your intent
Without mincing words, simply go straight to stating your intent for writing your letter. The human resource officer — or any other recipient — would want to know the reason for your correspondence from the onset. For example, you can begin the letter with a sentence such as " I am writing to inform the district that I am planning to return for the 2020 – 2021 school year". If you are looking to transfer to a new classroom or teaching position, you can begin your letter of intent this way: "I humbly wish to notify the district that I am planning to return for the 2019-2020 academic session, but would like to appeal for a transfer to the Science department."
Second body paragraph: showcasing standout expertise
This is an essential part of your letter of intent to return, specially if you are requesting a transfer or a brand new job position, then you should give reasons why you think you are qualified for the job or position you seek. This paragraph can be used for showcasing your previous teaching experiences as well as any other standout expertise you possess.
Third paragraph: call to action
Although not as necessary as the first two paragraphs, this third paragraph is the best place to urge your potential employer to get back to you to either discuss your return to the same teaching position or approve the new position you are seeking.
Closing
It is important to ensure that you employ a formal way to close your letter of intent to return. A good way to do this could be making use of formal closings like 'yours faithfully', or "yours sincerely". The closing should be followed immediately by your signature and your full name.
Pro-tip: Being honest in your letter of intent can align things in your favor. Often, letters of intent to return can turn into stay interviews, especially if you are a gifted teacher who has been indicated to leave.
Template: Teacher Letter of Intent to Return
Date: _
Home address: __
Dear Sir/Madam,
I, (Name of the teacher), hereby write this letter of intent to inform the Coordinator of my willingness to continue teaching in the new academic session (20___/20___). Moreover, I wish to retain my position and responsibilities as the _(role/position). If there is any question, comment, or clarification concerning this issue, kindly reach me at (Contact Details – email address, phone number). I appreciate your efforts and time in reviewing this document.
I look forward to hearing from you soon.
Yours sincerely,
_ (Writer's signature)
_ (Writer's full name)
Teacher Letter of Intent to Return sample 01
Juliet Williams
998 Alderwood Street
Basking Ridge, NJ 07920
Date: March 21st, 2020
The Human Resource Officer
Daffodils Elementary School
6 Billings Street
90451 Beverly Hills, California
Dear Sir/Madam,
I, Juliet Williams, have decided to write this Letter of Intent at this time. I humbly wish to notify the district that I am planning to return for the 2020-2021 school year in my current teaching position of Fourth Grade Teacher.
Please contact me at 115-989-8764 if you have any questions regarding this matter. I am grateful for the time invested in reviewing this letter. Thank you in anticipation of your favorable reply.
Sincerely,
[Signature]
Juliet Williams.
Teacher Letter of Intent to Return sample 02
Michael Owen
614 Price Avenue, Suite 1B
06001 Avon, Connecticut
Date: February 25th, 2021
Administration Department
St. Joseph's Secondary School
8914 Vanderbilt Road
06002 Bloomfield, Connecticut
Dear Dr. George Walmart,
I am writing to you to express my intention of continuing my job as a teacher at St. Joseph's Secondary School, holding the position of Head of Department. I have been with the school for 15 years, I hope to renew my employment contract and continue teaching. However, I would like to request a transfer to the English department.
I believe that I will be an ideal candidate for this position due to my experience teaching Phonetics and Oral English at Hillside High school in New Haven from 2002 to 2005. During my three years of teaching these classes, students' performance in these activities was remarkable. This helped to contribute to high in-class grade averages.
The following degrees and extracurricular activities qualify me for this position:
• Masters Degree in Use of English from the University of Arizona.
• Bachelor's Degree in Arts from Johns Harvard University.
• Physics Intern for Space Instrument Development at Pioneer Astronautics.
• 15 years as an Accredited Tutor in the subjects of Phonetics and Oral.
Please contact me at 555-785-2322 or owenmike@gmail.com if you have any questions regarding my transfer request. I appreciate your time and consideration in reviewing this letter.
Sincerely,
[Signature]
Michael Owen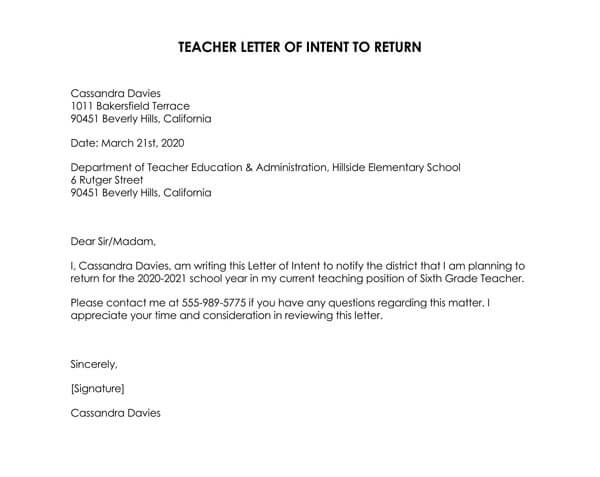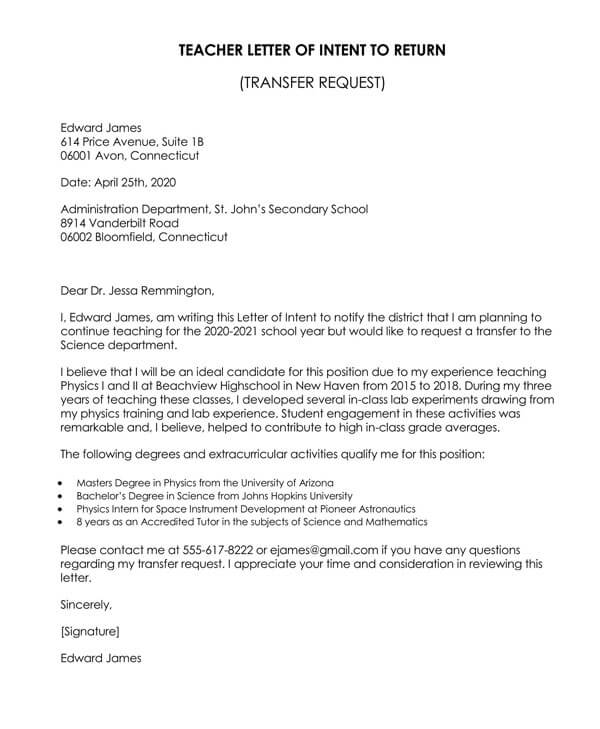 Is a letter of intent necessary?
Yes, the letter of intent is an important document in the proper management and administration of the school. It is necessary to help the management team strategize their staffing and recruitment needs well before the new school year begins.

Specifically, a teacher letter of intent to return helps to eliminate any obstacle in the learning process as adequate preparations are made on time to ensure a smooth transition into the new school year.

Is the letter of intent legally binding?
A letter of intent is a document that spells out the material terms of a proposed deal. It is also designed to confirm that a deal has been reached and all parties have come to a mutual agreement.

It is often non-binding unless the language in the document specifies that the companies are legally bound to the terms. However, the parties involved in a letter of intent should not rely on mere assumptions: a strong non-binding language should be included in the document.

In some cases, a letter of intent may be legally binding, depending on how the words are constructed or whether a court has authorized it to be legally binding.

To determine whether the letter is legally binding, courts will consider the written expression of intent in the letter, and what actions the participants in the letter should take after the letter has been signed.
Being an educator comes with several responsibilities, including impacting knowledge to your students and ensuring the smooth progression of the knowledge in subsequent school years. To ensure this, the school management often mandates tutors to submit a teacher letter of intent to return before the beginning of a new school year. This document, which is often non-binding, helps to ensure the smooth running of the staffing system as well as making sure that there is no disturbance in the learning process.