A reschedule meeting appointment letter is a letter that contains a notification for a movement of a meeting from its predetermined time.
It is a letter that becomes necessary when some unexpected events make it impossible for any or all of the parties to attend the meeting.
The letter primarily serves as a notification of a change in the course of the meeting time. For instance, a reschedule meeting letter is in order if the meeting would now hold at an earlier date or a later one. Furthermore, you can write a reschedule letter if there is a change in any other meeting conditions, such as venue and other modalities.
Due to its general nature, a reschedule meeting letter might not necessarily bear the change's specific reasons. However, it is typically a request-type letter, seeking to know if the entities involved are okay with a reschedule.
When to Send a Reschedule Meeting?
The appropriate time to send an email to reschedule meeting is when you are the one initiating the reschedule. It also follows if you are representing the party that requested a reschedule. The goal is to make the new arrangement known to the other party and seek their approval.
A reschedule meeting email is essential for documentation purposes. Other than that, it allows for transparency, as all the individuals can keep track of the information they receive before the meeting.
Professionally Rescheduling a Meeting using Email
The process to reschedule meeting via email requires tact and cordiality when drafting and deploying the email. Proper protocols should be adhered to, time allotments should be clearly stated for the new meeting, and the reason for shifting the meeting should also be stated to enable everyone involved to have a full grasp of the new details.
Greeting
Greetings are an integral part of any formal reschedule meeting email, and for a reschedule meeting email, you have to begin on the right note with an appropriate greeting. It will help if you referred to the recipient by name or a collective term if they are more than one.
Also, your greeting should naturally lead to a reminder of the meeting to be rescheduled. You can mention the date and time to remind the receiver, for instance,
"Dear Breonna, I'm writing you concerning the general team meeting slated for April 3, at 5 pm"
It has the effect of immediately giving the recipient an idea of what to expect further down the reschedule meeting email.
Request to reschedule
First and foremost, apologizing and stating clearly the reason for which you are rescheduling a meeting should be the most important part of the mail you would be drafting to reschedule meeting. There might be a number of reasons for which you would be rescheduling the meeting. It could be because there was a mistake during the scheduling process, or you might be falling ill and couldn't honor the meeting or something else might have come that detoured you from making the meeting. It is very pertinent to state it clearly in the mail and then subsequently state that you have taken care of it and would be attending the next one at the time stipulated.
Below are some examples of how to state clearly your reason for not being able to honor the meeting as scheduled:
"In a sad turn of events, the regional manager requested for the redeployment of the field staff, which means I need a reschedule, as I now have to travel to Europe urgently"

"Unfortunately, I won't be able to meet at the agreed date, as I have to attend to an urgent personal matter."
Availability
The next logical step is to proffer a new date for the meeting rescheduled. One way you can do it is by suggesting a new date, which you have already, and asking the recipient if it's suitable for them. The recommendation is to give a range of dates, rather than a single one. It allows the recipient to choose which one is more convenient for him/her to be available.
Furthermore, you have the option to leave it to the receiver to decide a new date that would work for both of you. Leave clues as to what time you'd be free from where they can choose a date. If the recipient is more than one person, you'd have to leave the suggestion open till all of the parties send their availability responses; then, you can make a decision that is fine with all the meeting's attendees.
The following are some examples for requesting to reschedule meeting;
"Do let me on what date you would be available for a reschedule. I should be free by the 8th, and we can meet any time afterward."

"I suggest we reschedule meeting to the 15th of next month, as it is the perfect date after I'm back from the engagement."

"What time would suit you? We could have a reschedule at any date between 4th and 10th of April, so you can pick when you would be available on those days."
Conclusion
Conclude the body of your reschedule meeting email by thanking the recipient(s) for their time. Don't forget your apologies for the inconveniences a reschedule might have caused them. It is a formal and professional thing to express gratitude and tender apologies. But more importantly, it conveys your genuineness in wanting to have the meeting with them.
Some signature examples include;
"I apologize sincerely apologize for the trouble this change would have caused you and we would enjoin you to be at the next scheduled meeting"

"Thank you for your time in preparing for the meeting, and I apologize for the inconveniences you might have had to face in the course of rescheduling."
Signature
Round off the reschedule meeting email by using a formal term, such as "Sincerely yours." You can also include some contact information to give the recipient the chance to reach you if he/she has other inquiries to make.
Some signature examples include;
"You can reach me at XXX-XXX-XXXX if you have further questions, or send a text to XXX-XXX-XXXX.
Sincerely"

"Sincerely yours,
Daley Maguire
XXX-XXX-XXXX"
Reschedule Email Letter: Template & Sample
Template
Dear (Recipient X),
Due to an abrupt change of plans, I would not be able to attend the meeting tomorrow. Kindly reschedule the appointment to (Date X). I am absolutely sorry for any inconvenience it may have resulted in. Kindly reply to inform me if the new date is suitable for you.
Thank you so much for your understanding.
Regards,
Daley Maguire
Sample letter 01
Dear Maloney,
I have an appointment scheduled for April 6 at 5:00 pm.
Unfortunately, there is a clash in my schedule now, and I must reschedule my visit. I sincerely apologize for the inconvenience. I will be back in touch with your office to reschedule for a future date.
Thank you for everything
Best Regards,
Daley Maguire
Sample letter 02
Dear Jessica Stone,
This letter confirms your appointment with Dr. Matthew Cumberbatch on July 16, 2021, at 4:00 pm. Our office is at 2320 Sloan St., Suite 212.
The following below contains all information required for a complete evaluation:
If your insurance is Workers Compensation, you must obtain authorization through your case manager.
• X-ray Films, MRI, CT – scans, etc., must be a recent one (Last 6 months). You must hand-carry your films & written report to our office. Do not send via mail. If you do not have the films, We can then reschedule
• Bring your insurance cards, if applicable. If you are paying by self then bring change. You can pay cash, check, or through credit card.
Please be advised that Dr. Severus Snape could leave for the surgery room at any time. We may have to reschedule your appointment if that happens. We apologize for any inconveniences it may cause.
If you have any questions, please can reach us at 434-244-4252.
Thank You
Sample letter 03
Dear Mrs. Barkley
I am writing to inform you that I will no longer make it to my scheduled interview appointment on April 4, 2021. Regrettably, there is a severe clash on my schedule, and I have no choice but to postpone my interview appointment with you.
In this regard, I would like to request to reschedule my interview appointment for another date and time most convenient for you. I sincerely apologize for any inconvenience this may have caused on your end.
Thank you for your consideration.
Regards,
Daniel Borges
Technician, Dame Corp
If you would want to peruse more reschedule meeting letter templates from various other industries and use cases, you can visit. You can view and download our templates for your offline use as well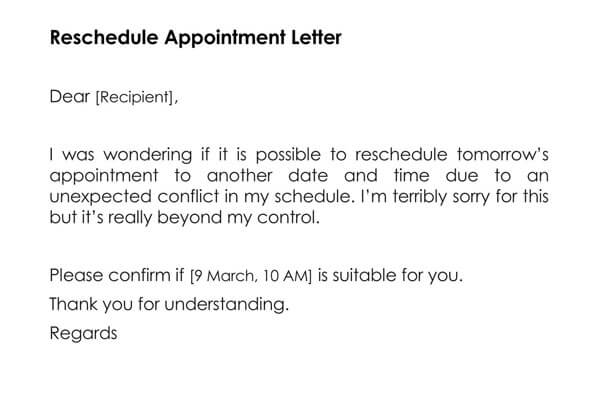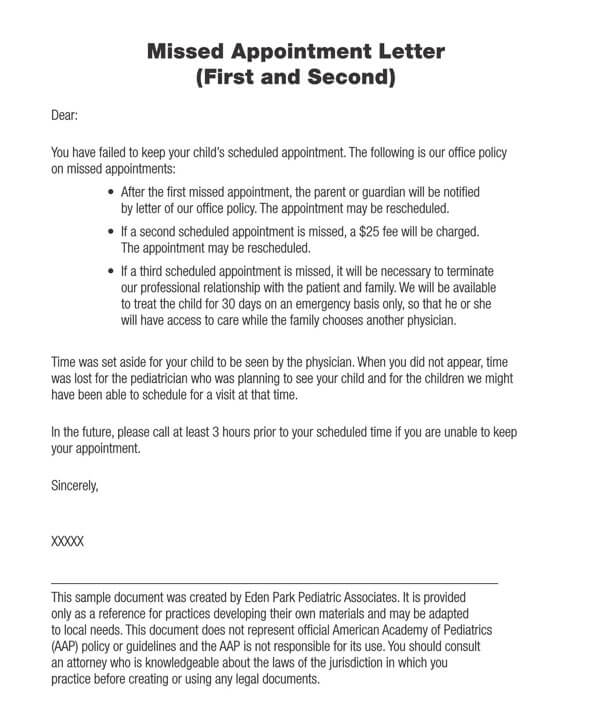 Tips for Rescheduling a Meeting Professionally
Since rescheduling a meeting appointment is not a "one-size-fits-all" affair, there are several ways you can approach the situation. However, it is essential to note the fundamentals and not forget that a reschedule meeting appointment letter is indeed a formal business letter. You'd want to be as professional as possible.
Below are some tips to help you write a professional reschedule meeting letter;
Use a descriptive subject line
Your subject line is critical, as it determines whether or not the recipient would treat the letter with the priority it deserves. Make the subject line brief with enough information to immediately give the recipient an idea of the email's purpose; it would help if you include your name or company name (if you represent them).
Give advance notice
Rescheduling a meeting shouldn't be an arbitrary affair, as you have to consider the other attendants. Generally, you have to give a 24-hour notice of the plan to reschedule meeting. It allows the participants to prepare, plan for other things during the time. An advance notice ensures that you don't waste the other attendants' time.
Consider a phone call for last-minute cancellations
Your main priority when rescheduling a meeting is that all the parties involved get the information at the right time. Your request to reschedule might come when the recipient isn't available to view emails, so setting up a phone call is a suitable option for the last resort.
If the plans to reschedule came on such short notice, it is expedient to place a phone call after sending an email to make sure that the necessary people get the notification.
Offer specific dates and times
It is good practice to be specific about the date of the rescheduled meeting. It shows that you commit to making the meeting happen, and it can be reassuring for the recipient. Give a specific date, and check with the recipient to see if they are okay with it.
Also, you could provide a link to your online calendar for the recipient to view the ranges when both of you would be available for a rescheduled meeting. However, if you cannot give a specific date (in the case where you're representing another entity), you can tell the receiver of your intent to send a follow-up mail with a definite date.
Close professionally with an apology
After picking out a new time and date in your email, it is always courteous to close properly with an apology to reiterate that you are truly sorry for the reschedule and all inconveniences it must have caused the attendees, and then make sure to follow up on them thereafter.
Some examples of good closure are:
"I would like to sincerely apologize once again for any inconvenience the change in date and time must have caused you."
Sometimes, an unexpected event might occur to cause a change to the agreed date of the meeting. It is essential for the convener or a representative to write a formal reschedule appointment email to address the situation and keep the participants informed. The above mentioned are examples to help you write an excellent reschedule meeting letter, as well as tips that could further shape your tone and formality in the email.