As is the norm with any business transaction, it is only natural that you be furnished a receipt after you have remitted the rental dues for that period of time. That is where the rent receipt comes in. We have dedicated the entire length and breadth of this article to learn just what it is and the relevant details.
A rent receipt is an official transaction document that captures the payments that a tenant remits to a landlord. It hence acts as proof or evidence that the payments submitted to the landlord were made in a timely manner as required. Also, the document lets the landlord track the payment history promptly.
What a Rent Receipt Includes
A typical rent receipt includes the following pieces of information:
Amount Remitted
Its most significant role is to showcase the amount of money remitted by the tenant to the landlord. This is its primary purpose as it exists mainly to prove that some money indeed changed hands as need be. The amounts are displayed in both figures and words for the avoidance of doubt.
Date of Payment
This referred to the exact date when the payment was made. It is written in the mm/dd/yyyy format in North America and the dd/mm/yyyy format in the British Commonwealth. Choose a format that is easily understandable by the persons whom you target with the receipt.
Mode of Payment
It is how the amount concerned was remitted or channeled to the landlord. This could take several forms, like electronic funds transfer checks, hard cash, mobile payments, and money orders. Specifying the mode of payment also goes a long way in allowing for easy tracking of the transactions.
Nature of the Payment
How was the payment remitted? Was it paid up for in full or partially? It is important to specify exactly how the pay was to let the landlord know what course of action to take. A partial payment might usually require further follow up and confirmation thereafter.
Applicable Charges (if any)
Late payments from previous months usually attract some penalties typically in the form of surcharges. If any apply here, it has to be explained vividly for the landlord to know and take note of.
On __________ (date), _______________________ (tenant name)
paid $________________________ in:
CASH
G CHECK NO. __________________________________
G MONEY ORDER NO. __________________________________
for rent on _________________________ (address). The tenant still owes $ __________ (balance due after payment).
Money Received By: __________________________ (Landlord signature) __________________________ (print name)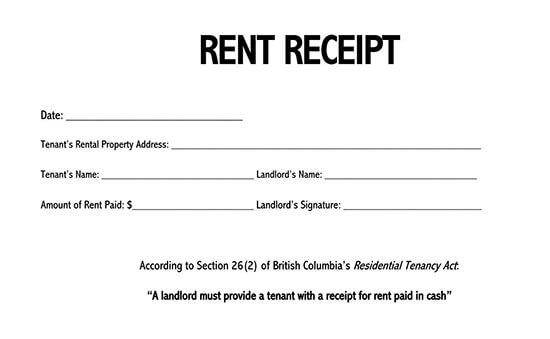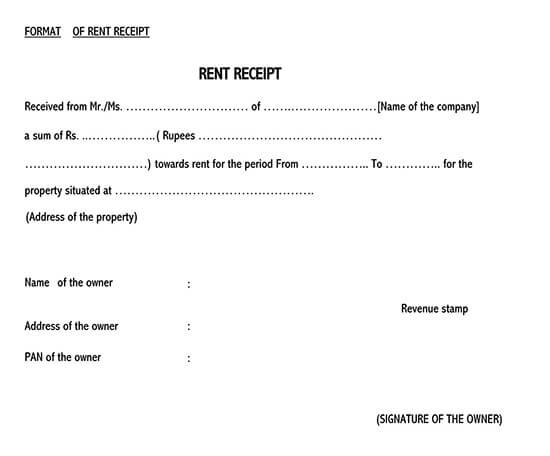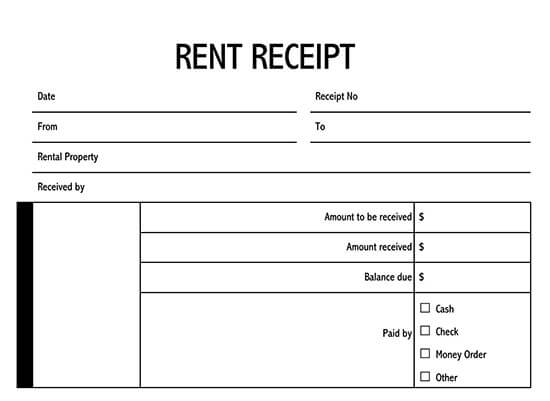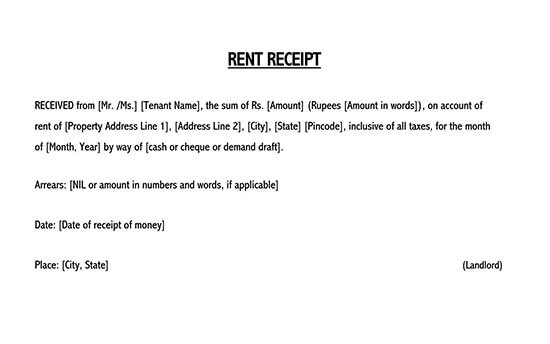 A rent receipt is a significant document to both the landlord and the tenant alike. It is hence in your best interest to keep and safeguard yours to the maximum possible extent. Do not entertain the thought of losing yours as this might imperil your chances of clearing from your premises if the need to vacate arises.