Also known as a letter of interest, a letter of intent is meant for an applicant to state their intentions to work for a particular organization. The applicant should have a specific role in mind but in most cases, the applicant is more interested in any opportunities the organization has to offer. A letter of intent is used to submit a general application to an organization if there is no specific job you are applying for.
The letter of intent notifies the organization of your intention or interest in working with them, even if they are not hiring for your dream job at the moment. The letter of intent is used as a means for you to introduce yourself and personalize your application. It helps you to connect to the hiring manager and personalize your resume.
The letter of intent also makes it easier for the recruiter or hiring manager to identify your qualifications as well as the potential you offer the organization. A well-written letter of intent will get your application noticed and provide the employer a clear picture of your strong suits as a potential employee and maybe land an interview.
When applying for a posted position, you are meant to submit a cover letter. However, when you want to show a potential employer that you are interested in working for the organization, especially when there are no job openings posted a letter of intent is the best option, and keeping that difference in consideration, the following are the situations in which a letter of intent is used;
You can use a letter of intent for the following situations;
Submitting resumes to employers at a job fair.
Finding an employer who fits your interests and career goals during your research.
Upon discovering that an employer is looking to hire, even if there are no official job postings.
Employer has job postings for other positions but also employs workers in your area of expertise.
With a letter of intent, you can easily submit your resume to a prospective employer, even if the organization in question has no specific job postings available. It will help the prospective employer to identify your value and interest in the organization, which may prompt the employer to assess whether the company or organization has a role you may fit into.
What Do Companies Look for in a Letter of Intent
When a company asks for a letter of intent, they are only trying to source talent differently than the traditional cover letter approach. In a letter of intent, you should focus more on a broader representation of your skillset and experiences. The hiring official has not yet decided what they want in a prospective candidate, so you should put all your strong points in front of them.
As difficult as it may be to believe, the companies do not always have a clear picture of what they are looking for. In a situation like that, the company would request for a letter of intent to determine what prospective candidates can offer and which prospective candidate they can fit into the organization.
A letter of intent can also be used when the company is looking to hire contractors and freelancers who are not standard W2 employees. So, in a nutshell, companies will ask for a letter of intent when they are looking to broaden the pool of prospective candidates.
The letter of intent is supposed to highlight your strong points to the prospective employer. But the first thing to do is to demonstrate your professionalism, and you do so by providing a well-written letter of intent that includes all important sections. The letter of intent should be written as a formal letter with your salutation, a body explaining why you are writing, and what you have to offer the company, a call to action, and a professional closing.
Preparing a Letter of Intent for a Job
There are a few steps involved in writing a letter of intent for a job that ensure its credibility as well as quality.
The first thing you need to do while writing a letter of intent for a job is express your interest in the company itself. Don't rush into saying how perfect you are for the job. While that in itself is not necessarily a bad thing, the major difference between a letter of intent and a cover letter is that you can show the prospective employer that you identify with the organization's missions, values, and goals.
Also, you can write about current happenings within the organization and the relevant field or industry. For instance, you can discuss broadly about the organization or a recent news or update about one of their products. The essence of this is to grab the attention of the employer and show them that you are abreast with the happenings in and around the organization and the industry at large.
If you cannot find something specific about the company to pinpoint and discuss, you can engage a prospective employer by writing about yourself, and what makes you stand out, as well as unique experiences and skills. Generally, what you have to offer the organization, and how your skills and strong points will align with the organization's needs.
All in all, you should make sure your letter of intent is general enough to indicate your interest in the company as a whole, but with a specific point about your skill set and what you can offer the organization
How to Write the Letter of Intent
Writing a letter of intent for a job should be done carefully and with the main purpose in mind. The letter of intent for a job should be well thought-out and well planned. Here are a few pointers to get you started with writing the perfect letter of intent for your dream job.
Greeting or salutation
As with any formal letter, you must begin the letter of intent with the professional salutation. You need to take the time to find out the name of the employer or hiring official. The best way to do this is to call the office and ask whom you should address your letter. Include the employing officials name in your professional salutation to get off on the right start.
Body paragraph 1:
Introduction
Your letter should begin by introducing yourself and explaining the purpose for which you are writing. If your letter of intent is in response to a specific job listing, indicate that at the beginning of your letter. If you simply want to throw your hat in the ring, you should also explain that you are interested in working for the organization.
It is important that you explain the type of work you are interested in. if you are interested in looking for a managerial position, or you would like to work in a certain department, you should state that as well. However, try not to get too specific.
A good example of a great introduction for you letter of intent is:
Body paragraph 2:
Relevant skills
At the second paragraph, you need to connect your skills and abilities to the job you are declaring your interest for. You need to do your homework, and carefully review the job description and the requirements listed to it. It is always a good idea to reference one or two important requirements of the job, and explain how you personally can meet those requirements, with references to your past work experiences.
If you are sending a letter of intent without any job listing, you should also explain your skills and what would make you a good addition for the organization. Your chances hinge on how closely you can match your credentials to the organization's needs. Depending on the number of different skills you possess, you may break this paragraph into two paragraphs.
Here's an example of a good way to highlight your skills in a letter of intent:
Body paragraph 3:
Call to action
This is the concluding body paragraph, and you need to wrap things up with a brief paragraph on how you intend to follow up. However, if the job listing specifies that you should not follow up, simply notify the prospective employer that you look forward to hearing from them.
Here's a good example of a call to action:
Closing
You should end your letter of intent with the professional closing like "sincerely". If you are submitting a hard copy of your letter, your handwritten signature should be followed by your typed name. However, if your letter of intent is going to be delivered by email, you should conclude with your email signature.
Here's a good example of a closing:
Additional Letter of Intent Writing Tips
A letter of intent should be tailored to your unique circumstances and as a result there is no single way to write a perfect letter of intent.
There are a few recommendations that will guide you to help increase your chances:
Use the appropriate format
You are basically writing a business letter, and you should use a professional business letter format. Start with your contact information, the date, and then the employer's contact information. Also, include your name, email and purpose at the top. If the letter is to be sent by email, include your full contact information.
Do not mention salary
Your desired salary range should not be included in your letter of intent. Rather, desired salary is to be discussed in person during the interview.
About your current employer
If you must give reasons for leaving your current employer, avoid speaking negatively about your current employer s it is neither professional nor does it reflect well on your character. If your reason for leaving your current employer is in search of career advancement opportunities, mention that as well as the current level at which you work and your desired level. Be exact in your description.
Concise subject line
If your letter of intent is to be delivered by email, ensure that your subject line is concise, explaining exactly why you are sending the email. If your letter of intent is meant to apply for a specific job, you should include your name, and the job title you are applying for. If you are not applying for a specific job, use a general phrase like "ICT professional looking to share expertise"
Research the company
A good knowledge of the organization to which you are writing will help you improve the quality of your letter of intent. You will be able to familiarize yourself with the company's mission, culture and needs. This information will help you especially if you are not applying for a specific job listing.
You need to demonstrate a good knowledge of the organization and explain how your skills will help the organization and add value to the company.
Don't rehash your resume
Since you have attached your resume to the letter of intent, avoid simply repeating what you already have in your resume. Instead, you should select your strongest qualifications, and highlight them. The goal of the letter of intent is to call the attention of the employer to your strongest skills, relevant to their organization.
Name-dropping
If you have a friend or colleague already working with the organization, it is best to inform them that you will be mentioning them as a reference in your letter of intent.
Use active language
You should only use active language to describe your experiences and skills. Use descriptive terms like "Experienced web designer" or "Excellent communicator".
State only relevant skills
The skills and experiences you mention should be relevant to the employer and the organization. Go through similar descriptions to get a clearer picture of what the employer is looking for. Mentioning skills that are not relevant to the employer will only make a bad impression or undermine your projected professionalism.
Consider using bullet points
One of the main benefits of using a bullet points is to grab the attention of the reader to key, specific points. This makes bullet points a good strategy for formatting your letter of intent. The bullet points grab the reader's attention to your qualifications and skills.
Keep it short
Your letter of intent is meant to be concise, no more than a page. The longer your letter, the less likely it is that the hiring official will read it.
Proofread your letter
You must proofread your letter to eliminate formatting, grammatical, and spelling errors. You may even ask someone else to read it over before you submit, or use a proofreading software after you have read it over a few times.
How a Letter of Intent Differs from a Cover Letter
It is really easy to notice the difference between a cover letter and a letter of intent. Many job seekers may even confuse the two. Typically, a job letter of intent is usually more company-focused with the applicants being general they talk about themselves and their skill-set. Applicants do not usually refer to a particular position in the organization. Rather, they give a general description of the capacity they are well suited for and also indicate their willingness to work in other available capacities.
A cover letter is more job-focused and more position-oriented because the applicants is writing with a specific job in mind.
Letter of Intent for a Job Samples
Sample letter 01:
Dear Mr. Jobs
My name is Zhengzhou Hong. I'm a recent college graduate from the Massachusetts Institute of Technology (MIT) with a bachelor's in computer engineering.
Apple has a truly impressive portfolio and a leading industry standard in the world of tech. Hence, my admiration and subsequent career choice in pursuing excellence in the tech industry. Please consider my request to work as an engineer on your team.
During my time at the Massachusetts Institute of Technology, I studied the different trends led by Apple in the Tech industry, and I used them in a few of my projects. I graduated with a GPA of 3.9, and I have an impressive portfolio of cutting-edge concepts I designed.
I am aware that Apple focuses heavily on the latest and best cutting-edge ideas, and I believe I have the skills to keep the company ahead of the competition for the distant foreseeable future. Should apple be in the market for new engineers, please consider me for an entry-level engineering position if one is available now or in the future. I have also attached my resume which will provide you a more detailed accounts of my experiences and skills as well as my portfolio.
Thank you for your time,
Zhengzhou Hong
Sample 02: (Email version)
Job Applicant
123 Grand Avenue
Broadway, NY 22342
347-348-6797
Jobapplicant@email.com
September 1, 2021
Bruce Stephens
Head of advertising
Luster Branding and advertising
123 industrial Avenue
Capital City, NY 65788
Subject: Job Applicant Letter of intent
Dear Mr. Stephens,
In my 5 years as a graphics designer, I have always been impressed with your company's advertising concepts and reputation for exemplary customer service. I am confident that my experience, skills and creativity would make me an exceptional addition to Luster Branding and advertising.
The following are the skills I have to offer a s a member of your team:
• Professional proficiency in all leading graphics design software and practices.
• 5 years' experience in advertising
• Strong interpersonal skills
• Excellent team spirit.
I am confident that I can offer my skills and experiences to make your team even better than it already is.
My contact information is included in my attached resume. I look froward to hearing from you.
Sincerely,
Job Applicant.
Sample letter 03:
Job Applicant
123, Industrial Street, CA 73378 – 379 398 8937 applicant_job@emal.com
January 1, 2021
John Doe,
Head of Engineering,
Qualcomm LTD
111, industry Rd.
Big City, GB 543231
Dear Mr. Doe,
I am writing to express my interest in am engineering position in Qualcomm LTD. I am a college graduate with a n engineering degree with extensive engineering skills. I believe I will be an ideal fit in your organization.
I am an excellent communicator and great tam player. In my experience as an associate engineer with my current employer, Mediatec LTD. I have actively participated in the development f the three recent processors. For this, I received recognition from my supervisors as well as a recommendation for promotion.
I am passionate about staying on the forefront of technological advances in the smartphone industry. During my five years of experience at Mediatec, I have developed my skills in all the latest hardware engineering developments. I have always performed in accordance with the latest industry standards.
I am confident that my communication skills, experience, and interpersonal abilities would make me an excellent addition to your engineering team. I Look forward to speaking with you about my qualifications.
Sincerely
Job Applicant (Signature hard copy letter)
Job Applicant
A good letter of intent will get you noticed by a prospective employer and possibly land you your dream job. Your letter of intent should be well written and reflect all your strong points and professionalism. Download our letter of intent template compatible with Microsoft Word and Google Docs.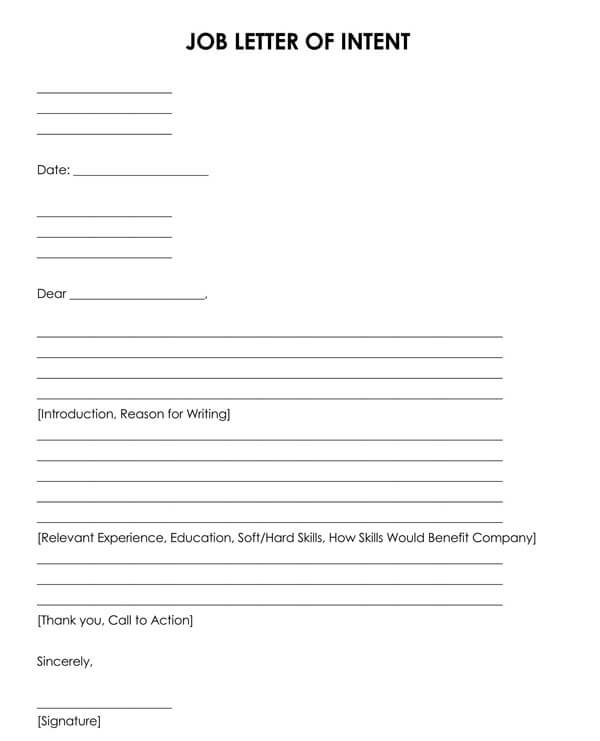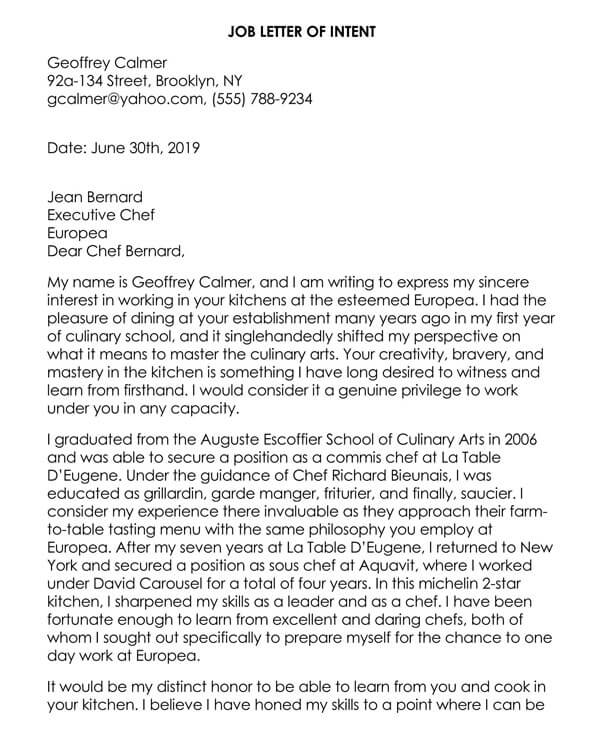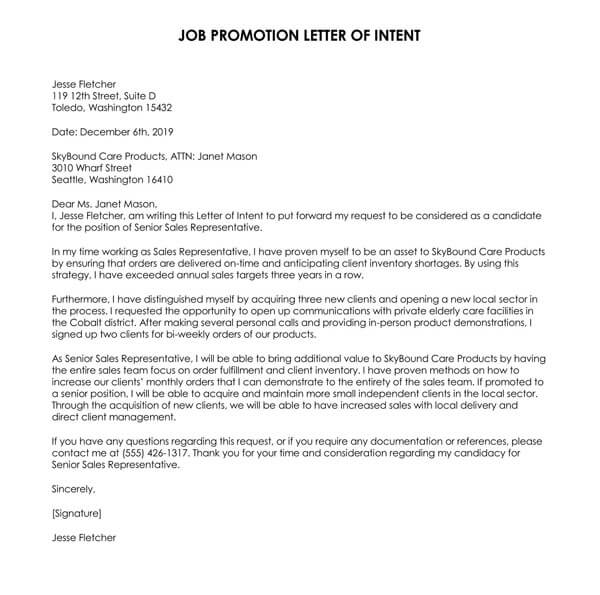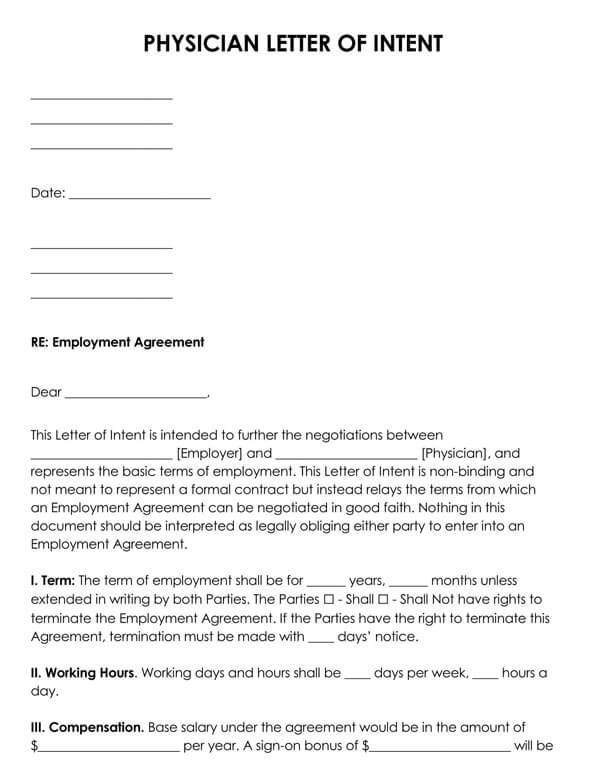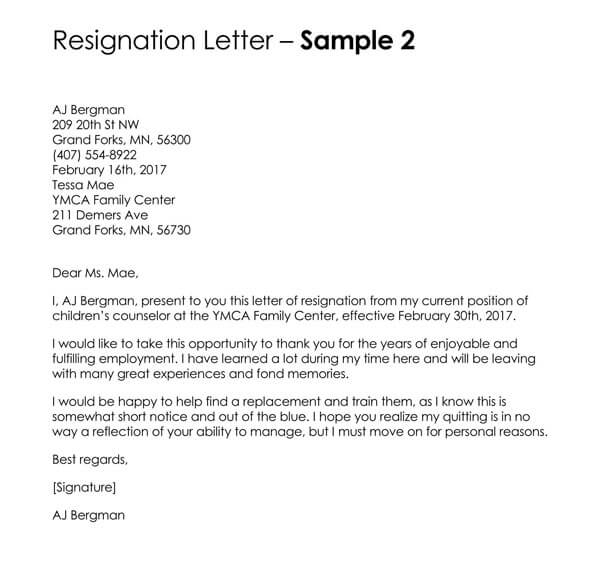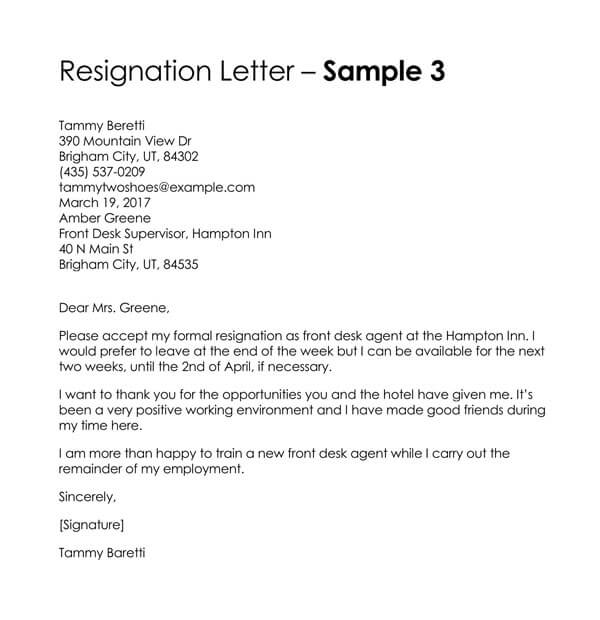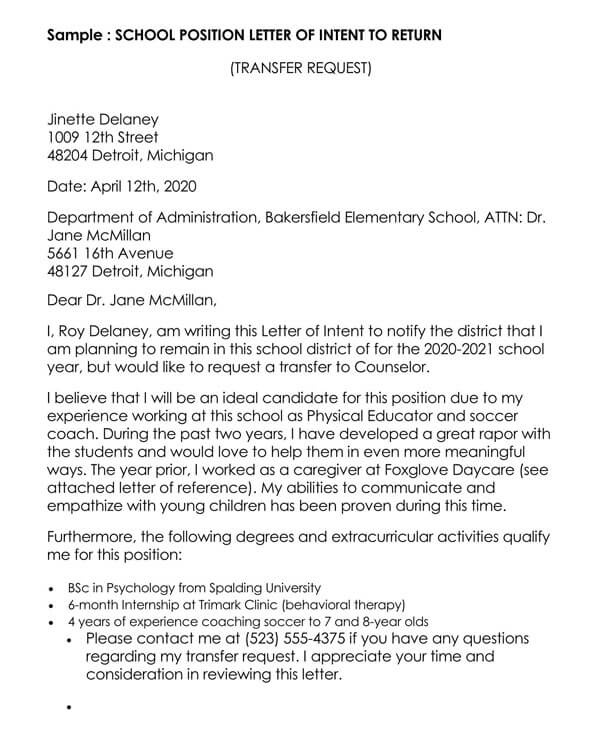 Does a letter of intent hold up in court?
A letter of intent may legally bind the party that signs it, depending on how the letter is drafted. If a provision stating that the letter is not binding is included in the letter, it may not bind the signatory.
Can you back out of a letter of intent
If the letter of intent contains a provision that makes it non-binding, the signing party has no obligations, and can back out of the proposed deal. Although all letters of intent are not the same, and it may depend on the language used in the letter.
Can a letter of intent be cancelled
Generally speaking, a letter of intent is not legally binding since it is basically a description of intentions. As a result, either party involved may cancel the letter at any time.
A letter of intent is a good way to get your foot in the door of your dream job, or working with your dream company. However, the quality and content of your letter of intent will determine the success of the letter. It is therefore important that you write your letter of intent according to the well-researched and generally acceptable templates that we provide.