A military letter of recommendation is a special letter that improves the chances of an applicant getting a military promotion, award, or admission to a program. For these letters to carry more weight, it is preferred that the military recommendation letters be written by high-ranking officers in the military.

An example of these officers includes the commanders, colonels, captains, or any other officers in a superior position. Other than the senior military officers, other personnel outside the forces can also write these letters. These include present/current employer and supervisor. It is usually a requirement for all the information about the applicant in the letter to be less than 6 months old.
Essential Elements to Include
Since Military letters of recommendation are used for official duties, the author needs to adhere to the formal standards and tone of writing. Also, you need to pay attention to every detail and information to increase the applicant's chances of getting a promotion, award, or position.
The following are essential elements you need to include while writing the military recommendation letter:
Salutation
A salutation is the formal opening clause that should be at the introductory lines of your letter. Since this is a military letter of recommendation, the recommender must salute the recipient appropriately. Make sure you include the recipient's rank before mentioning their name. For example, 'Dear Sargent John McClure'
The relationship with the applicant
As the author of this letter, you will have to include your relationship with the applicant. For instance, you could have taught or employed the applicant before. Or, you could have served with them in the air force, navy, or army. While you describe your relationship, pay attention to specific traits you believe make the applicant competent for the position and mention them in a general manner in this section.
Why the student deserves
The recommender should mention in this section of the military recommendation letter any characteristic or qualification the applicant has which stands out and are credible and relevant enough to be mentioned. For instance, the applicant could be intelligent, brave, disciplined, or determined. However, in order to support any or all of these personality traits in a manner that deems them valid, it is preferred that the recommender provide specifically related anecdotes.
Such as, as far as bravery is concerned, the recommender could state how at some point in time during their interaction, the applicant behaved in a brave manner in a critical; an emergency situation that could have been considered quite a dangerous situation for the applicant to be in.
Contact details
It is always necessary to add contact details in the military recommendation letters. Providing the contact details enables the recipient to reach you easily if they require more information about the applicant or need to further establish the credibility of the military recommendation letter.
Writing a Military Letter of Recommendation
Just like any other formal letter, a military letter of recommendation should be written in a precise format and with an official tone and language. Other than the formal formatting, the letters should have a detailed description that matches military requirements.
The following guideline helps you to craft the letter:
Decide a proper format
As stated above, military recommendation letters are special official letters. Therefore, there is a specific format that needs to be followed. Usually, these letters are written under three parts, namely introduction, body, and conclusion. While the introduction and conclusion are single paragraphs, the body section can be single, double, or have three paragraphs. If you are military personnel yourself too, then you should number your paragraphs to signify the military-type structure of the composition.
Otherwise, you shouldn't number the paragraphs. Last but not least, you need to use professional language backed by sound arguments and reasoning as to why the applicant is suitable for the applied military position.
Header
In your military format, the header should be written first. You will include the organization's letterhead at the top of your writing page.
For example:
Date of writing
Memorandum for: [Rank, name and organization/unit of receiver]
From: [Rank, name and organization/unit of the author]subject:
Recommendation letter for [Rank, last name, first name, and unit]
Note that if you are a writer who isn't in the military, you can ignore the above-stated format. Instead, you should simply include the date, from, and subject.
Introduction
After the salutation, you need to proceed to the first or introductory paragraph. In this paragraph, your intentions for writing the military recommendation letter in one to three sentences should be mentioned in a manner such, that firstly, your relationship with the applicant is described in a clear manner. Be sure to mention the applicant's credentials, qualities, and why you believe they are suitable candidates.
For example:
I endorse Corporal Calvin Jefferson for the advertised position in the Black Corps Operation that should happen in North Africa from next month. Corporal Jefferson has worked under my supervision at St. Louisiana Barracks for two years. During this period, he has demonstrated positive leadership and teamwork.
Body paragraphs
The body section should contain at least one properly formatted paragraph. In this paragraph, the writer must explain their experiences with the applicants and why they believe they better qualify for the vacant position. With that in mind, you need to list any personal attributes, traits, and behaviors. Note that your description should be credible and legitimate. At the same time, you need to only mention those traits that are related to the position at hand.
For example:
Corporal Jefferson is someone with exceptional qualities. He is not only intelligent but also organized and disciplined. During my interaction with him, he carried out his duties with due diligence and professionalism. He is a soldier who respects his seniors at all times. Besides, he is a team player. He is able to work well and influence his peers towards a measurable outcome.
Conclusion
The conclusion section is used to reiterate your confidence in the candidate. At the same time, you can use the conclusion to make additional comments on the applicant. Lastly, you need to offer a contact method in which you can be reached should the recipient require any clarification regarding the applicant. This should then be followed by an official closing clause at the bottom of the page.
For example:
Calvin Jefferson is a highly competent soldier who has proved his dedication and ability to excel on a number of occasions. I strongly believe that when given the opportunity, he will be able to serve with a high level of bravery and expertise. That's said, it would be best if you consider Jefferson for the Black Corps Operations. If you need more information about the applicant, please feel free to contact me at [insert your contact details].

Sincerely,
Input signature
Sargent John McGuireSt Louis Barracks
Military Letter of Recommendation Samples
Following are some samples of military recommendation letters that will help you understand the sentence structuring better:
Sample 1
This military recommendation letter can be used if the recommender is a non-military person:
Dear Admission Board,
My name is Steve Clarkson. I teach physical sciences at Bright Gardens High School. I would like to recommend General Mark Herman for the cadet opportunity at the US Marine Academy. Having taught him at the high school, I believe he has the quality you are looking for. He is not only motivated but also dedicated to his duties and cores.
During his high school years, Marks's ambition was always to be a marine officer. Mark is a disciplined student. He is also focused and trustworthy. Other than sports, Mark also participated in a number of extracurricular activities such as swimming. This prepared him for future ambition. More importantly, he is able to cope up with lots of life challenges as he keeps an eye on the ultimate goal.
As I conclude, I would like to reiterate that Mark is a qualified student. Without any doubt, I strongly believe he would be a perfect match for the marine opportunity. Therefore, you can consider his application at any time. I would be happy to give more information if you need it. Feel free to contact me at [insert your number].
Sincerely,
Steve Clarkson
Bright Gardens High School
Signature
Sample 2
If the recommender is a military personnel then this military recommendation letter sample can be used:
May 15th, 2021
MEMORANDUM FOR: Capt. Willy Scott, US-Air Force
FROM: Major Gen. Griffin Mayer
SUBJECT: Military Letter of Recommendation
Captain Willy Scott has been an important person in the US Military Airbase in Hawaii since 2018. Cpt. Scott is disciplined and honest. He has successfully helped train new military recruits to the best of his knowledge. During his period at the airbase, I was privileged to be his senior commander.
Capt. Scott is very intelligent, self-driven, and organized. I can strongly attest that his qualities outstand his peers. More importantly, he exhibits remarkable leadership qualities. Also, he is a team player. He can easily organize various departments to work together for a common goal or ambition.
On many occasions, Capt. Scott applied good decision-making capabilities, especially during tough times. His good judgmental skills have earned him ranks within the airbase. Even though he hasn't worked for the military for many years, he still has the necessary experience and qualities for the vacancy as the assistant regional commander.
As an experienced soldier, Capt. Scott will be suitable for your promotion. He has the skills, expertise, education, and attitude to operate the vacant position. Therefore, I strongly suggest that you consider his application. For more details, please feel free to contact me at [insert contacts].
Sincerely,
Signature
Major Gen. Griffin Mayer
Sample 3
Here is a sample format:
14th May 2021
MEMORANDUM FOR: Lieutenant Peterson Gray
From: Maj. Gen. Susan Hope
SUBJECT: Letter of recommendation for Capt. Wycliffe Samson
I write this letter to recommend Captain Wycliffe Samson for his suitability to the award of the most disciplined servicemen of 2021. Having worked with Capt. Wycliffe Samson, I have a strong belief he is the best candidate.
My last deployment with Samson was a month ago. We were sent to work in India to help distribute basic needs to the COvid-19 stricken victims. During this period, Samson showed a great sense of humanity and discipline. He is a fellow who values human dignity and values to the maximum. We were not only expected to distribute relief foods and services but also to keep order, organization, and security.
At such a time, a group of people demanded to get more relief than necessary. However, Samson insisted on equality and equity in distribution. He committed himself to the orders given by his seniors. This was not only exemplary but also demonstrated his quality leadership and discipline.
It is because of his qualities and personal values that I recommend Wycliffe Samson for the award of the most disciplined servicemen of the year. For more information about the candidate, please don't hesitate to contact me at [insert contacts].
Sincerely,
Signature
Maj. Gen. Susan Hope
Download customizable military recommendation letter templates from here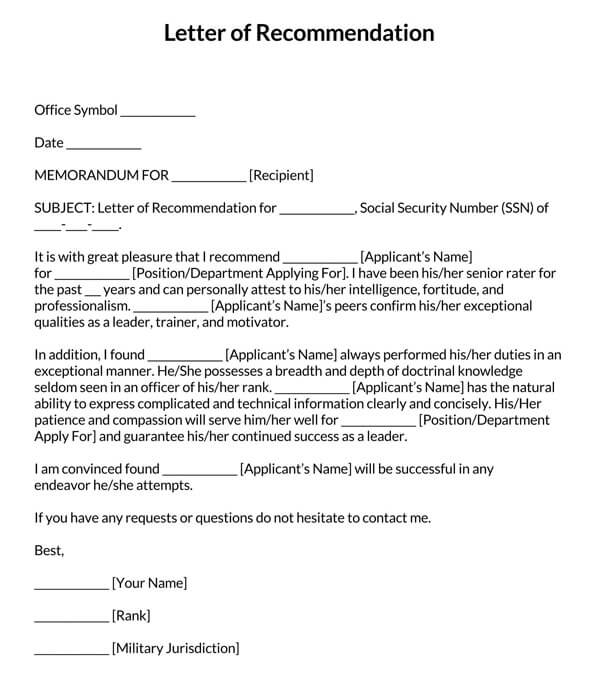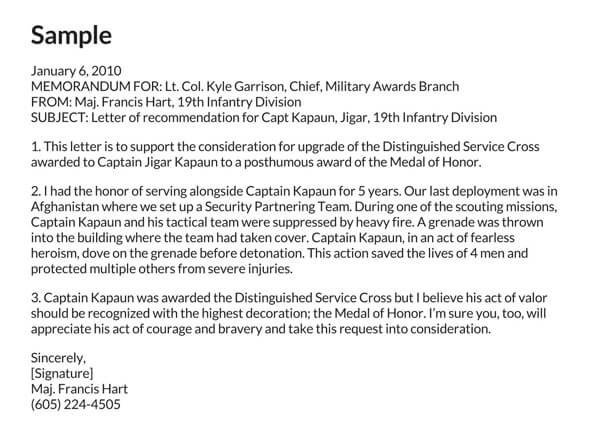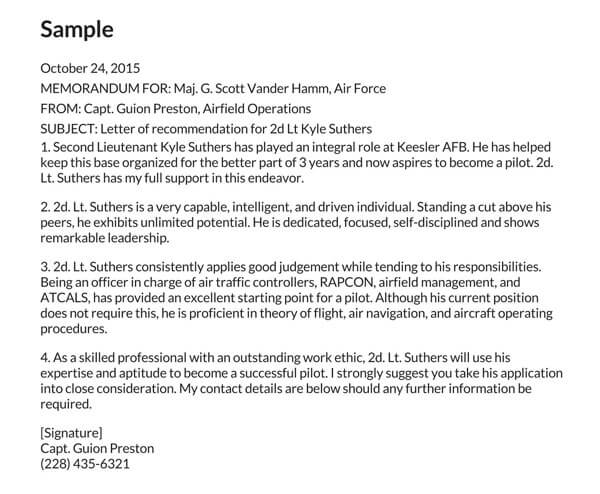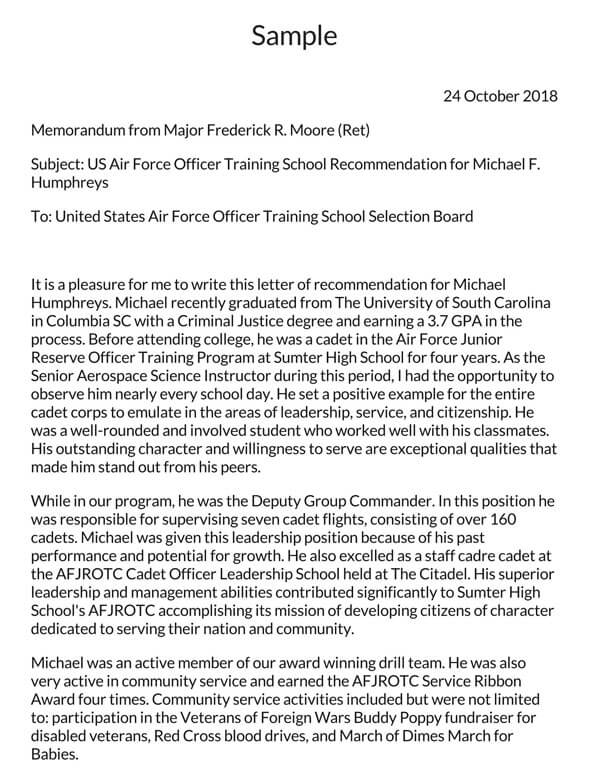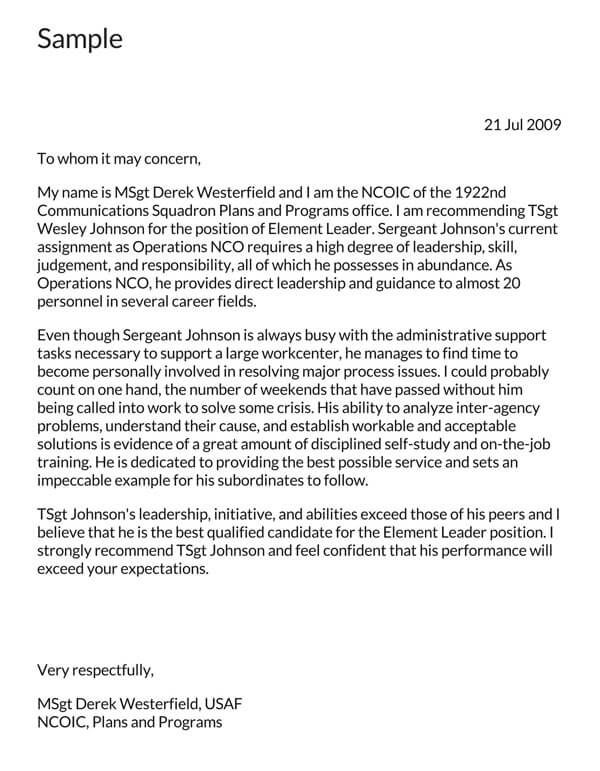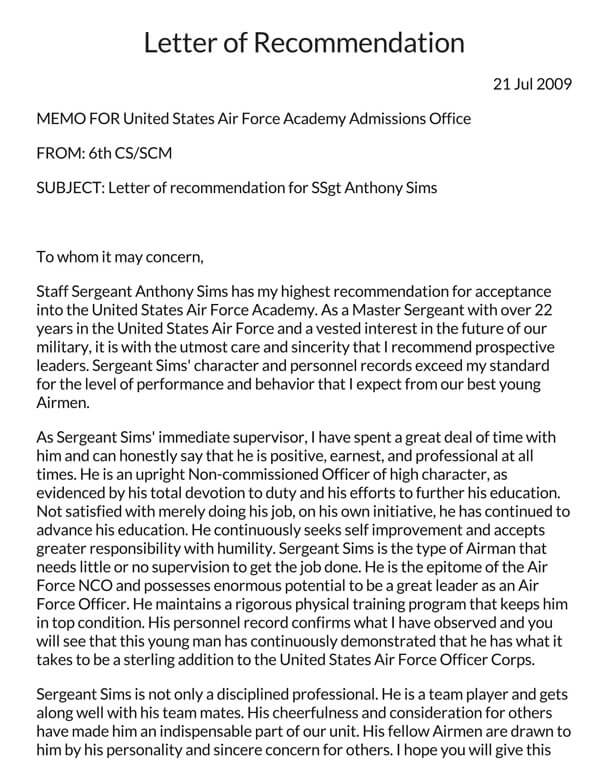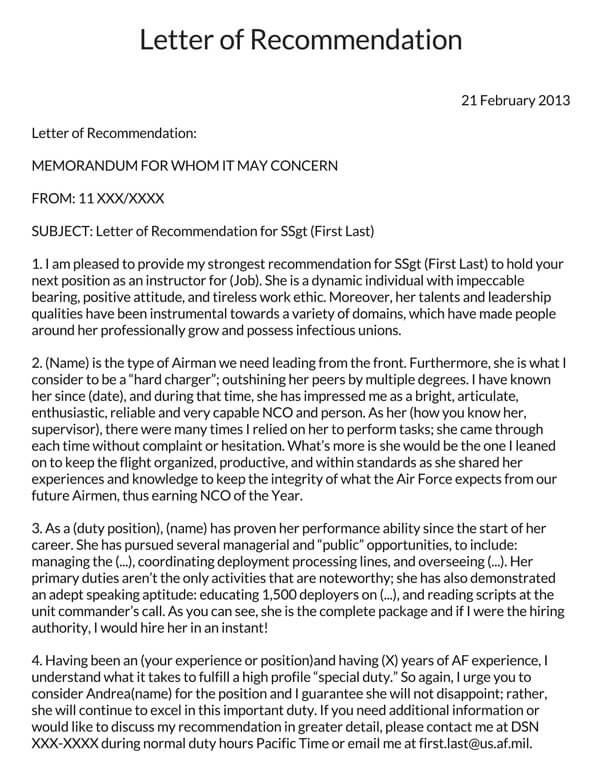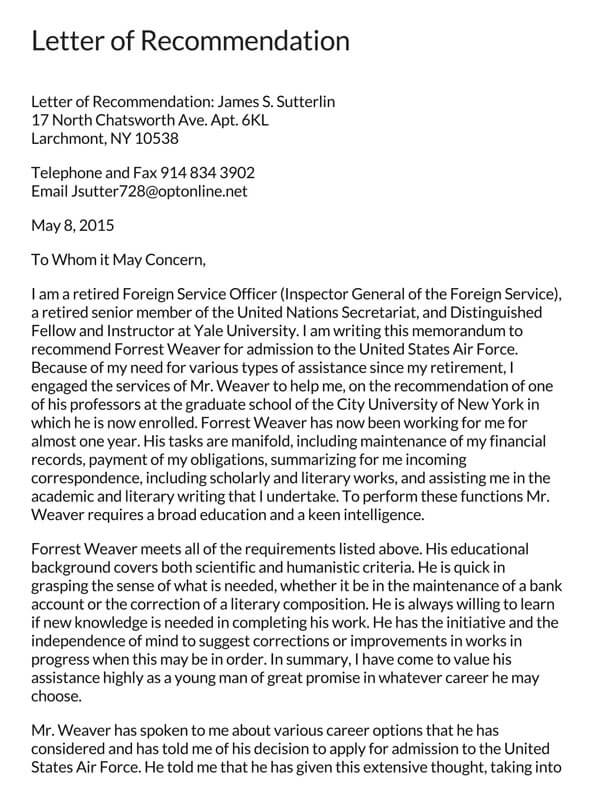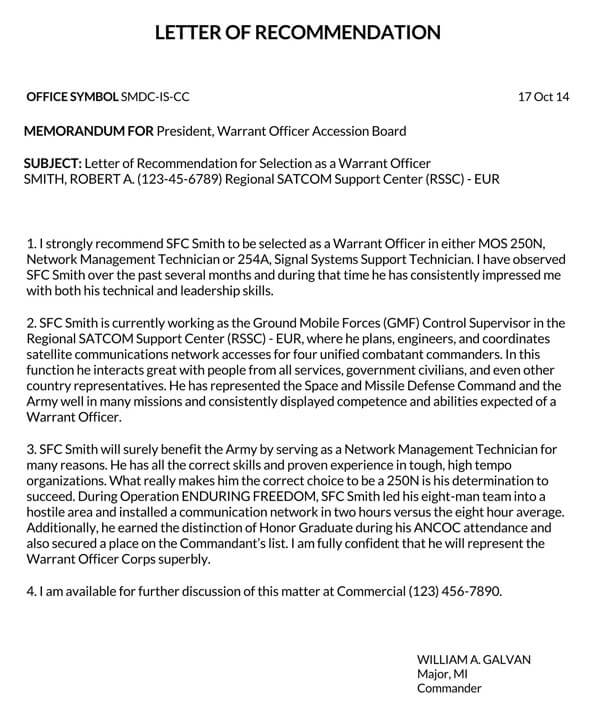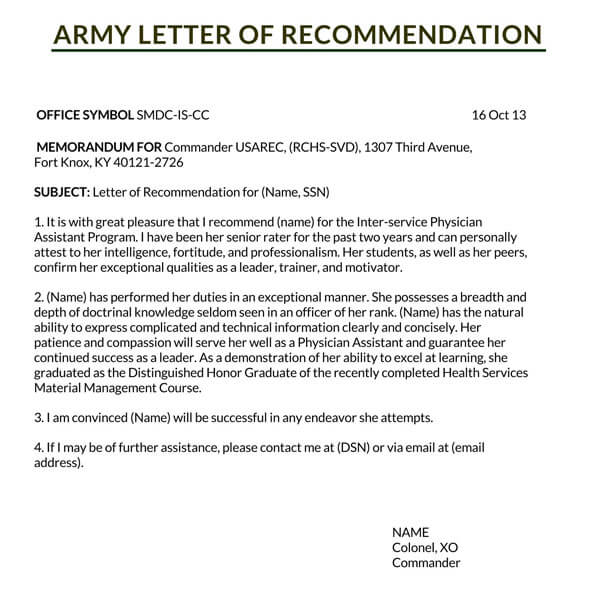 Military recommendation letters are important special documents that help raise the chances of an individual securing a position or promotion in the military. Therefore, if requested to write one, it's important that you take time to research how to write the letters. If you write the military recommendation letters professionally, the chances of the applicant being considered for the position are very high.