An introduction letter may be the first interaction you have with a business, contact or organization. A Letter of Introduction outlines your background, qualities, and intentions in a way that a resume or report may not. The letter should be tailored to the intended recipient meaning that if you are attaching a job application letter with self introduction included you should explain why your qualities and an experience would make you perfect for that particular job and demonstrate knowledge of the industry or business.
An Introduction letter is effectively used by suppliers to make potential customers aware of their business, and potentially secure new orders or by a business in order to foster a friendly relationship with both local businesses and the community at large. When introducing a new company or outlet via letter, the letter is often widely distributed to create broader awareness of the company and hopefully increase business. If an individual is writing an introduction letter, however, they might be using this more formal written space to make themselves known to a new workplace or as a way to seem more appealing to prospective employers. While these letters of introduction serve very different purposes they share a common goal, to make the best possible impression upon the recipient.
When you are writing an introduction letter you need to put your best foot forward and with one of our tried and tested samples you can make a great first impression with the professionalism demonstrated in your letter. A quality sample can help with sentence structure, layout, and even content, prompting you to include details you might have accidentally omitted otherwise.
Sample Company Introduction Letter
A company introduction letter allows you to introduce yourself to other businesses or individuals in the hopes of fostering great relationships and a solid customer base. You can also use formal business letters
Company Letter of Introduction Format
Company Introduction Letter Templates
Sample Business Introduction Letters
A business introduction letter is a means by which you can network with other businesses and organizations in your area, perhaps tapping into opportunities or simply creating valuable commercial relationships.
Business Letter of Introduction Format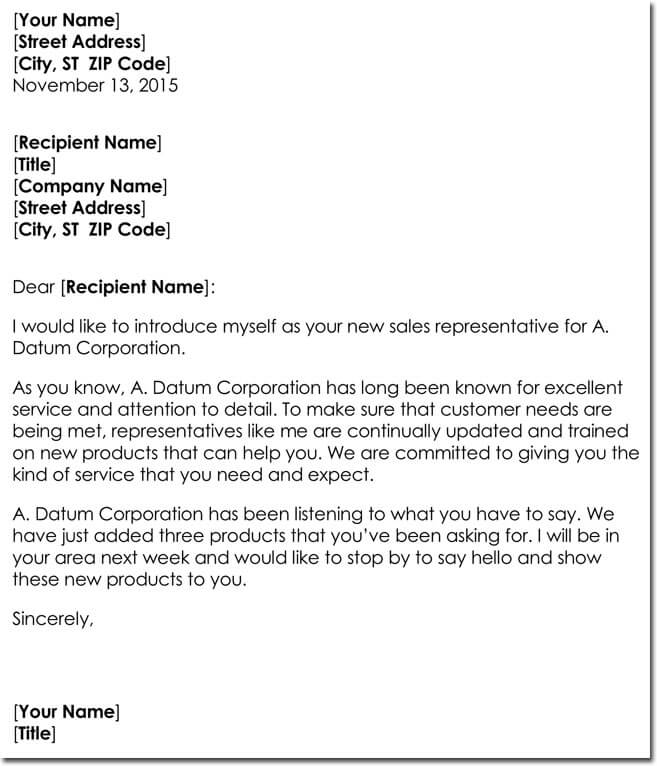 Sample Sales Business Introduction Letter
Business Introduction Letter Template
New Outlet Introduction Letter to Customers
Letting your customers know that you have opened a new store in their area can be made easier with an effective new outlet introduction letter to customers. This letter should be designed to mail out on mass to create awareness of this new and exciting local shopping opportunity.
Sample Employee Introduction Letter to Department
A great way to let your new co-workers get to know you quickly and easily is with an employee introduction letter to department which can be distributed throughout your new workplace. This letter will give people a good idea of who you are and your experience, breaking the ice without the usual awkwardness.
Sample Self Introduction Letter to Society
Formal Employee Introduction Letter
New Employee Introduction Letter Format
Business Introduction Letter to Society
(Sent to every house in society to introduce your new business)
When you are starting a new business getting brand awareness out there is vital and with a business introduction letter to society, you can tell the community everything they need to know about your business in a concise and friendly manner.
Sample Student Introduction Letters
If your child has any special requirements, be they extra work or extra support, you can lay down the groundwork for a great relationship with your child's new teacher with a Student introduction letter to teachers from parents. This letter will give the teacher the information they need to give your child the best possible chance of success in the year to come, or simply invite the teacher to contact you to arrange a meeting to discuss these special requirements.
Student Introduction Letters to Teachers from Parents
Sample Letter of Introduction of New Teachers to the Students and the Parents
Job Application Letter with self Introduction
Most job applications require a self-introduction as a less rigid form of communication in addition to a resume. Your job application letter with self introduction not only gives your prospective employer a better sense of your suitability for the role but it also allows them to evaluate the level of professionalism you display when communicating with others.
Bonus Introduction Letter Templates
Introduction Letter Template For Scholarship
This letter can be used as a cover letter to scholarship. You can also use letter of recommendation for scholarship.
Sample Marketing Introduction Letter
Tips on writing an introduction letter
An introduction letter should be clear and concise with professional language.
Using a quality sample can be a great guide and provide an excellent framework for your letter.
Avoid clutter, keeping your font and formatting clean and simple.
Be sure to include relevant business or personal contact information.
Include a "call to action" that informs recipient what they should do next. For a job application this could be considering your for a position, for a business introduction, it could be to place an order for good or services.