Every person likes to feel appreciated. As an employer, appreciating your employees for their long years of service or for a job well done can go a long way. Writing a thank you letter or an appreciation letter is one of the best ways in which you can express your gratitude to them. Basically, employee thank you and appreciation letters are an excellent way to: applaud employees for their hard work and commitment, build a strong employer-employee relationship, and boost the employee's morale in the workplace.
A thank you letter or email is sent to an employee by their employer to show appreciation for their hard work and commitment. The letter is usually written when an employee performs exceptionally in a given task.
For instance, a formal thank-you letter can recognize and thank the employee for completing a well-executed project, going above and beyond their duties and responsibilities, or attaining a set goal or objective.
There is always a reason for you to be grateful to your employees, including:
If they achieve their goals
If they have gone an extra mile to achieve their goals
If they have brought in referrals for your business
If they have come up with new ideas that have proved to be valuable to the business
If they have followed all the rules to the latter
You can appreciate them for being good role models to other employees
You can thank and appreciate them for being good team leaders
You can thank them for representing your business well
Etc.
Importance: Why Should you Send One
Writing an honest employee thank you letter is a very important step in employee recognition. Here is why you should consider drafting thank you and appreciation letters to all your employees:
Thanking your employees increases performance:
If you are looking to lead a high-performing team, you should do so by recognizing them for the work that they are doing for you. Sending your employees thank you letters will make them feel that their effort is being acknowledged, and this encourages them to deliver higher performance consistently.
Showing appreciation increases job satisfaction:
If you want to have a happier team working for you, try appreciating them every now and then for the work that they are doing. As an employer, you can boost your employee's job satisfaction by regularly appreciating them and encouraging them to focus more on what you are grateful for.
Appreciation is contagious:
Showing gratitude to your employees is usually amplified across the organization and is reciprocally expanded, soothing, which can potentially positively influence your employee's job satisfaction.
When you appreciate one of your employees, you might just set a bigger ripple effect in motion. And even if you don't, the more you show your appreciation to your employees, the more often others will experience it- and that is almost as good!
Saying thank you is good for business:
With improved performance and job satisfaction, as a business, you are winning. Saying thank you is a simple professional courtesy that can go a long way in improving the overall performance of the employees.
When to Send an Employee Thank-You Letter
You can always send a thank you and appreciation letter any time. However, most employers usually choose to send thank you letters to their employees at the end of a financial year, after they have completed their projects or come up with ideas or solutions to the business's challenges.
It is recommended to send a thank you letter as soon as possible, while the event is still fresh in the employee's mind.
Thank-you Letter or Email Templates
To help you save time when drafting your employee thank you and appreciation letter, here are ready to use, downloadable templates that you can edit to fit your personal or professional circumstances.
Sample Letter
Dear David,
On behalf of the management of Lion Shield Security Limited, I would like to congratulate you on the amazing work done you have done. From the time you joined this company, you have worked tirelessly to ensure that we meet the set goals and objectives. You have put in extra efforts not only in your department but also in other departments. You came up with innovative ideas, bringing new clients, and referring good candidates to our firm. Above all you have been an outstanding leader and a role model to many.
I admire your diligence and self-motivation, as well as your determination towards achieving your goals. The management team is aware of the efforts you put into carrying out your duties, and we sincerely appreciate everything you have done.
We have to decide to reward you by giving you a bonus of $10,000 just to thank you for your efforts and commitment.  We are really grateful and lucky to have you in our company.
Sincerely,
Eric Lawson
Chief Executive Officer
Lion Shield Security Limited
Dear Henry, 
It has been nice working together with you for 6 years. You have been a committed and supportive manager who has helped me develop good leadership skills.
You have proved to be a very hardworking employee and shown heartening promotion of values that we upheld at Britam Insurance Limited. Surely, you are a true example of guidance and growth in my professional life. I am happy to know that you have contributed to my professional growth.
I don't know have how life would be without you. I hope you will continue to lead me through with the same attitude, passion, and excellence in the future. 
Thank you for being a wonderful leader! 
Kind regards, 
Mercy Johnson.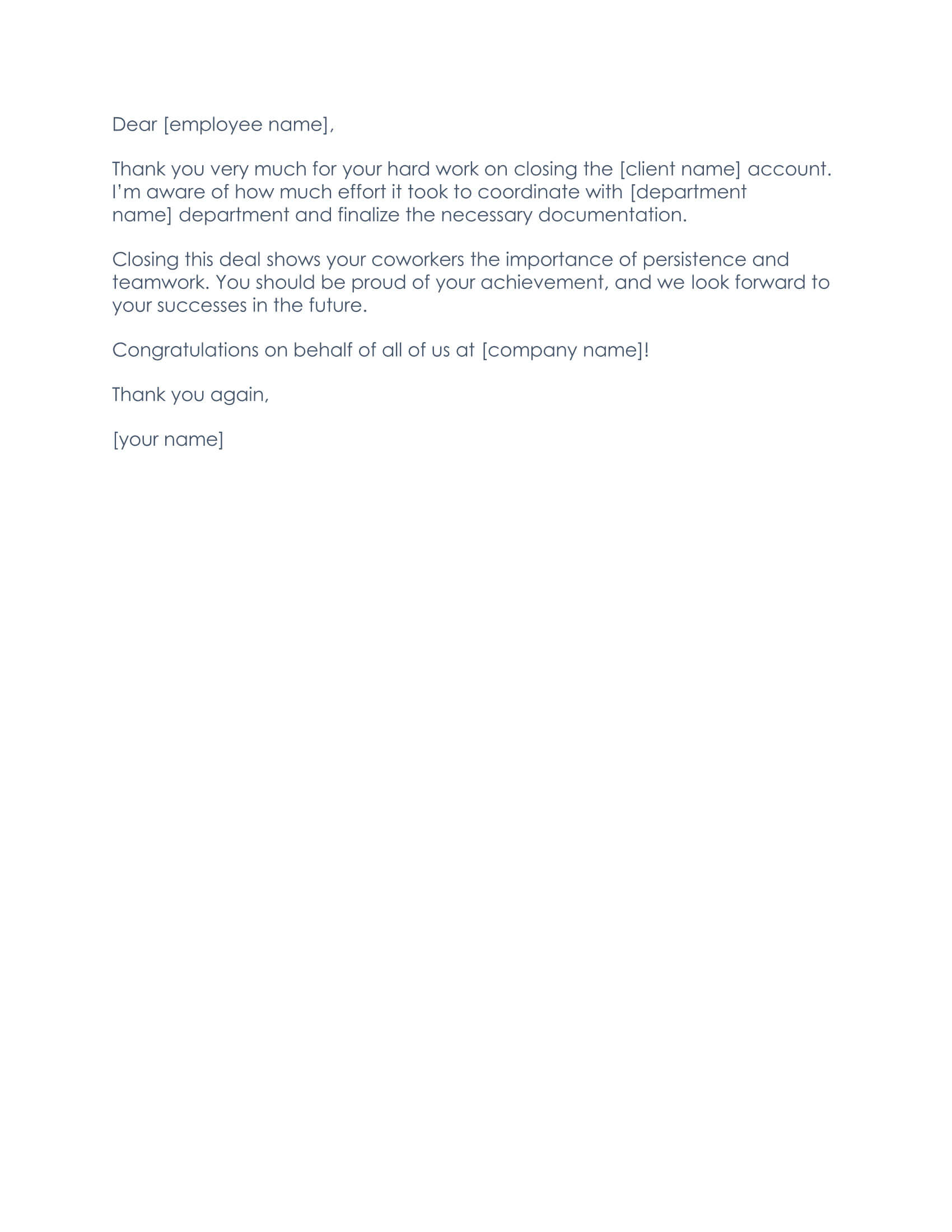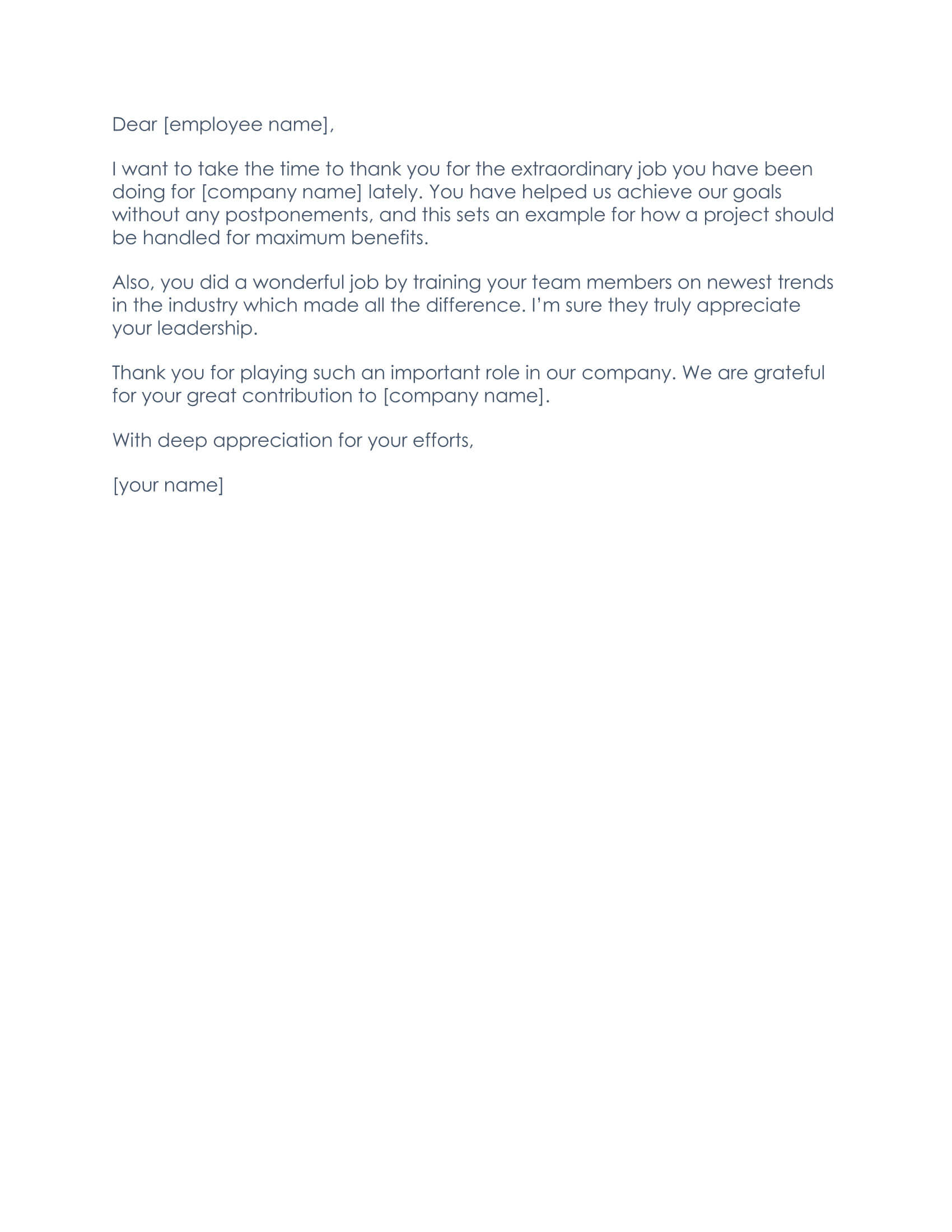 Tips for Writing Employee Thank-You Letters
Here are tips to help you when drafting your employee thank you and appreciation letter.
Formatting: the format you use for your letter will depend on whether you will be sending the letter via email or you will be handwriting it. Check out our samples to help you pick the right format when writing your letter.
Use a Clear Subject line: You want to make sure that the employee doesn't miss your letter, especially when sending it via email. Ensure that you use the right subject line for your letter. You can use something as simple as "Thank you" as your subject line.
Consider handwriting your letter: if you want to make a really great impression on your employees, consider handwriting your thank you and appreciation letter. By handwriting the letter, you will be showing the employee that you indeed took your time to appreciate them and are indeed thankful.
Use a letterhead: when writing an employee thank you and appreciation, always keep in mind that even though you may know the employee personally, you are still acting on behalf of the company. Use the company's letterhead if to make the letter look and sound more official.
Keep it short: keep your letter brief and direct to the point. Simply explain your reason for writing the letter and express your gratitude.
Proofread: before sending the letter, it is always important to proofread and ensure no errors. You don't want to misspell the employee's name or have typos in your letter- this will show them that you didn't take your time to write the letter. Make sure that you go through the letter and countercheck that everything is as it should be.
How do you appreciate employee performance?
There are a number of ways in which you can show your appreciation to your employees for their exceptional performances, including:
Sending them a thank you and appreciation letter
Celebrating their birthdays
Taking them out for lunch or vacation
Giving them creative rewards
Recognizing their non-work achievements
How can you say thank you to your staff?
There are several ways of saying thank you to your staff. Here are ways in which you can say thank you to your staff:
Offer them a good parking spot
Write them a thank you note
Include their picture in the wall of fame
Recognize their good work in public
Offer them free lunch
Acknowledge them in-office meetings
Give them an appreciation certificate
Give them some time off
Give them bonuses and other incentives
Thank them in person
Etc.
Saying thank you to your employees is a great way of acknowledging them for the work and effort that they have put into achieving the desired results. A simple thank you and appreciation letter can go a long way. As an employer, if you want to have a great team and committed employees who are happy at work, a little appreciation can do the trick.