If you run your own business you are sure to know how important both your customers and customer referrals are. They help keep your business running and help you generate income at the very same time. Business referrals are very important as they allow you to know that those who you have provided services for before have referred someone else to your business after their experience with your services.
As a result of the pleased customer telling other about the service, you receive new clients that are sure to love the services that you offer. Would you like to thank your referring customer? You can when you use our business referral thank you note templates that will show you the correct wording and format you should use in this particular instance. Thanking the referring customer also makes them more likely to refer more clients to your place of business. This makes it a win-win situation as the customer knows that you appreciate that they have referred customers to them and you gain tons of new clients that will help your business grow in a small amount of time. Referring customers are sure to love the fact that you took time out of your busy day to with them a business referral thank you note as it shows that you genuinely care about both your customers and business.
If you are interested in sending a business referral thank you note templates you should look no further as we are offering eight templates free of charge. These templates will allow you to see the correct way in which a business referral related thank you note should be created. The templates will also allow you to create a referral thank you note of your very own that is sure to be a hit among your previous clients.
Sample Business Referral Thank You Notes (Real Estate)
Medical Business Referral Thank You Note Sample Wording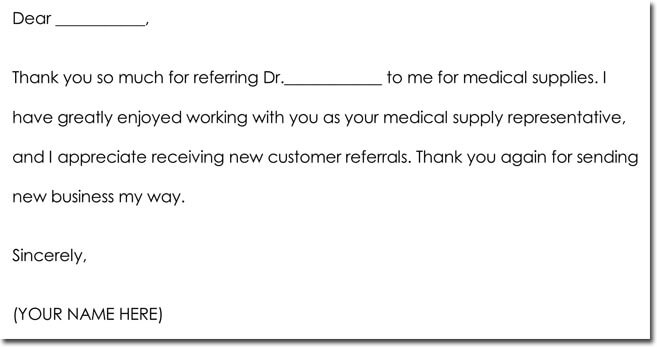 Client Referral Thank You Note Wording
Business Referral Thank You Letter Wording