In the past, when you were depositing a payment, you needed a physical cheque and some time to visit the bank. This was time-consuming and, at times, tiresome. Direct deposit ensures you don't have to go through some of the steps in this process. Instead of issuing a paper check, you are issued an electronic payment deposited directly into your account. Ever since the direct deposit method was introduced, physical cheques have become less famous. Direct deposit has become a normal practice for most employees. But some people are yet to know the advantages and disadvantages of this form of payment. This article covers all the details of direct depositing and how to fill a direct deposit authorization form.
Direct deposit is a payment method where your funds are transferred electronically to your bank account. This payment method allows you to receive payment more easily and avoid dealing with physical cheques. This method not only saves you time at the bank but it also ensures you access funds quicker. This is because paper check deposits will take two to five business days to clear your account, or even longer if you deposit a large sum of money. A direct deposit does not require a waiting period for the funds to be cleared, meaning you can have access to the money on the same day you are paid.
What is a Direct Deposit Authorization Form
A direct deposit authorization form is the document you submit to your employers. The employer uses the information you have given in the form to deposit payments directly into your account recurringly. In short, the direct deposit authorization form allows your employer to deposit funds into your account. Ensure you submit your completed direct deposit form to the human resource department or any other department that can be trusted with personal and banking information.
Direct Deposit Authorization Letter Samples
Name: Kevin James Johnson
Address: 9877-00400
City, State, Zipcode: Brooklyn, NY, 44567
Name Of Bank: Barclays Bank
Account Number: 0011998877653652
9-Digit Routing Number:334456588
Amount: ¨ $ 5000
Account Type:  ¨ Checking              üSavings
(Attach voided cheque associated with the account)
Deloitte is authorized to make deposits directly to the account above. This authorization will remain in effect until I cancel or modify it in writing.
Employee Signature:
Date: 12-6-2019
How to Fill a Direct Deposit Authorization Form
Filling out a direct deposit authorization form can be confusing, especially if you do not know what to fill in.
The steps we have given below will guide you on how to fill it.
Step 1 :
The first step is filling in your name and address. Ensure that you fill this section correctly. Write your full names, address, city, state, and zip code. For example:
Name: Kevin James Johnson

Address: 3044-00100

City, State, Zip: Brooklyn, NY, 33445
Step 2 :
The second step is reporting the bank name where you have an account. This bank is where your payments will be deposited. After stating the bank name, you then enter your account number on the labelled bank line. Finally, there is a nine-digit routing number on your cheque. Locate it and enter it on the blank line labelled "9 digit routing number."
For Example:
Name of Bank: Barclays Bank

Account Number: 33337788999474633

9 Digit Routing Number: 3345667789
Step 3 :
The next step is selecting the type of account you want the deposit to be made. There are two types of accounts, Checking and Savings. You will choose according to your preference. This section will require you to attach a voided cheque for the account where the payments will be deposited.
For Example:
Type of Account: ü Checking Savings (select one)
There is a blank line where the company name is needed. Write the name of the company that is authorized to deposit money into your account. The name of the company you fill in should be where you receive payments from and has your authorization.
For Example:
Deloitte (the company name) has been authorized to………………

After filling in the company name, you then provide your signature and the date you signed.

Employee's Signature:

Date:
Step 4 :
The last step is submitting the filled form to the human resource department or your employer's payroll. Ensure that you submit your form to the right department.
In this new age of direct deposits, you need to know how to fill a direct deposit authorization form. We have provided you with direct deposit form templates on our websites to guide you on what to fill. Our downloadable templates will make your work easier and familiarize you with direct deposits. Head on to our website and check them out.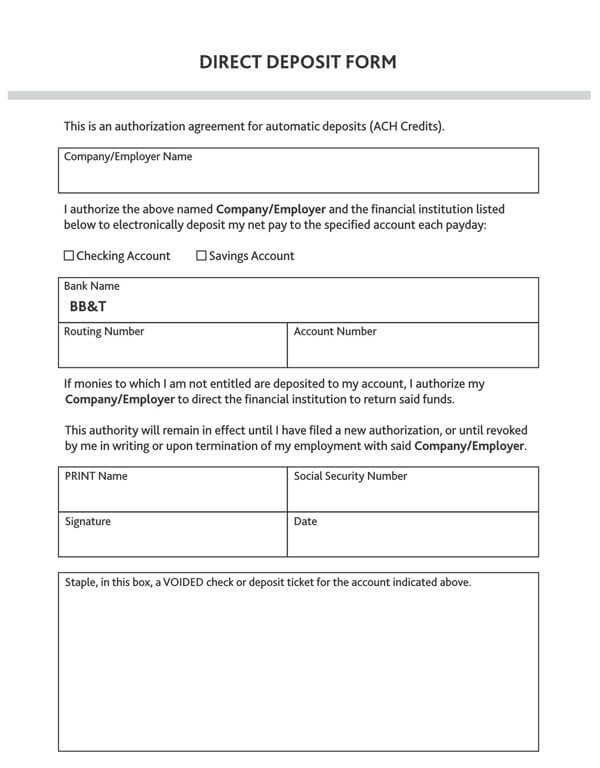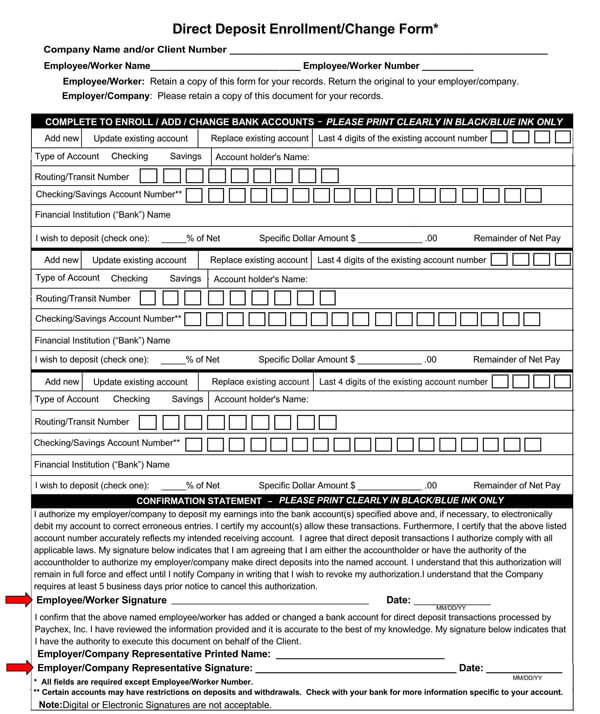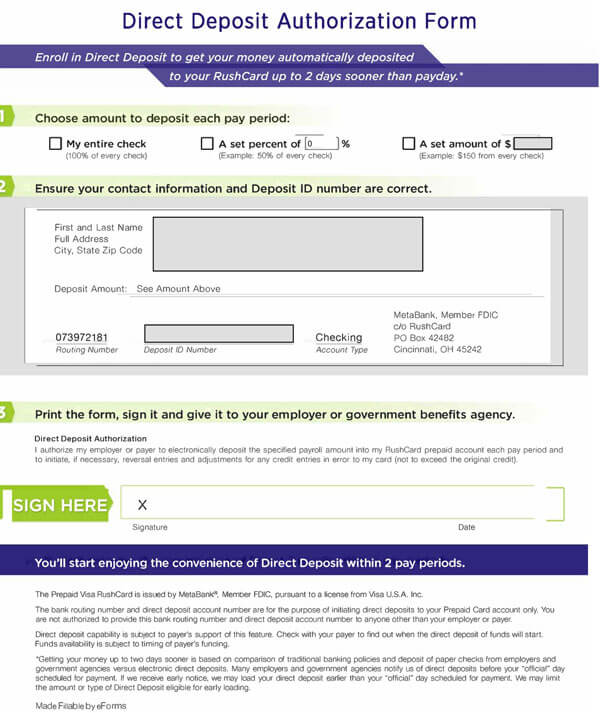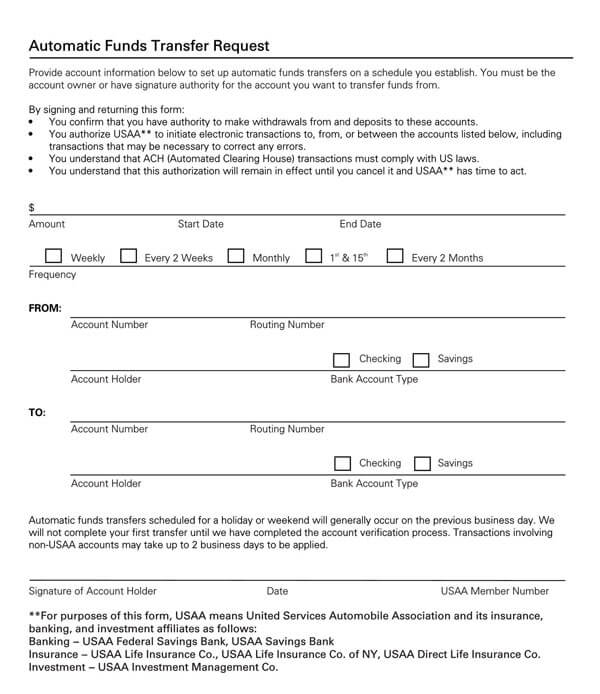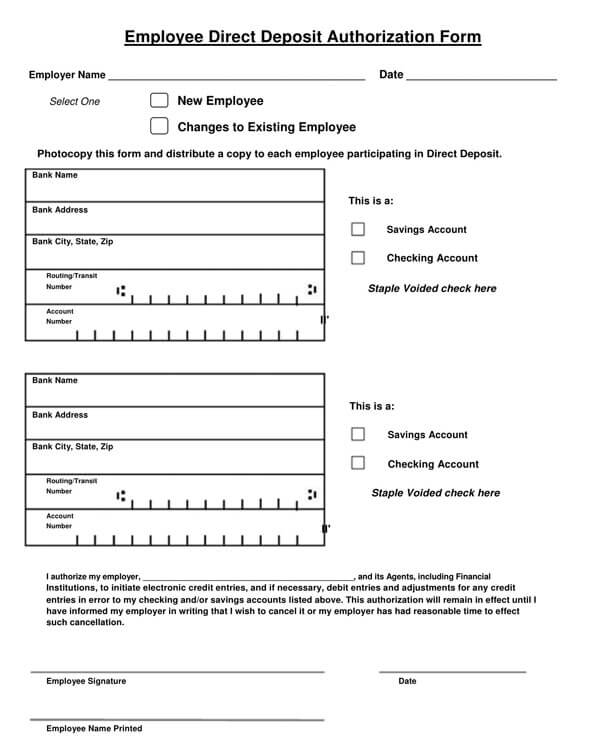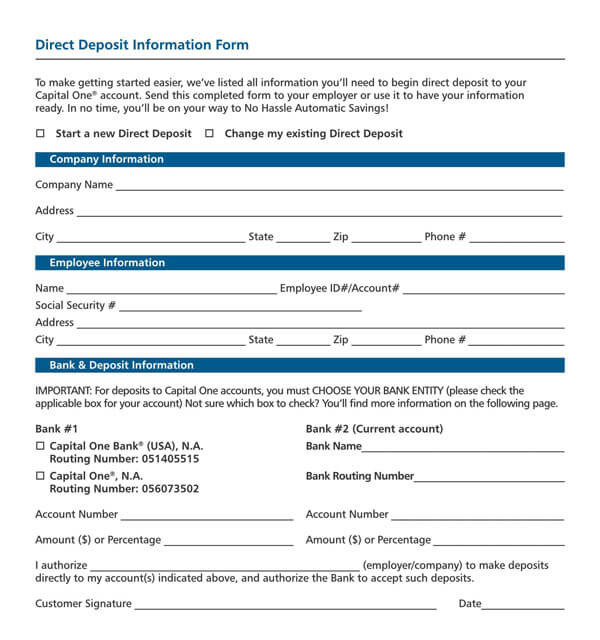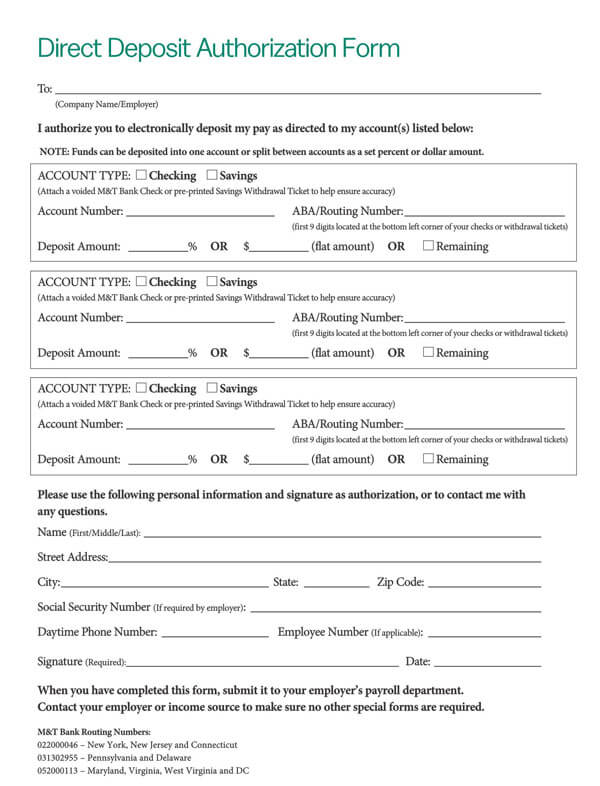 How to Add an Employee to Payroll
Here's how to add your workers to your payroll. Follow these guidelines if you're setting up your payroll for the first time or you're simply welcoming a new employee to your group.
You need to have an Employer Identification Number (EIN) as an employer
You apply for the EIN on the IRS website. It is often known as a business's social security number. The EIN consists of nine numbers, e.g., 22-4567896. The IRS will ask general questions about your company's status and functions. After about ten to fifteen minutes, you will be given the EIN in an SS-4 form that is complete. If you apply through mail, it will take between ten to fifteen working days.
Collect the necessary government forms
The second step is collecting necessary government forms from the employee. You need to collect these forms to ensure that the person is allowed to work in your country. Keep the forms in a file.
Issue various employee forms
You then give the individual an employee contract agreement, employee handbook, new employee/onboard letter, and the direct deposit authorization form. The employee then fills the direct deposit authorization form and returns it to you to add the details on your payroll so that you can begin depositing payments.
When you add an employee to your payroll, they are liable for deductions and holdbacks. There are two types of deductions:
Government Deductions – Deductions you are required to make as an employer are government deductions like social security and local income tax. Other deductions could include health insurance and pension plans.
Other Deductions – These include health insurance, pension plans, charity deductions, and 401k. These apply only if the employer has them.
Add employees to the payroll
You can add employees to your payroll in two ways:
Do it yourself payroll – In this method, you will use a free online calculator and IRS publication 15. When you scroll to page 45 of the publication, you will find the percentage method tables for income tax withholding.
Payroll providers – Payroll providers such as ADP, Xero etc.,make the tax payment processes easy for an employer. This is the best method for a busy employer who doesn't have the time to add the employees to payroll by hand.
The last step is filing a 941 Form
You are expected to file this form with the IRS quarterly (every three months). This form contains your company's total number of employees, social security and other deductions discussed above, sick or leave pay and other revenue information. At this point, an employee is successfully added to your payroll.
Frequently Asked Questions
How can I get a direct deposit authorization form?
You can ask your employers for their copy of a direct deposit sign-up form or download the form and fill in the details yourself. There is a diagram on the form that shows you where you will find the information you need.
Can you get a direct deposit authorization form online?
Yes. Most banks nowadays will provide you with their own direct deposit authorization form templates.
Do you Need the Authorization Form to Set up Payroll?
Yes. Your employees need to fill out the direct deposit authorization form. This form contains an employee's bank details where they want to receive payments. As an employer, this enables you to add the information on your payroll and begin making the deposits.
Why waste valuable time going to the bank? Direct deposit is a simple, stress-free way to get electronic deposits. Deposits are made online, meaning you don't have to stress about missing your paycheck or going to the bank. It's even easier than physical cheques, enabling you to withdraw the money on the day of the deposit.As technology has advanced, payments through physical cheques have become a thing of the past. Direct deposits have become more common. With direct deposits, you can access your money immediately after payment, unlike physical cheques, which take ten to fifteen days to be cleared.To make direct deposits, you will need your employers to fill in a direct deposit authorization form.
When businesses set up payroll plans, they need permission from their staff to deposit the money directly into their bank accounts. Employees permit the employers to deposit money into their bank accounts by filling the direct deposit authorization form.
Apart from the payroll reasons, an organization will also need to verify whether the employee's account is active, for which they may also need the authorization form.You also need to ensure that your employees have filled out the authorization forms correctly to avoid misunderstandings due to deposits made in wrong accounts. The forms also need to be submitted to departments that can be trusted with personal information.