A business exists to produce goods and or services, and make a profit from their sales. As a result, the following of best business practices is extremely important. One of those practices involves good customer service. Developing an excellent rapport with new customers as well as maintaining good relations with ongoing ones, assures that your business will retain its customers. Indeed, developing and maintaining close business relationships by regularly interacting with your clients is a central factor in the growth of your business. One of the best ways to accomplish this, is to utilize a customer contact list, and create it via the use of easy to use, and cost efficient templates.
How Customer Contact Lists are Used: Customer contact lists are a reliable way for businesses as well as individuals to store all of their clients contact information, and retrieve it when it is required. These contact lists are among one of the most useful tools for businesses to employ, which are involved in sales of goods and/or services. Businesses which find contact lists useful include:
Beauty supply sales such as Avon or Mary Kaye
These client contact lists not only are a convenient way to maintain contact, but is also very useful in announcing any sales, promotions, discounts, product updates or services added.
Customer List Templates
Customer list templates function to keep your client list well-organized as well as up to date. Those of you who have been in business realize the effort that goes into building a detailed and concise client contact list. Indeed, each contact list represents many years of hard work building client trust, negotiating sales, as well as advertising dollars spent to draw clients to your business. Therefore contact list templates are an invaluable method to store comprehensive customer information so you can contact them for customer service, marketing or settling of any disputes.
We are providing up to 30 professionally designed printable Customer Contact List Templates for download. All of our templates are compatible with the following formats:
These Customer List templates are not only convenient but very easy to use. With a swift click of your mouse, the contact list template is downloaded and ready for you to customize it and edit it. It is as simple as that: Download, edit and print. Customizing your customer contact list template is a simple matter, as you are free to add as many columns as you need. This ability to choose how many columns you require comes in very handy. You can add not only contact information such as names, addresses and phone numbers, but also important dates, such as birthdays and anniversaries and even mark which addresses to include in your yearly Christmas gift and card list. Time is money in the business world, and with our templates there is no need to pay for, and learn expensive template creation software. Instead, all the assistance you need to create your client contact list is just one download away.
[ads]
Customer List Templates for Excel®
---
Automate Customer List Template for Excel (Macro Enabled)
---

---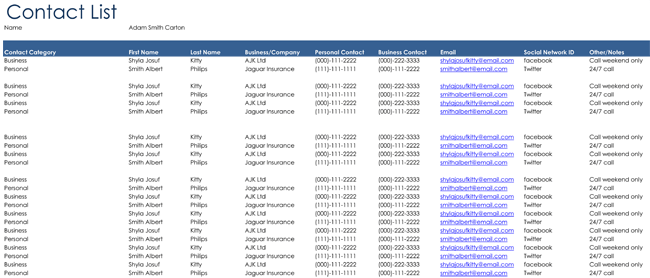 ---
Customer Contact List Templates for Word
---
Customer Contact List Templates for Word
---