Contract termination letter works as a notice to other party or multiple parties for termination of mutual contract before the actual expiry of contract. Contract termination letter may include reason of termination, effective date and other notices as respect to contract.
Whether you are a business owner, an employee or a C.E.O of a particular company, at some time in your job life, you have signed a contract with an individual or another company. Usually, there are terms which both parties have to follow for the period that the two sides have agreed to be in the contract. However, you might find yourself so pissed off that all you want is to end it. Unfortunately, since you also signed and agreed to be in it for the specified period, you cannot just walk out. This is where a contract termination letter comes in. It is a formal statement to the other members of the deal which indicates your intention of ending the agreement you had. It acts as a notice which contains all the terms that allow you to terminate freely. Am sure you are probably wondering how you go about it. Well, no need to worry because I have attached well-articulated letter of termination samples which you can use as guidance.
Download Business Contract or Agreement Termination Letter Sample
Business Contract Termination Letter Example
Download Business Contract Termination Letter Example
Business Partnership Termination Letter Sample
Download Business Partnership Termination Letter Sample
Employment Contract Termination Letter Sample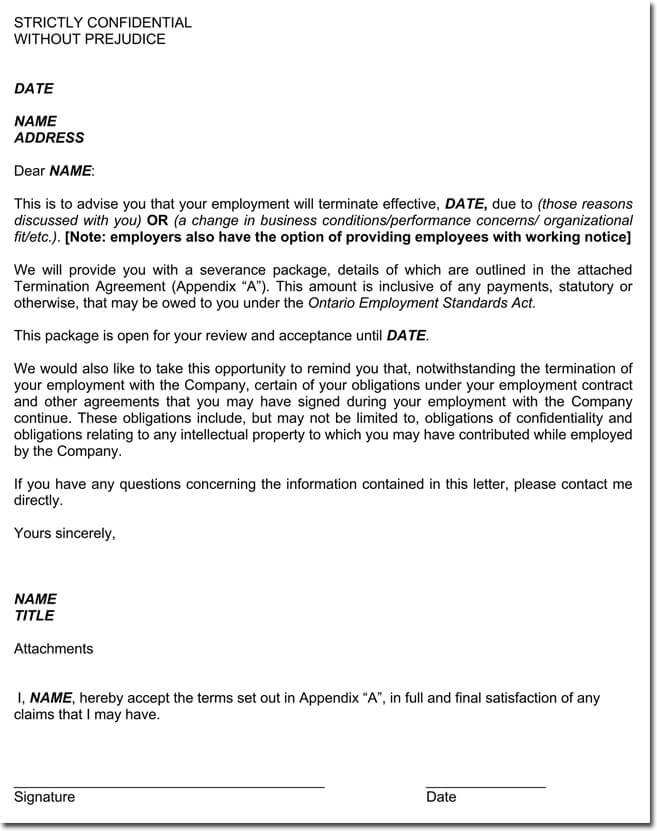 Uses of Contract Termination Notice
Just like the definition points out, a contract termination letter is mostly put into use when one side wants to inform the other about agreement termination. It also indicates a new date on which that will take effect. Nonetheless, the most important purpose that it serves is it acts as proof that you had notified the other party about the termination just in case they bring up claims they had no idea of the cancellation. Also, it ensures that both sides had a say in termination hence maintains a healthy future relationship between them.
Benefits of Using a Contract Termination Letter Sample
Before you start writing one, it is good that you use samples to guide you. They will ensure that you are not writing blindly but will also impart more ideas on what the letter should contain.
They also reduce time wastage as most of the times they are already drafted, so all you have to do is make the necessary adjustments. Once you do so, you can send them or make a new one according to the sample format. They help reduce errors you would have done when doing it on your own. Through them, you can create a more straightforward document.