Depending on the type of job you have it could get quite busy. Dealing with the customers or the clients is your prime focus for the company to make any money and for you to earn a paycheck. However when it is not busy there is still work to be done, but it can be a little hard to focus on what should be done first. Making a list helps, but might still not be enough when it comes to completing those tasks on time.
These work schedule templates will give you the focus you need, allowing you to not only work off a list so you can complete those tasks, but gives you a time table that you can change as needed. You can easily edits the tasks that are already in the work schedule templates for Excel® so that it fits the needs of your business and your tasks. The same can be said for the time table to work off of so that a higher skilled employee can work at a faster pace than a newer employee. Throughout the day you can accomplish all the tasks on the list and be able to go home with a sense of accomplishment.
Those who happen to be in management positions should know that using these work schedule templates for Excel® can be a great training tool. Not only is it helpful to teach time management tasks, but is great to keep all the employees busy at the same time. You can assign the tasks on the list to different associates and by the end of the day everyone is busy and getting the work done. Once the same list has been done, and your employees have built a reputation for getting the tasks done quickly you might no longer need the work schedule templates , or might need to modify it for more tasks, or different projects.
[ads]
Professional Work Schedule Templates for Employee :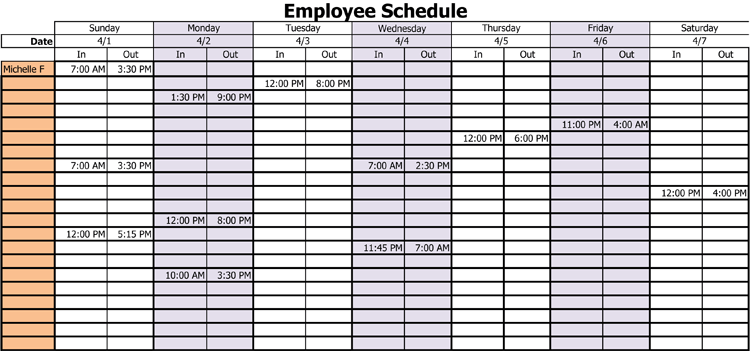 ---
Auto Work Schedule Maker in Excel®
---
Weekly Work Schedule Templates for Excel®