For many organizations, a Volunteer is an invaluable resource. By donating time, money and expertise, a Volunteer is a core component to a program's success and should be regarded as such. They should be seen as being a part of your team, rather than an outsider who offered assistance when you needed it. One of the best ways you can acknowledge their contribution is by saying "Thank you", a simple but meaningful phrase that will tell your Volunteers you are grateful for their efforts.
You are also setting a precedent for the standards of your organization, demonstrating the necessity of Volunteers. Showing gratitude will spread throughout your organization and set a tone of teamwork among your co-workers.
Can't I Just Tell Them Thank You?
While saying the words, "Thank you" is important, taking the time to write a Volunteer thank you letter is an appreciated and memorable gesture that makes a lasting impression. It says you recognize the significance of Volunteers and deem them worthy of your personal attention. By reaching out to them, you are also shaping their experience with your organization which will encourage them to volunteer with you in the future and speak positively of you to others.
What Your Volunteer Thank You Letter Should Say
A Volunteer Thank you letter should be thoughtful and impactful, just as you view their contribution to your organization. Always include his or her name, what he or she contributed, why it is crucial to the success of your organization and what it personally means to you. Include your name and not just the name of your Organization. This attention to detail will impress upon them the necessity of their role on your team.
We Can Help!
You want to recognize your Volunteers for their efforts, but your schedule is hectic and you do not know where to start. Here is where we can help! We provide FREE templates and samples that are specifically written for this purpose, saving you time and stress and money. You may personalize or customize a template to fit your needs or simply be inspired by a sample. It is up to you!
[ads]
Free Volunteer Thank You Letter Templates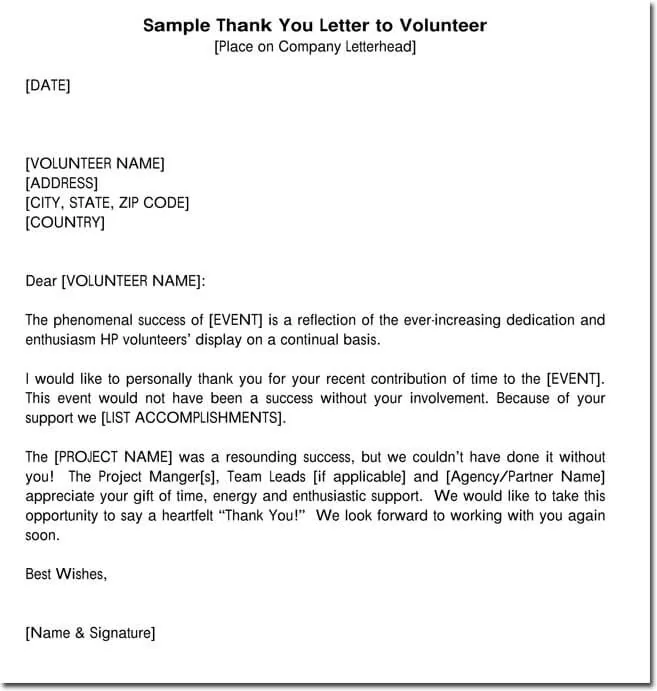 Volunteer Thank You Letter Example
Volunteer
Thank You Letter Sample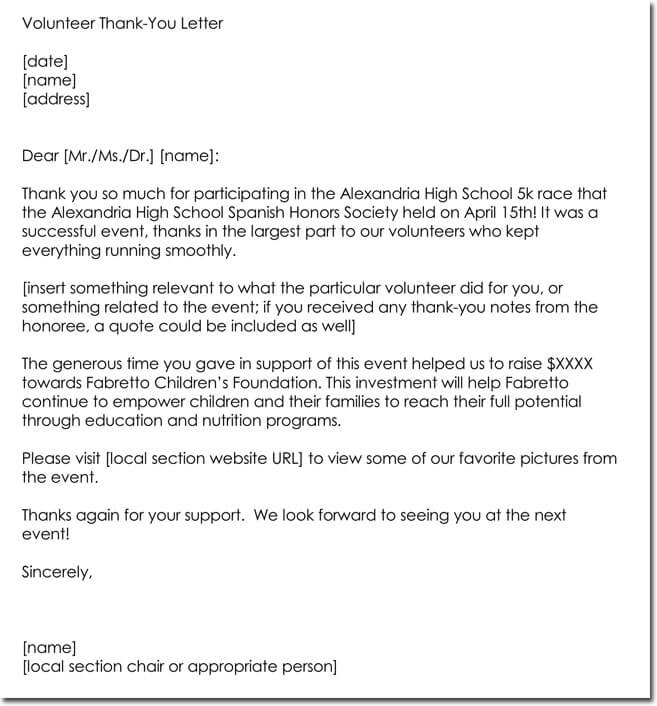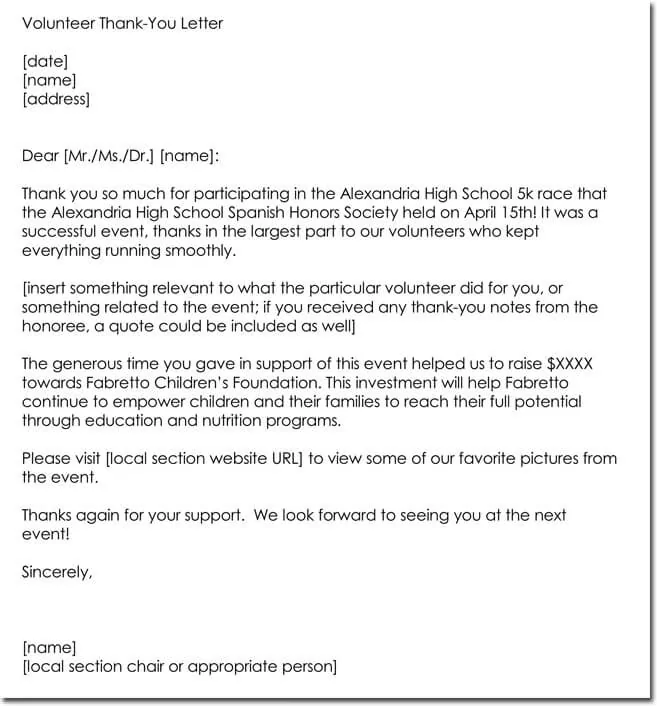 Volunteer
Thank You Letter Format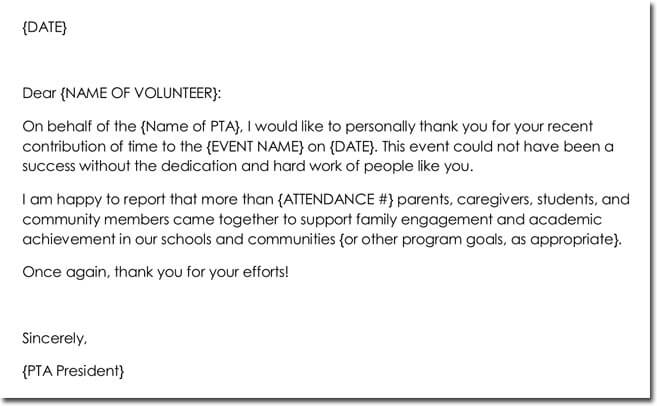 School Event
Volunteer
Thank You Letter Sample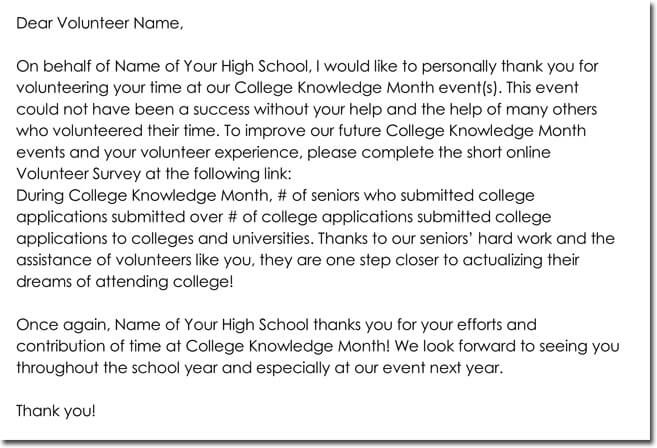 Volunteer
Thank You Letter Word Format
Thank you for
Volunteer
Letter Sample
Volunteer Thank You Note Sample
School Event Participation Thank You Letter Sample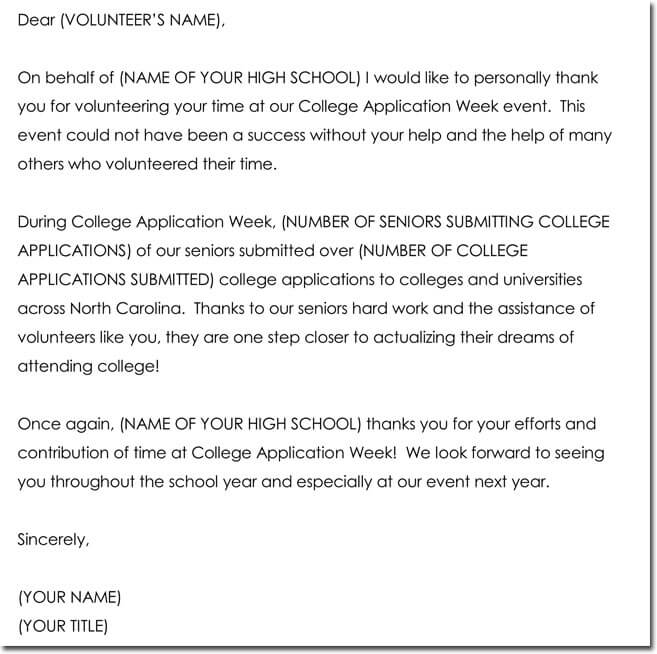 Participating Thank You Letter Format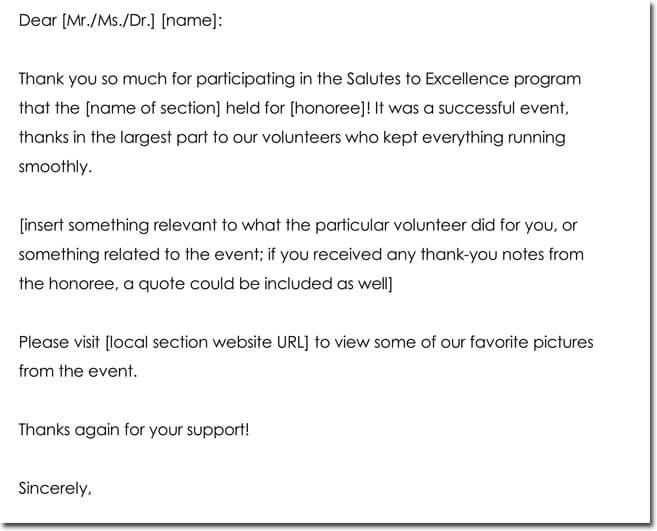 Small Gestures Mean a Lot
By taking the time to write a Thank You letter to your Volunteers, you are:
Recognizing their contribution, however great or small;
Maintaining communications with your Volunteers (crucial for future endeavors and word of mouth to other potential Volunteers);
Establishing a protocol for your Organization;
Demonstrating the standard by which you and your Organization operate; and
Setting a tone of teamwork to those within your Organization.
Appreciating your Volunteers is a way of honoring and valuing their efforts. They, in turn, will feel like members on your team who serve a vital purpose. A small gesture, like writing a volunteer thank you note, can make a big impact for your Volunteer, your Organization and you.